Should the Philippines get the full-size 2020 Nissan Titan?
The Nissan Titan is an undeniably huge pickup. But is the Philippines ready to get this half-ton truck in 2020?
2020 Nissan Titan comes with an updated powertrain and numerous new tech features for the model year update. However, despite all the improvements, this half-ton pickup is still far from reaching the Philippine market.
This is even with the fact that Filipinos love pickup trucks. The mere population on the road should tell you that there's a huge market for this vehicle even with their monstrous sizes.
2020 Nissan TITAN Walkaround & Review
Considering its size, is the new Titan going to be an attractive pickup truck for the discerning Filipino car buyer? To answer this question, let's see what you can get with the updated Titan.
>>> Related: The top five best pick-up trucks in the Philippines in 2020
What's new for the 2020 Nissan Titan?
Nissan gives a mild makeover to its half-ton pickup. The 2020 Titan has a fresh fascia with a bold grille that includes a more striking headlight and a new front bumper. The back part also got cosmetic changes – different taillights and unique tailgate plaques. 
The new Titan gets more torque and horsepower for this model year. Instead of a 7-speed automatic transmission, it now features a 9-speed unit.
The full-size Nissan pickup also got an updated infotainment system and standard driver-assist options. The interior only got a few revisions, including better interior cubby storage, larger display in the gauge cluster, and some newly available features.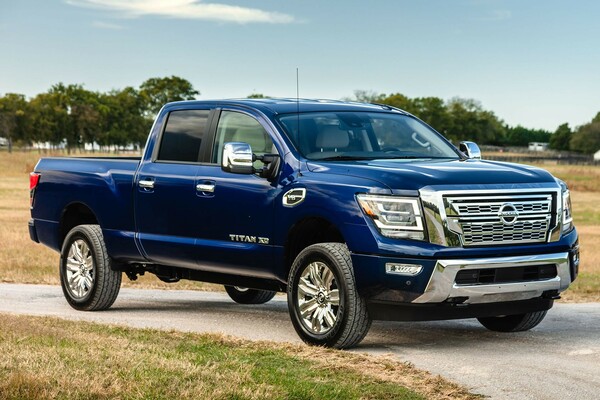 The 2020 Nissan Titan has a fresh face with a bolder grille
>>> Related: All sorts of Nissan Philippines reviews
Nissan Titan 2020: Engine, powertrain, and transmission
The Titan now only offers a single powertrain, which is the familiar 5.6-liter V8. It produces 400 hp and torque of 413 lb-ft of torque. The new Jato 9-speed automatic transmission will back up the engine of this half-ton pickup – replacing the former 7-speed unit. 
When it comes to towing capacity and maximum payload, the 2020 Nissan Titan can carry 1,680 pounds, which is a bit less compared to its competitors from Toyota, Ram, GMC, Ford, and Chevrolet.
Although the Titan can giddy-up and go, and it got enough stopping power, the steering, handling, and ride are not as refined as what its competitors offer.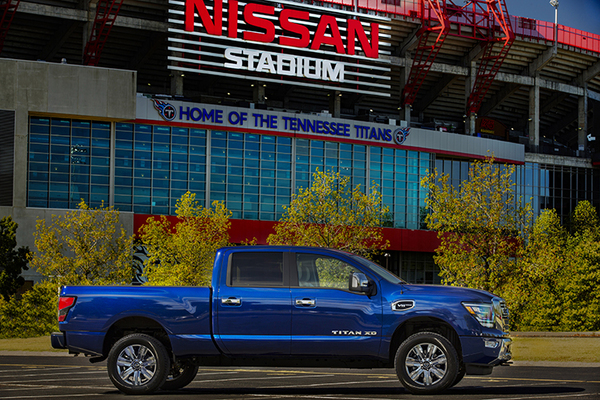 When it comes to towing capacity and maximum payload, 2020, Nissan Titan can carry 9370 and 1680 pounds
>>> Related: Full Nissan price list with the estimated monthly payment
2020 Nissan Titan: Interior and Cargo
Going inside the 2020 Nissan Titan, you will be welcomed by a cool cabin with its front seats deemed as "Zero Gravity"  (as what the carmaker calls them) that are outrageously comfy. The Platinum Reserve trim has good-looking premium materials, too.
However, the design of the car's interior is a bit boring for this 2020 Titan. One of the disappointing parts is the excessive amount of plastic and less legroom space of the crew cab's rear seat. 
But in terms of cargo control, this car can boast that it belongs to the best in their segment. A spring-assisted tailgate can be found in each model for ease of use.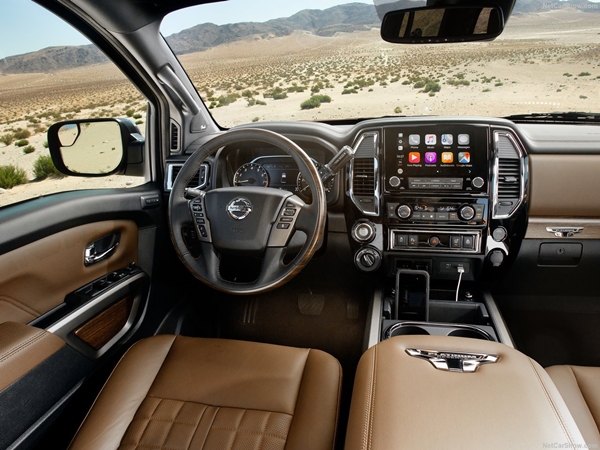 There is an excessive amount of plastic and less legroom space of the crew cab's rear seat
There are also available innovative add-ons like discreet in-bed cargo boxes and a unique bed-channel system. Still, if you're looking for a space for smaller items, you will be disappointed because of its small interior storage space.
In addition, when you compare the storage space of the Titan's cargo boxes to its competitors, it has the least amount. 
>>> Related: It's highly recommended to buy a Nissan car in the Philippines & we will tell you why!
Nissan Titan 2020: Connectivity and Infotainment
An 8-inch infotainment touchscreen is available on each model, though you can also opt for a larger 9-inch unit. It has Android Auto and Apple CarPlay capability that incorporate the carmaker's latest infotainment, the NissanConnect. 
You can also have smartphone wireless charging, mobile hotspot, several power-charging ports, and a powerful Fender audio system in the all-new Titan. 
The exact price of this pickup is yet to be announced, but we can expect that it will have a slight increase over its predecessor.
The 2020 Nissan Titan isn't available in the Philippine market yet, but with the specification mentioned in this article, do you think Filipinos will be excited to get their hands on one?