Rolls-Royce is set take the Virtual Reality experience into the future real soon
Iconic British carmakers Rolls-Royce recently collaborated with Nanyang Polytechnic (NYP) of Singapore to create a
Virtual Reality (VR) experience 
for its discerning clients. If you think that's cool, Rolls-Royce is set to take the said program into the future real soon.  
Nine groups of students from the Nanyang Polytechnic School of Interactive & Digital Media (SIDM) showcased their prowess in creating a simulated reality of what customers can expect from Rolls-Royce's signature Bespoke service. The simulation boasts immersive 360-degree motion graphics videos and other media that puts the client in the center of it all and makes one feel as if they were actually there. The said videos where then brought to life using Samsung's Galaxy Gear VR headsets.
>>> View more: 
The Brabus V-Class with lavish in-car entertainment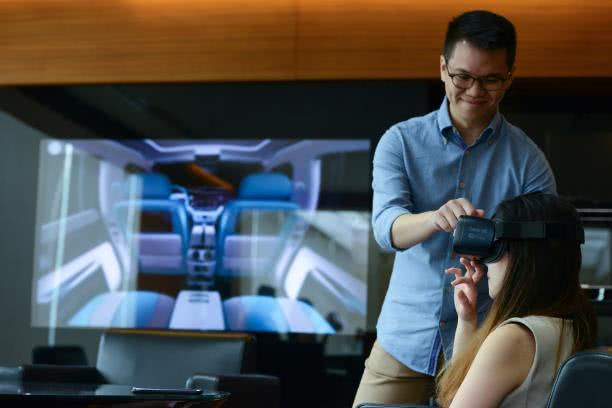 Rolls-Royce is set to take the VR experience into the future real soon

"Rolls-Royce Motor Cars' commitment to this project is another example of how the company deeply values the nurturing of young talent, in parallel with The House of Rolls-Royce in the UK, where our apprenticeship programme is now larger than ever, ensuring that our dedication to handmade quality and craftsmanship continues beyond the current generation," says Asia Pacific Regional Director for Rolls-Royce Motor Cars - Mr. Paul Harris.
 
Paul Harris added "We are also staying ahead of the curve in the super-luxury industry by partnering with some of the brightest young minds in this country to present our Bespoke capabilities in a new, unique way, as well as supporting innovative, emerging talent in VR."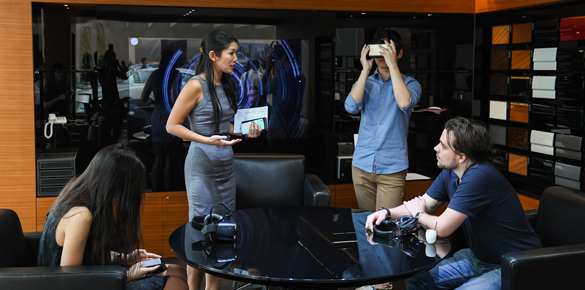 The simulation boasts immersive 360-degree motion graphics videos
An independent judging committee comprising Rolls-Royce and VR industry executives selected two of the top entries that will be utilized by Rolls-Royce to allow clients to see and feel their chosen ride even before it is created.
The super-luxury brand
supported the project by offsetting software and licensing costs, while winning team members each received an Apple iPad.  
"Rolls-Royce Motor Cars is renowned for Bespoke Luxury design and craftsmanship, and it is a privilege to have this pinnacle company implementing our output," according to Izz Irfan Sahlan, a student who worked on one of the selected VR videos.
"But besides the accomplishment, this project clearly demonstrated processes, pressures and commercial realities that await us in our post-academic life. Thanks to NYP's collaboration with a real-life global luxury brand, I feel more prepared to enter our workforce in the future.", he added.  
Rolls-Royce hopes to offer the VR experience to clients in Singapore from April 2017, and to the rest of Asia Pacific from June 2017. 
>>> View more: 
Toyota to launch a rehabilitation robot
Ultimate VR Experience with Rolls-Royce Motor Cars
Enter 103EX: an effortless virtual reality 360° experience