It looks like it's getting a more angular front end. 
For the first time ever, the seventh-generation Ford Mustang was spotted on public roads. This comes in courtesy of several spy pics of the said model's test-mule which, according to multiple sources, is now using the next-gen Mustang's production body. 
S650 Mustang Spy Photos Released! What's Next?
One source by the name of Steeda, a Ford performance parts specialist, described in detail through a Youtube video some interesting bits on this test unit. For starters, it seems like the car is using a new pair of LED headlamps with horizontally-oriented lighting elements. This is in contrast with the current Mustang which comes with diagonal light strips. 
Moreover, it seems that the grille looks much larger than it was before. This is evident from the sizable indent on the thick camouflage. The front fascia also looks a bit more angular than the currently available model. 
Towards the rear, and with regards to the general shape of the car, it assumes the familiar Mustang silhouette. The spy pics show a somewhat different-looking set of rear lights, but many sources are saying that these might not be production-spec. 
Of note, the camouflage that this test-unit is using is particularly thick, and Ford took pains to somewhat distort the actual shape of the car. So, while many are labeling this as the production body, there are many details that aren't visible or apparent just yet.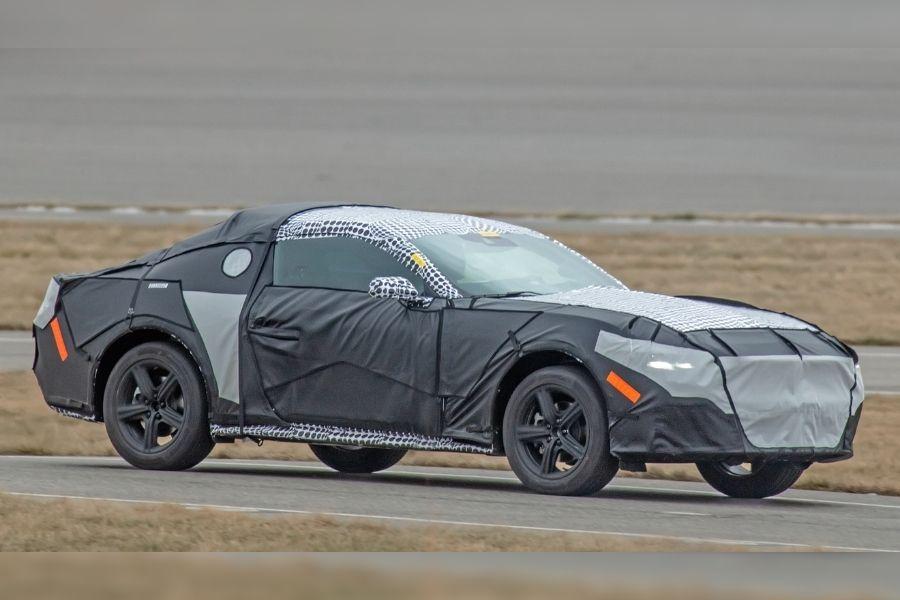 A spy shot of the seventh-generation Ford Mustang test mule. [Photo: Mustang7g/Jarstang]
Moreover, the mechanical specs of the upcoming Mustang remain to be speculative. According to rumors though, it could be getting a hybrid powertrain, maybe even all-wheel-drive. Then there's also the possibility of a fully electric Mustang as that will end up being in-line with Ford's future plans of electrifying its model lineup.  
If this turns out to be the case, then a theoretical EV Mustang coupe might borrow some bits from the Ford Mustang Mach-E crossover that's already available in China and North America. 
We are fairly certain though that the good ol' 5.2-liter V8 and 2.3-liter EcoBoost Inline-4 will be making a return to this new generation of Mustang.  
As with most articles about prototypes, spy shots, and yet to be officially revealed car models, one should take our speculations with a grain of salt. For those who want to catch more about the upcoming seventh-gen Ford Mustang though, keep it here on Philkotse. 

Know more about Ford Mustang 2023

Arguably the most popular vehicle from the Blue Oval company, the Ford Mustang is one powerful coupe that is competing in the market with its sixth-gen model. Ford Mustang 2023 Price Philippines from Php 2,948,000 to Php 7,760,000, depending on the variant. Speaking of variants, the Mustang comes with four variants in the Philippines, namely the 2.3L EcoBoost, 5.0L GT Fastback, 5.0L GT Convertible, and Shelby GT500. The base Mustang uses a 2.3-liter EcoBoost inline-4 engine that makes 310 hp and 475 Nm of torque, while the GT variants are powered by a 5.0-liter Ti-VCT V8 engine that generates 460 hp and 569 Nm of torque. As for the top-spec Shelby GT500, it boasts a 5.2-liter supercharged V8 engine that churns out 760 hp and 847 Nm of torque. Only the Shelby GT500 utilizes a 7-speed Tremec dual-clutch transmission, while the rest offer a 10-speed SelectShift automatic transmission.
In terms of dimensions, this American sports car has a length of 4,788 mm, a width of 2,081 mm, and a height of 1,395 mm. Additionally, it comes with a wheelbase length of 2,721 mm and a ground clearance rated at 137 mm. The Mustang is competing in the local market against the likes of the Chevrolet Camaro, Dodge Challenger, and Nissan 370Z.

Cesar G.B. Miguel
Author