The rig won the race largely in stock form.    
The new Ford Ranger Raptor is more than just a brawny-looking bruiser of a pickup, as it emerged victorious from the 2022 BF Goodrich SCORE Baja 1000 desert race in Mexico.
The new Ford Ranger Raptor flexed its muscle at the 2022 Baja 1000 race in Mexico
What makes the feat even more impressive is that the winning Ranger Raptor came with much of the same hardware found on its standard version. This makes it the only road-legal vehicle to survive the 36-hour, 1,332-kilometer non-stop sprint across the Mexican desert, completing the course in one day, 11 hours, and 43 minutes.  
Kelly Racing outfitted the Australia-built rig with race modifications as permitted by regulations, including a roll cage and additional underbody protection. A rear-facing Safari-snorkel was installed to minimize dust intake, while a 160-liter fuel cell was mounted on the cargo bed, accompanied by two spare tires. Kelly Racing worked with Ford Performance for 10 weeks in bringing the standard Ranger Raptor to racing form.   
Only a handful of modifications were present, such as an external fuel tank on the cargo bed
Save for the more aggressive brake pads and special brake fluid formulated to withstand high temperatures and constant high-speed use, the racing Ranger Raptor uses the same brake hardware as that fitted on those sold in showrooms. Even the 3.0-liter twin-turbo V6 gasoline engine, 10-speed automatic transmission, Fox dampers, and BF Goodrich tires are stock, beefed up only by a Motec engine management computer.    
The pickup was entered in the 'stock mid-class' category, earning its classification in a field of 137 finishers from a roster of 276 contenders. It also managed to outlast two other prominent off-road vehicles – a Lexus LX600 and a Toyota Land Cruiser – in the stock class, with both vehicles failing to finish the event.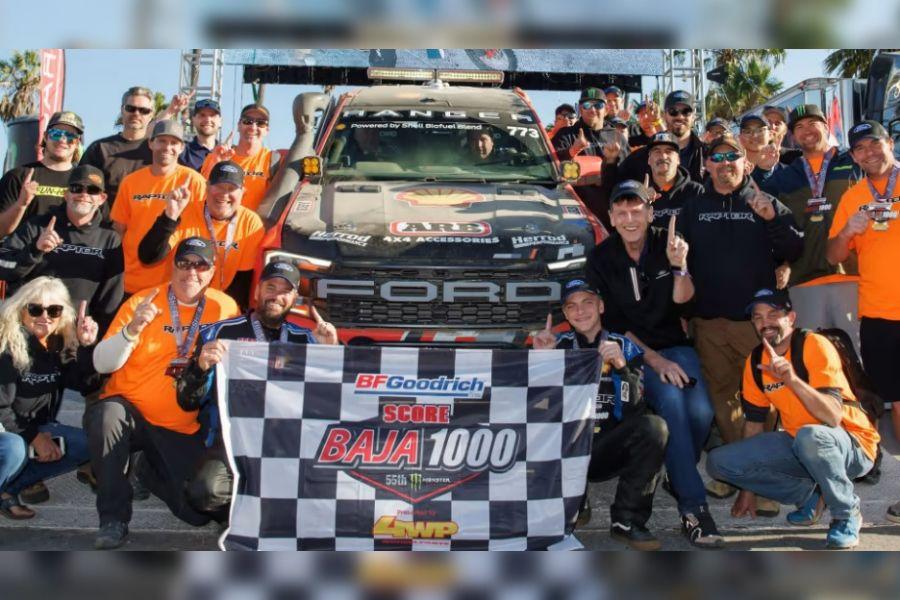 This is a glimpse of what customers should expect on the new Ranger Raptor 
"Right from when we first got in the truck, the track was just so tough and so technical and there were dead vehicles everywhere out there," said U.S. off-road champion Loren Healy, one of four drivers at the Ranger Raptor's wheel throughout the race. "We just picked our way through, stayed patient. I'm just so stoked to be here. Always great to see the sunrise in a race car."     
Ford Performance Off-road Racing Supervisor Brian Novak was elated with the results. "I'm just so proud of the Ford Performance Australia team, the Ford Performance North American team, Lovell Racing, Motec, Herrod, Kelly Racing, Method Wheels – there are so many people who were a part of this program," he said. 
"It's a stock engine, a stock transmission, a stock driveline in the truck. It was just flawless. I couldn't have asked for a better race." 
Marvel at more racing feats achieved by your favorite models at Philkotse.com.        

Know more about Ford Ranger Raptor 2023

The Ranger Raptor 2023 by American truck maker Ford is the brand's entry to the midsize pickup truck segment in the Philippines. It is priced in the local market at Php 2,048,000 for the sole Raptor Ranger 2.0 Biturbo 4x4 AT variant. Powering this truck is a 2.0-liter Bi-Turbo diesel engine that is capable of generating 210 hp and 500 Nm of torque. This is connected to a 10-speed automatic transmission with paddle shifters.
In terms of dimensions, the Ranger Raptor is 5,398 mm long, 2,028 mm wide, and 1,873 mm high. Other key numbers include the wheelbase at 3,220 mm and ground clearance at 283 mm. The closest competitors of this American truck in the Philippines are the Nissan Navara PRO-4X and Toyota Hilux GR Sport.

Joseph Paolo Estabillo
Author