The pickup trucks will be used for DepEd's field engineers.
Mitsubishi Motors Carworld Pampanga turned over a total of 254 Strada 4x4 GLS MT units to the Department of Education (DepEd) in San Fernando, Pampanga. It will serve as the official service vehicles of DepEd's field engineers.    
The delivery of the Mitsubishi Strada units was done in two batches. The first batch of delivery was completed last December 5, 2019 wherein a total of 88 Stradas were delivered. The second batch was completed last October 1, 2020 wherein a total of 166 units of the Mitsubishi Strada were delivered to the DepEd in San Fernando, Pampanga.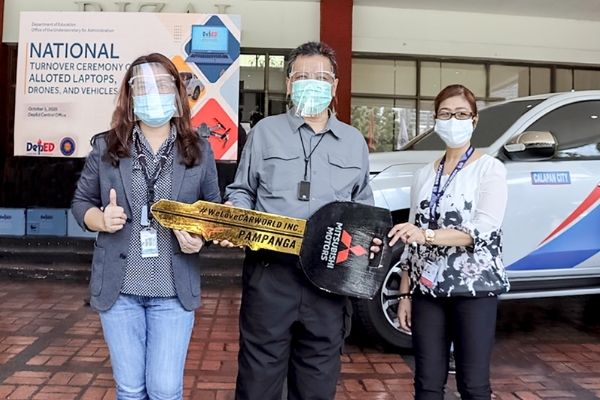 The turnover of 254 Mitsubishi Strada units has been successful
The Mitsubishi Stradas will be assigned as the official service vehicles of the field engineers of DepEd for their regular field inspection, as well as serve as rescue trucks by the National Disaster Risk Reduction Council in times of emergencies or calamities.
During the turnover ceremony, DepEd Undersecretary Alain Del B. Pascua said, "no school division office will be left behind, as we continue to gear up our actions, hold on the wheels of our goals, focus on our vision, and have a safe ride with our mission."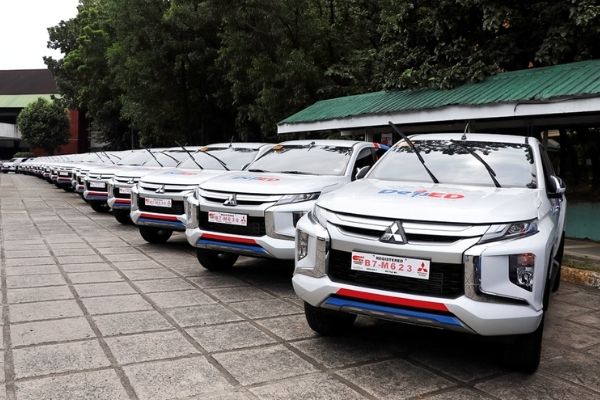 The ruggedness of the Strada will effortlessly help DepEd in its workloads
>>> Related: Mitsubishi offers 72-month Financing, Cash Savings and more this month
The turned over Strada units features a 4x4 drivetrain and a 2.4-liter turbo diesel engine that makes roughly 430 Nm of torque. As such, the Strada is indeed the ideal service and rescue truck for the job.
Schools in San Fernando, Pampanga that have rough roads can easily be accessed by the Strada, as well as areas that are flood-prone thanks to its 220 mm ground clearance and power. Mitsubishi offers the Strada 4x4 GLS MT in the market for Php 1,465,000.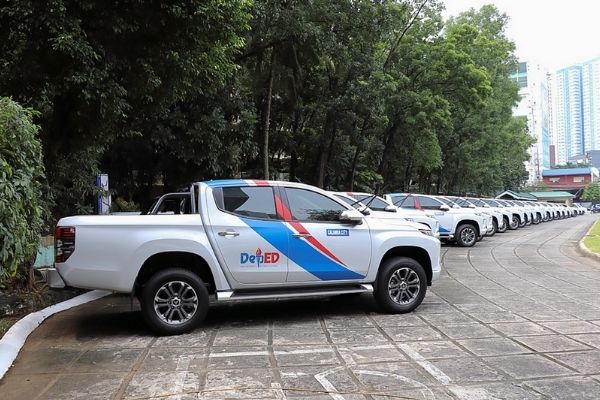 Expect smoother field inspection operations with the Strada
"We are honored to have been selected as the official vehicle of the Department of Education. We guarantee the government agency that the Strada is a very reliable pick-up truck that is built to be durable and engineered to deliver outstanding performance," said Mr. Paul Laus, president of LausGroup of Companies.
"Mitsubishi Carworld Pampanga is also committed to provide excellent service for the regular maintenance of the vehicles," he added.
Here at Philkotse.com, we value your interest in the automotive industry. Visit our website to find out more.
Know more about Mitsubishi Strada 2021
<p>The Mitsubishi Strada is one of the most successful and oldest pickup trucks in the Philippines, currently competing in the local midsize pickup truck category. In January 2019, the third-generation model of the truck acquired its rightful renovation. Some of the updates include a more muscular body sculpture and the Dynamic Shield exterior styling. Like the current models of the tri-diamond brand &ndash; the ASX, <a href="https://philkotse.com/mitsubishi-xpander-price-philippines" title="Mitsubishi Xpander Philkotse Car Guide">Xpander</a>, <a href="https://philkotse.com/mitsubishi-montero-sport-price-philippines" title="Mitsubishi Montero Sport Philkotse Car Guide">Montero Sport</a>, and the like &ndash; the Strada features the &quot;X&quot; fascia. It also comes with C-shaped chrome accents that trace the fog lamps and slim headlights.</p> <p>Its exterior showcases a sporty, athletic, and agile look giving an impression that it is ready&nbsp;to overcome any roads in the country, while the interior accentuates quality and soft-pad materials. The midsize pickup truck is offered in 4x4 or 4x2 variants. Disregarding its facelift, from its former 2.5-litre Common Rail Direct Injection 4D56 diesel engine, it is now powered by a 2.4-liter in-line four diesel with Variable Geometry Turbo and MIVEC 4N15 engine only. Thus, leaving the&nbsp;truck with a single powerplant option. It can generate torque power of 430 Nm, and 181 horsepower to the wheel through&nbsp;either&nbsp;a 6-speed automatic or 6-speed manual transmission.</p>

Rex Sanchez
Author