Save more than 200K if you drive home one this month.
With the ongoing COVID-19 pandemic, most industries decided to increase the prices of their products in order to cope up with the expenses. However, Mitsubishi Motors Philippines Corporation (MMPC) seems to take exception as it is offering a promo that rolls back its prices as far as seven years.
The two Mitsubishi vehicles included in the promo until September 30 are the Mirage G4 and the L300. The Mitsubishi Mirage G4 is offered with a promotional retail price of Php 528,000 for the GLX MT variant – Php 10,000 lower than its introductory price in 2013.
This brings us to a total of Php 207,000 price reduction with the promo in place.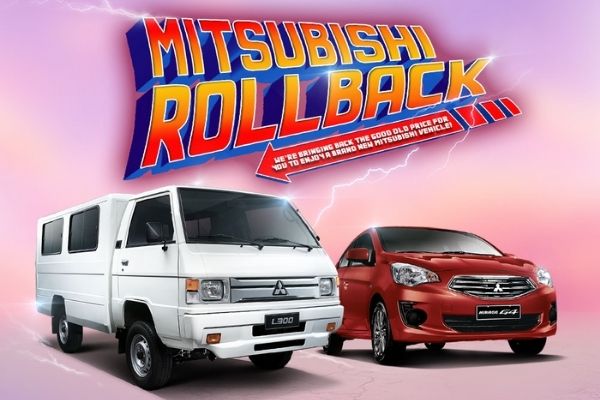 MMPC's rollback promo this September
On the other hand, the Mitsubishi L300 Cab and Chassis is now offered with an affordable price point of Php 698,000 – the price of the dependable van in 2018. All in all, customers can save a total of Php 106,000 thanks to the rollback promo.
Mitsubishi hopes that its promo will assist Filipinos to get back on their feet after the disruption of the global health virus.
The Mitsubishi Mirage G4 is an affordable sedan that offers optimum fuel consumption rating. While the Mitsubishi L300 is a versatile van that can help assist Filipinos with business needs.
The Mirage G4 is a good car to have during these trying times
>>> Related: Buy a Mirage G4 with P8K DP, Mitsubishi takes care of first 2 months
"We at MMPC acknowledge the importance of having a dependable personal vehicle during these very trying times. We are offering the Mitsubishi Price Rollback promo to support the Filipino community in their need of a personal or business vehicle.
The Mitsubishi Mirage G4 and L300 are both made here in the Philippines and it is only fitting that these vehicles serve the current transportation need of the Filipino people," said Mr. Mutsuhiro Oshikiri, president and CEO of MMPC.
Here at Philkotse.com, we value your interest in the automotive industry. Visit our website to find out more.
Know more about Mitsubishi Mirage G4 2021

<p>The Mitsubishi Mirage G4 is the sedan version of the Mirage hatchback. They both share a lot of mechanical components, and they even use the same 1.2-liter inline-3 gasoline engine. In the Philippine market, there are three&nbsp;variants of the Mirage G4 sedan. The top-spec trim is the GLS, and the mid-range trim is the GLX. These two come with a continously variable transmission (CVT). The entry-level trim is also called a GLX but it has a five-speed manual gearbox instead. At most, the aforementioned 1.2-liter engine, which drives this model&#39;s front wheels, can produce up to 77 horsepower and 100 Nm of torque.</p>

Rex Sanchez
Author