It includes a cash discount of up to P80K.
Maxus Philippines partnered with the Bank of the Philippine Islands (BPI) to make car ownership easier by offering flexible payment schemes and low down payment schemes on the Chinese car brand's vehicles including the V80, G10, T60, G50, and its latest addition, the D60. Of note, the special offer will be valid until June 30, 2021.
Maxus-BPI promo for the Maxus V80
The Maxus V80 is the car brand's entry to the commercial vehicle (CV) segment. With the promo, the 2.5 MT Flex variant can be driven home with a Php 50,000 cash discount or low monthly payments of Php 18,913 for a promo starting price of Php 1,040,000. What this particular variant offers is a 3-seating configuration and massive cabin space for seamlessly loading cargoes.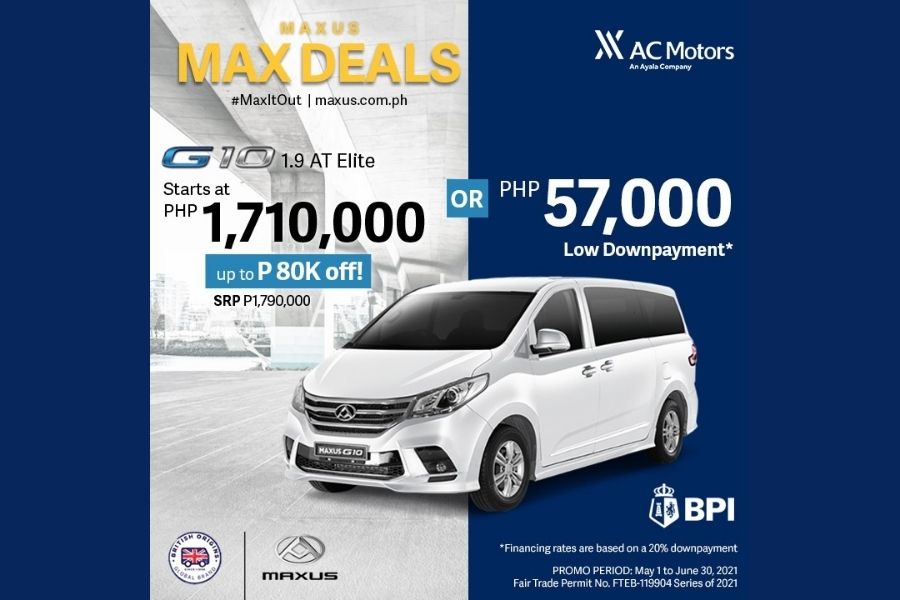 Maxus-BPI promo for the Maxus G10
Moving to the car brand's minivan, Maxus Philippines is offering the G10 1.9 AT Elite with a Php 80,000 price cut from its regular price of Php 1,790,000. A low monthly payment of Php 57,000 for a promo starting price of Php 1,710,000 is also offered for a more convenient car buying experience.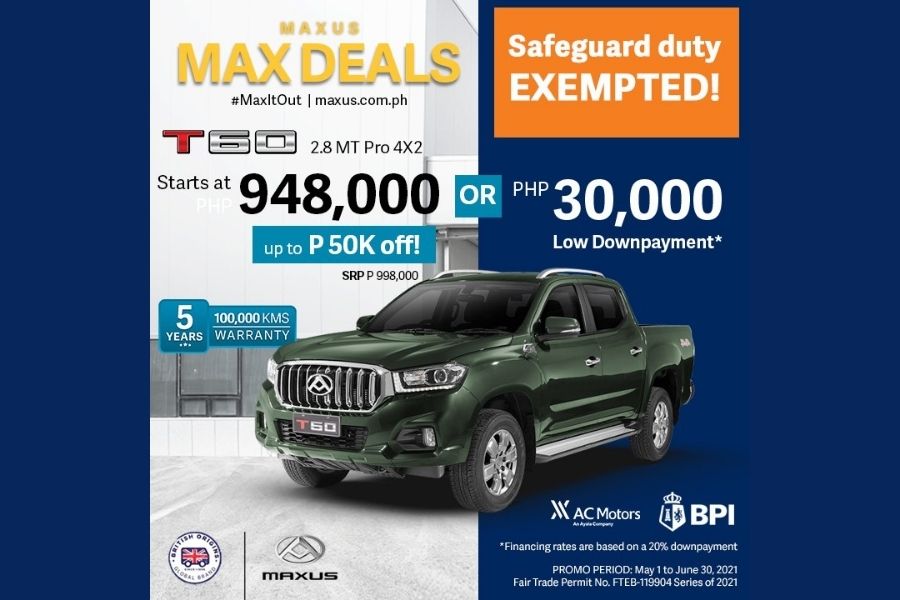 Maxus-BPI promo for the Maxus T60
The car brand's entry to the pickup truck segment, the Maxus T60, can be availed of with exclusive deals. A Php 50,000 cash discount and a low monthly of Php 30,000 for a promo starting price of Php 948,000 are made available on the truck's 2.8 MT Pro 4x2 variant. Take note that its price is still exempted from the Department of Trade and Industry (DTI)'s safeguard duty.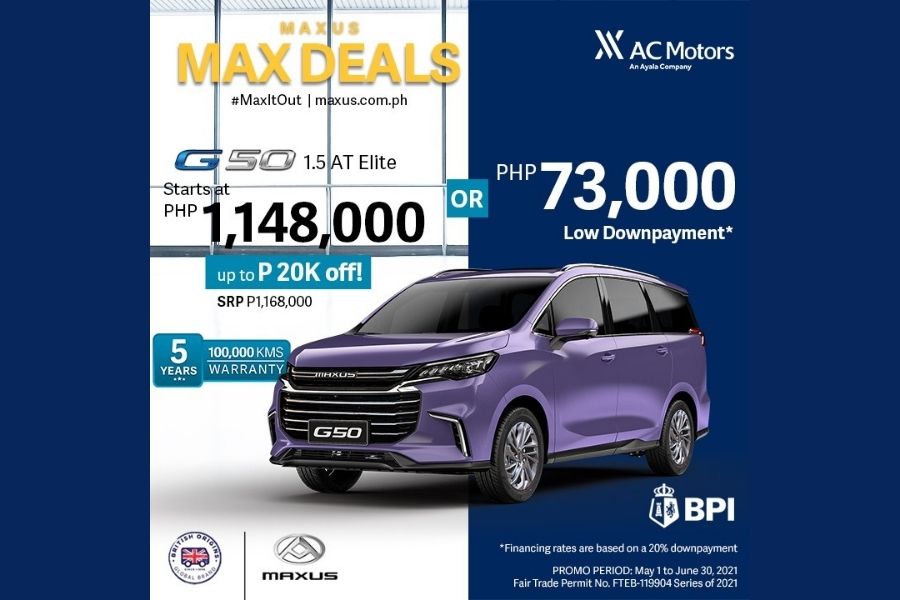 Maxus-BPI promo for the Maxus G50
For those who are in the market for a family vehicle, the Maxus G50 1.5 AT MPV gets a Php 20,000 cash discount and a low down payment of Php 73,000 for its promo starting price of Php 1,148,000. It is an 8-seater MPV that maximizes cabin comfort for drivers and passengers.
And as for Maxus Philippines' latest addition to its lineup, the D60, the crossover's 1.5 AT Pro variant comes with a Php 30,000 cash discount and Php 61,000 low down payment scheme for a promo starting price of Php 1,118,000 only. The base Pro variant is designed with a 5-seating configuration ideal for small families.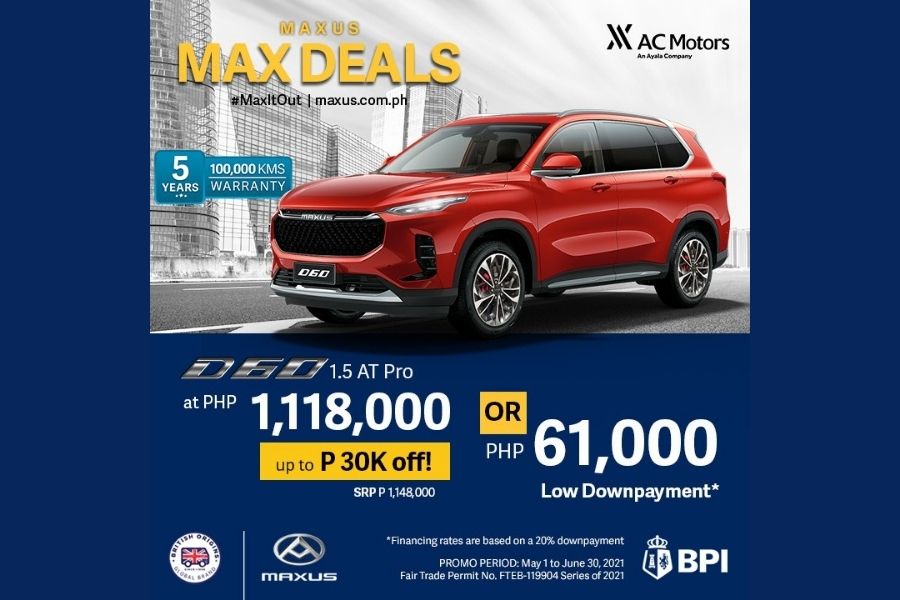 Maxus-BPI promo for the Maxus D60
The Maxus D60, G50, and T60 are offered with a 100,000 km or 5-year warranty, while the V80 and G10 get a 3-year warranty. Other after-sales products and services include free Emergency Roadside Assistance (ERA) valid during warranty, low-cost maintenance, Parts Management System with stock availability for up to five months, and more.
Visit Philkotse.com for more of the latest in the automotive industry.
Know more about Maxus G50 2021

Maxus Philippines is introducing another vehicle in the form of an MPV called the G50. The 8-seater will be the fourth model in the brand's local line-up. It will be the most family-friendly nameplate that Maxus will be releasing in the local automotive market. The G50 is the latest addition to Chinese auto brand Maxus Philippines' range of light commercial vehicles. It comes with a bold and aggressive exterior design that could match its rivals in the MPV segment. Under the hood, the Maxus G50 is powered by a 1.5-liter turbocharged gasoline engine that generates 166 hp and 250 Nm of torque. The engine is connected to a seven-speed dual-clutch transmission that sends power to the front wheels.

Rex Sanchez
Author
Recent posts