Let's check out the production version of the Honda E
The production version of the Honda E just debuted at the 2019 Frankfurt Auto Show so let's check it out.
Let's face it, electric cars are gaining popularity and are fast becoming the research and development focus for a lot, if not most car manufacturers in recent times.
Why? These electric powered marvels of technology and engineering have less pollution as they do not emit exhaust gasses, they're arguably easier and cheaper to maintain due to not having an exhaust system, a starter, radiators, and fuel injection systems, and of course, examples like the Rimac Concept One and the Tesla Model S can accelerate to 0-100 kph in less than three seconds. That's how exciting these vehicles are performance-wise.
Now it's no secret that Japanese companies like Honda have been dipping their toes into the world of electric power and one, very important project their engineers have cooked up with regards to electric power is the Honda E. Which as you might remember even participated in the very famous Goodwood Festival of Speed 2019's hill climb run and the crowd, of course, loved the functioning concept vehicle.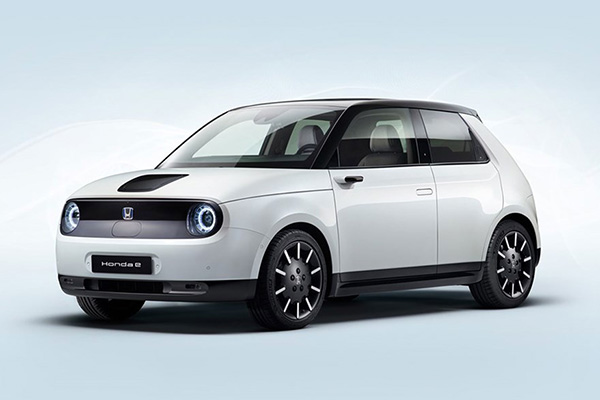 A really fitting homage to the likes of the Honda cars of the 60s!
During the recent Frankfurt Motor Show, however, it's no longer a mere concept and Honda actually debuted a production version. Sneak a peak with Philkotse.com for Honda-lovers!
1. Honda E: Honda's herald for great things to come
Back in 2017, Honda showed off the Urban EV concept and of course, people adored it for its cute proportions and its very stylish retro-modern design.
The prototype, however, has grown into an actual production version. With regards to how it looks, not much has changed really. It's still this very lovable compact and futuristic beauty of a car that comes with minimalist wheels.
Production Version Electric 2020 Honda e EV
And of course, there are the really fancy side cameras which replace the mirror ones on a typical car. There's also its brilliant door handles have this very interesting pop-out mechanism that reminds us of larger, fancier vehicles like the new Mercedes S-Class and the Tesla Model S.
Upfront and at the rear, you might also think that the rounded LED headlights and taillights on this cute little EV have this pleasantly retro feel to them. To be more pedantic, it resembles those round headlights that were common in the 60s and 70s cars.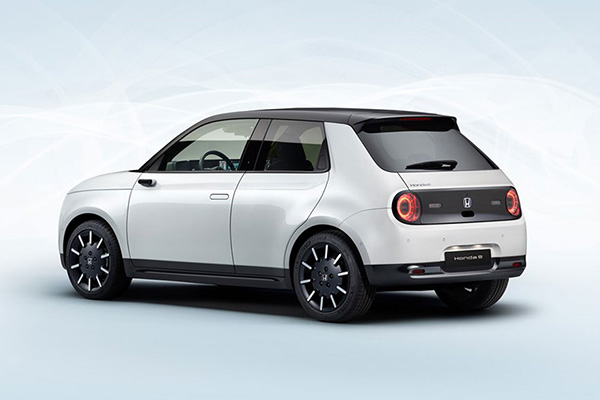 The rear of the Honda E also comes with round LED taillights
Note however that this particular Honda E presented at the Frankfurt Auto Show came with a white matte paint that's was deemed to be too expensive for the actual production run of the vehicle. Regardless of that though, it's a guarantee that just seeing a Honda E in real life will catch your attention.
2. Honda E: Interior
Inside, you'll be floored by what Honda made. The dash itself is the perfect blend of retro and hyper-futuristic as it's made out of very realistic wood and decent looking plastic panels.
Also, there are the pair of 12 inch LCD touchscreens positioned side by side on top of the dash which provides the front passenger and the driver a lot of information. And yes, the details on the right screen can be swiped to transfer to the left screen.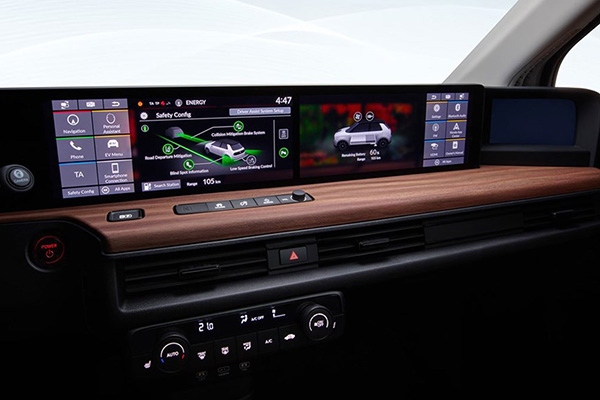 Here are those 12-inch touchscreens that enable a passenger to look up vital info like maps and what not
And the list of cool things inside the Honda E goes on with the Honda Personal Assist equipped with machine learning tech which studies the operator's voice for improved performance over time. Also, the Honda E is a really safe vehicle as it comes with a lot of really high-tech safety features as we always expect in Honda cars.
Also cool and very noteworthy are the two six-inch screens straddling the dashboard. These function as the display monitors which replaces the traditional side-mirrors and according to a lot who had witnessed them working, they appear to provide a crystal clear picture with no lag at all.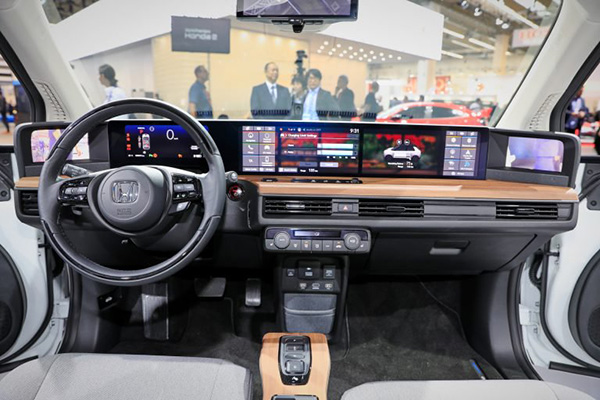 Here's a wider shot of the Honda E's interior which we reckon might intimidate users at first
3. Honda E: Performance
Apart from the interior and exterior features of the Honda E, the Japanese company also released information with regards to what this cute thing is capable of on the road.
The Honda E will have two power specifications, one with a really hefty 152 horsepower rating, and another less powerful one with 134 horsepower. With the more powerful, top of the line spec Honda E, the company says that it can do a 0-100 kph time of around 8 seconds. Pretty rad.
Remember though that the Honda E wasn't actually made for racing or hooning and instead was built for traveling within city streets so we're pretty interested in what this baby can actually do in traffic and when powering out of a corner.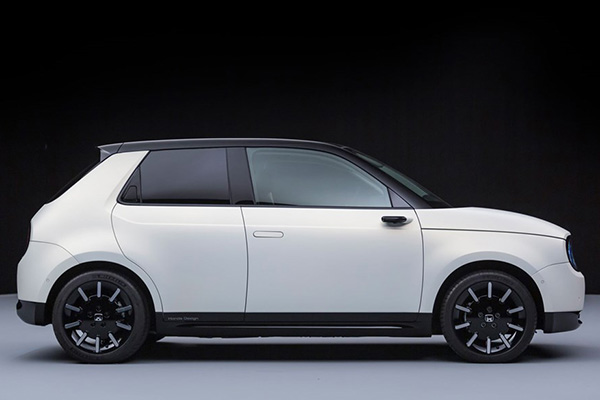 Considering the Honda E's stance, we also guess that it has very sporty handling
In fact, Honda never lets us down thanks to its significant design in both appearance and performance, if it is not trustworthy enough, you need to read more Honda reviews to see how experts have opinions on the cars. For example, in this new model,  when it comes to the batteries, a fully charged Honda E will be good for 201 kilometers which are perfect for a daily commute in the cities of the Philippines.
Also, the 35 kWh battery comes with fast charging that will enable it to reach 80% in 30 minutes. Once again, pretty cool.
4. How much will the Honda E cost?
While Honda as of yet has not confirmed a price, the company hinted however that it will range at around £30-35k or Php 1,928,940 to Php 2,250,430. So yeah it will not come cheap. There's also no word yet whether the brilliant Honda E will come to Asia but Honda did reveal that it will be released in the UK soon.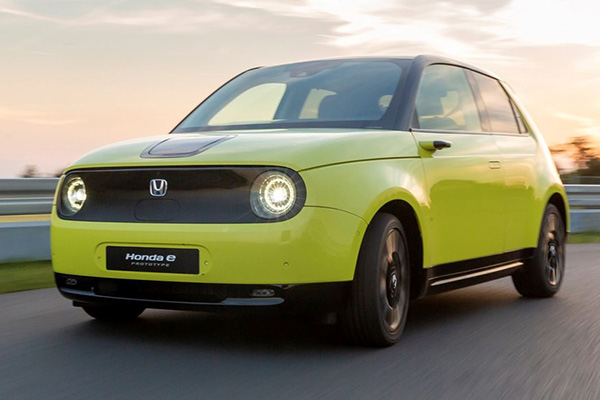 Do you think the price is appropriate for the Honda E's looks and performance? 
>>> Visit our Honda Philippines price list for more updates
5. Honda's electrification mission
The Honda E is indeed a very significant first step for Honda who intends to power on towards their mission of electrifying all-new Hondas in Europe by 2025. And currently, the company is also hard at work in developing a Powerwall similar to the one from Tesla which will allow consumers to effectively manage electricity in conjunction with charging their electric Honda model.
In that note, we just hope that the Honda E and whatever Honda's cooking up with regards to the future, and Honda Philippines will help us to see and buy electric vehicle models one day. After all, some of the biggest fans of the brand are Filipinos.
Please keep reading here on Philkotse.com for more automotive updates.

Author
Cesar learned how to drive a car years before he got his license. Today, he's still looking for that perfect '90s Japanese coupe to drive into the sunset while listening to Crazy Little Love by Nuage. Also has a thing for badass off-road vehicles and weird engine swaps.