10,000 units made since 2017 is quite impressive for a luxury brand.
When Lamborghini launched the Urus midsize luxury crossover in 2017, a lot of people thought that just like the other Lamborghini SUV/crossover attempts, it would flop. There was the LM002, which was supposed to become a military vehicle, or a more luxurious Hummer. The LM002 of course didn't last long, and it didn't fly off the shelves like its contemporary Lamborghini siblings.
Just like the familiar tale of the Lamborghini itself, however, the Lamborghini Urus became a dark horse in the world of luxury crossovers. In just under two years, the Italian carmaker already rolled out its 10,000th car, which of course came with very special features.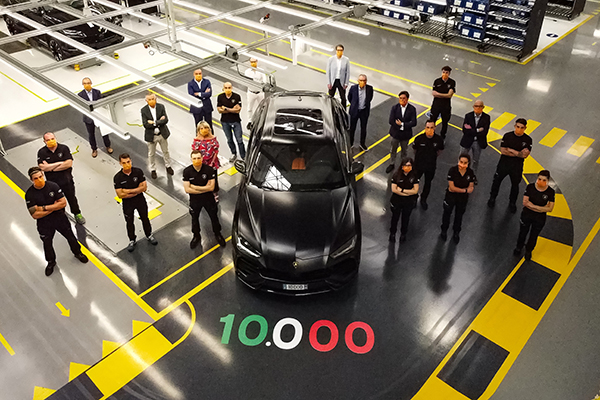 Here it is, the 10,000th Urus
Do note that with its 10,000th car, the Urus is now fast becoming a best-seller similar to the likes of the Lamborghini Gallardo, which sold 14,022 from 2003 to 2013, and the Lamborghini Huracan, which hit the 14,000-mark in five years since its release. Now, the Urus achieved the 10k production mark in just under two years, so it's arguably one of the fastest-selling Lamborghinis. Again, it echoes the story of Lamborghini itself, the underdog, which eventually dominated the scene.
With regards to the 10,000th Urus, it will be delivered to a customer in Russia. And as we've said, it features a lot of carbon fiber. It's also matte black in color, features a two-tone interior, and of course, it's powered by a 4.0-liter twin-turbo V8 found on the regular Urus, which could produce up to 641 horsepower.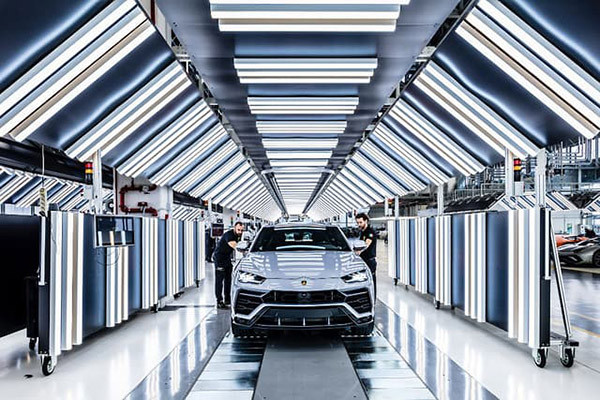 Lamborghini employees thoroughly inspecting the Urus
>>> Related: 2021 Lamborghini Urus Pearl Capsule lets you play with color
Surprise surprise, this engine was also a huge point of contention for many Lambo fans at the time simply because it lacked several cylinders. It wasn't the signature Lambo V12, nor was it the proven V10 found on the Huracan and the Gallardo. Instead, this is actually a modified Audi V8. Regardless, the said engine actually pulled through for the Urus. Also, it's actually a very reliable engine, which has proven to be a very suitable power plant for a roomy, muscular, and capable crossover.
For more automotive news, keep yourself updated here on Philkotse.com.
Know more about Lamborghini Urus

The Lamborghini Urus is a series of super Sports Utility Vehicles made with the unbeatable power of a sports car and the overall versatility of an SUV. It features a well-sculpted and athletic body detailed with dramatic curves, sleek lines, and contemporary features. Stepping inside is a memorable experience as it is packed with the latest driver and passenger amenities not found in other SUVs offered in the market today. Expect a safe, comfortable, and consistent luxurious riding experience from this acclaimed vehicle. The Lamborghini Urus and the Lamborghini Urus Pearl Capsule is available in the Philippines. It comes in Nero Noctis, Bianco Monocerus, Blu Astraeus Metallic, Blu Eleos Metallic, Rosso Mars Metallic, Giallo Auge, Nero Helene Metallic, Bianco Icarus Metallic, Grigio Nimbus Metallic, and Rosso Anteros Metallic.
Price available upon request
Explore

Cesar G.B. Miguel
Author
Cesar is a graduate of AB English with previous experience working as a freelance writer for varied internet publications in-between his former stints in the Pharmaceutical Industry, and later as a First Aid Provider and Training Staff at the Iligan City Disaster Risk Reduction and Management Office.
Since childhood, Cesar has been keenly interested in cars. He has learned the ins and outs of these marvelous vehicles and is a competent amateur mechanic who is keen on sharing his knowledge.
Cesar is perceptive of car culture in general – not only in the Philippines but in global regard, as well. His knowledge ranges from the prevalent stories and trends among car enthusiasts around the world, to closely following the latest local and international developments in the automotive industry.