He hopes to inspire the youth to chase their dreams. 
People making something innovative out of cheap materials will be an inspiring sight to see. This is the case for the 18-year-old kid from Accra, Ghana named Kelvin Odartei. He created his own car with an estimated cost of around 8,000 Ghana Cedi (or Php 8,173).
HE BUILT THIS CAR for $200 w/ Scrap Metal (GHANA)
Kelvin is a Junior High School graduate who loves to invent at a young age. According to his mom, Kelvin would even make an airplane or a helicopter that would fly some few distances. Now, his car invention went viral and uses it to go to school.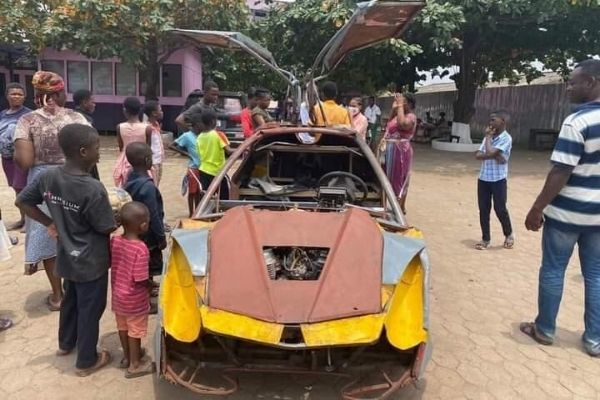 The car invented by Kelvin
The car looks like an SUV with how the height is designed but with a short wheelbase. It can seat two people with no windows configuration. Kelvin shared that he built the car for three years. Initially, it was just him doing all the work. And later, his friends joined him.
Looking at the front end, Kelvin's car does come with a sports car-like appeal. It resembles a Lamborghini Sian hypercar with the way the headlight housings are shaped and it even has a rear wing for added sportiness. The hood is even designed with air ducts to probably cool the engine.
Under the hood, Kelvin shared that his car is mounted with a motorcycle engine. The shock absorbers are from a motorcycle as well. The invented car doesn't come with features that add weight such as an air conditioning system and windows. As such, mounting a proper car engine would be impractical.
>>> Related: Mazda PH gives BT-50 Pangolin Edition to Katala Foundation in Palawan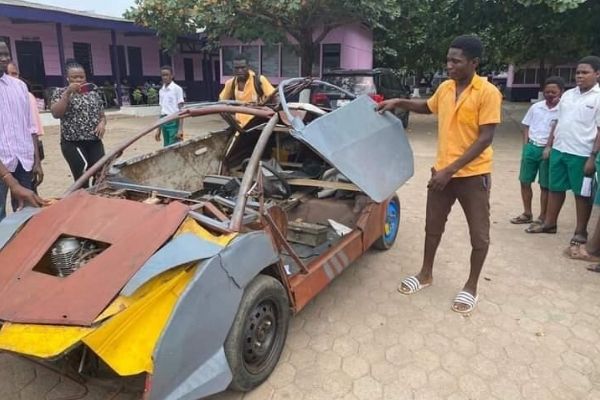 He uses the car when going to school
Inside, there's nothing much going on. It does come with cup holders and a dial knob for the radio which seems to be inaudible as of the moment. Those who wish to enter Kelvin's car will be greeted by falcon-wing doors usually seen from the Tesla Model X or the time machine car from the Back to the Future movie.
Kelvin has a dream to manufacture cars not only in Ghana but also all around the world. Without a doubt, he is off to a good start considering he has built a car under Php 10,000 at the age of 18. He wants to motivate especially the youth to build something just like what he did and to follow their dreams.
Here at Philkotse.com, we value your interest in the automotive industry. Visit our website to find out more.

Rex Sanchez
Author