The truck will be used for monitoring the NGO's conservation activities.
Mazda Philippines recently partnered with Katala Foundation in Palawan to introduce a special edition of the BT-50 pickup truck called the Pangolin Edition. Katala Foundation is a non-profit Philippine non-governmental organization (NGO) that conserves the lives of the endangered Palawan Pangolin.
To support Katala Foundation's conservation activities, Mazda Philippines provided the NGO with a brand new BT-50 Pangolin Edition that will be used in monitoring and population checking activities around Puerto Palawan.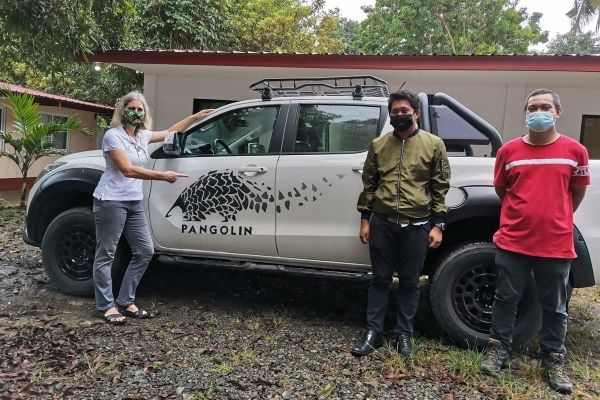 The Mazda BT-50 Pangolin was received by Katala Foundation representatives
The turned over BT-50 Pangolin Edition will be replacing Katala Foundation's 1996 Mazda Proceed for a year. With the addition of the new BT-50 Pangolin Edition, Mazda Philippines is hopeful that Katala Foundation will save the country's endemic wildlife and fragile ecosystem.
"With all the challenges and threats that the Palawan Pangolin is currently facing, it is only fitting that Mazda Philippines sends over its Christmas gift for the Pangolins this early so that we can help stop the trafficking and contribute to their protection and preservation," said Steven Tan, President and CEO of Mazda Philippines.
Powering the Mazda BT-50 Pangolin Edition is a 3.2-liter 5-cylinder turbo-diesel engine capable of making 197 hp and 470 Nm of torque. Adding to its performance features are its water wading capacity rated at 800 mm and its 1,086-kilogram cargo capacity that are essential in monitoring activities of Katala Foundation.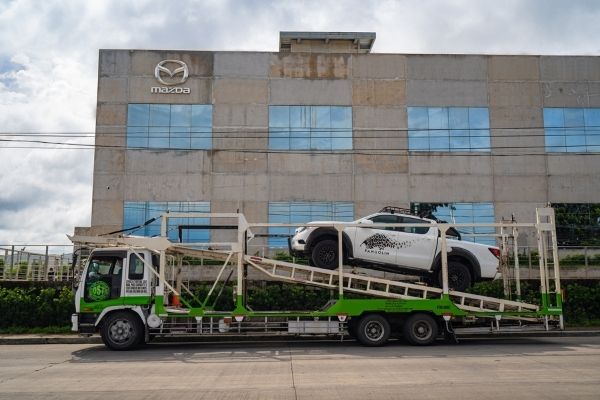 The truck departed from the Mazda Center of Excellence facility in Cabuyao, Laguna last December 9, 2020
As for pricing, the Mazda BT-50 Pangolin Edition comes with an introductory price of Php 1,400,000. The BT-50 Pangolin Edition is also offered with Mazda's 3-year vehicle warranty and free preventive maintenance service (PMS) for 5 years, or up to 100,000 kilometers, whichever comes first.
"This pickup truck also represents the same challenges that the Palawan Pangolin faces today. We hope that together with the support of Mazda Philippines, we can finally head for the right direction to achieve the conservation status of this species," shared Indira Lacerna-Widnann, Project Director of Katala Foundation.
Here at Philkotse.com, we value your interest in the automotive industry. Visit our website to find out more.
Know more about Mazda BT-50 2021

The Mazda BT-50 is the brand's contender in the pickup truck segment of the Philippine automotive market. Its competitive price points across all of the nameplate's variants make it a strong player among vehicles in its segment. Apart from gaining recognition in 2013 by bagging the Truck of the Year Award granted by the Car Awards Group Inc., it also offers a range of functional and versatile features that are evident from its drive performance. Among the extensive list of its safety features are a Remote Keyless Entry System, Rear Parking Sensors, Rear View Camera, Cruise Control, High Mount Stop Lamp, and Hill Descent Control. These key features deliver a comfortable and safe drive that also add to the vehicle's performance on rough roads. The 4-door pickup truck is marketed in a total of three variants which are the 3.2L 4x4 AT, 2.2L 4x2 AT, and the 2.2L 4x2 MT. The top-spec variant is valued at P1,550,000 while the base variant comes with a P1,350,000 price tag.

Rex Sanchez
Author