Kia HabaNiro EV is not only the thing of beauty but it also what we could look forward to in terms of engineering and technology.
At the 2019 New York International Auto Show, Kia has revealed their spicy new take on the electronic vehicle: Kia HabaNiro.
As one of the event's largest and most crowded upon displays, the Kia HabaNiro is the Korean car company's very interesting EV concept car which they have called an Everything Car Electric Vehicle or ECEV for short. What is it?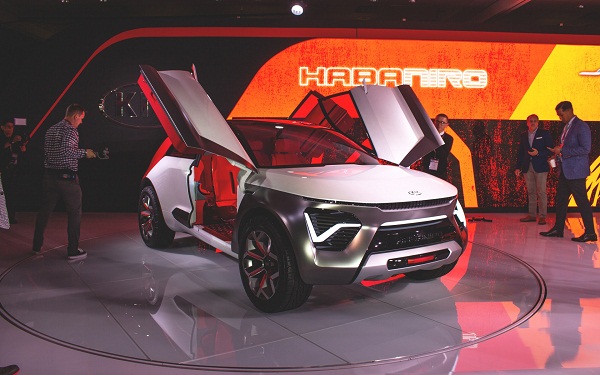 Kia HabaNiro caught a lot of car lovers' eyes at 2019 New York International Auto Show
Well the idea behind the ECEV is that it's an all-wheel drive, four-seater that can cover a whole lot of roles. It can be an SUV, a city roundabout, or a crossover for a small family. In fact, Kia calls it a "whole new category of the vehicle".
As said by Tom Kearns, the vice president of design for Kia Design Center America or KDCA for short, they wanted the HabaNiro to be able to smoothly run in an in-city environment while still be able to function as a high-tech all-around adventure vehicle.
According to the latest car news, Kearns also says that they had imagined the hot EV concept to be a vehicle suitable for anyone and to do anything. An actual Swiss-knife of a vehicle whose versatility can be counted upon on a mere shopping run or when tackling rough roads for that weekend camping trip.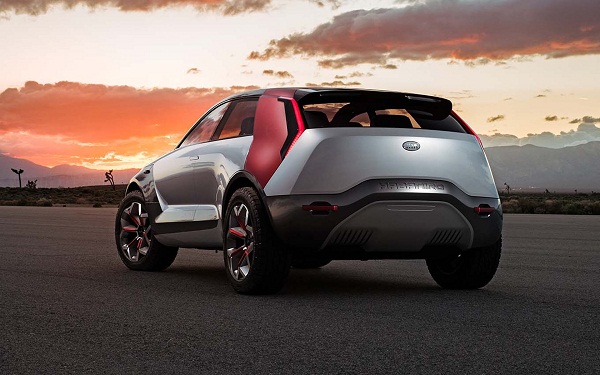 From this angle, we can easily see why Kia calls the HabaNiro a "do it all" vehicle
Michael Cole, KMA's chief operating officer and executive vice-president says that the HabaNiro is a masterpiece, a result of the genius application of their skill and imagination. He also says that it's not only a thing of beauty, but it is also what we could look forward to in terms of engineering and technology in the near future.
1. Kia HabaNiro: A spicy and hot concept
As for the spicy and hot HabaNiro concept itself. It is classified by current auto industry lingo as a compact crossover utility vehicle that as we've already mentioned can be used in a multitude of ways.
What we've yet to mention is that the concept EV has a very interesting exterior which doesn't look like anything Kia has ever designed before.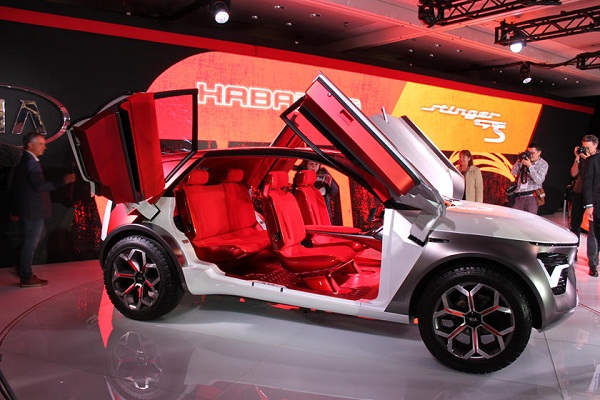 The concept EV has a very interesting exterior which doesn't look like any other Kia models
From its shark-like front end to its very cool butterfly doors that lift up, the HabaNiro's exterior is as futuristic as it gets. Despite that futuristic seamless shark-like appearance, one can still see here and there that the HabaNiro is indeed built to be tough.
One such design cue hinting at its toughness is the overall stance of the vehicle not to mention the presence of skid plates, and tow hooks. These don't really clash with the look at all and in fact, give the HabaNiro an adventure-ready attitude.
>>> Kindly refer to our Kia for sale in the Philippines to find more models at a reasonable price.
2. Kia HabaNiro: Interior
Going through the scissor-like opening of the Habaniro's doors, one will immediately be surrounded by a warm lava red interior which is not only stylish but also very roomy and comfortable.
But what's surprising about this concept EV is that massive interactive touchpad display with Sensory Light Feedback which allows its users to easily access information and vehicle controls.
Adding to the comfort level of the vehicle is its Perimeter Ventilation System of PVS which is very quiet yet it can evenly distribute cool air within the vehicle's cabin.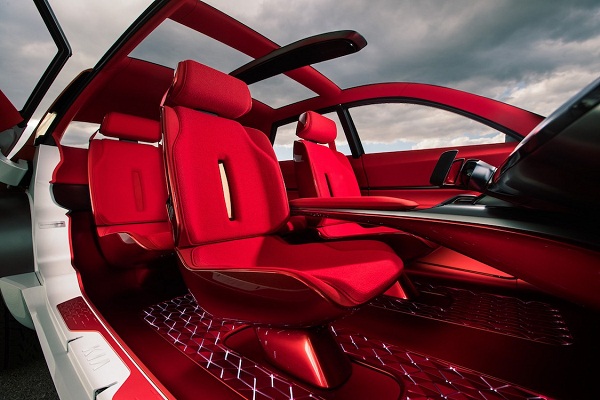 As fancy as a hotel suite 
Up front on the driver's seat is steering wheel and instrument panel that can be retracted forward whenever the autonomous driving system is engaged. This definitely provides more space for passengers who are in turn kept comfortable by Kia's Real-time Emotion Adaptive Driving which can read and analyze a driver's emotional state in real time and thus can make appropriate adjustments.
>>> Related: Latest Kia Philippines' lineup and price list
3. Kia HabaNiro: Powertrain and Battery
What powers the HabaNiro concept EV is a pair of electric motors on the fore and aft of the vehicle. Power is then sent to all wheels through an e-AWD system. Power is stored in an advanced state of the art battery technology which can provide the Kia HabaNiro a 300 mile All Electric Range.
Kia HabaNiro Concept - First Look
4. The future of the HabaNiro
When it comes to the HabaNiro, many have indeed expressed their doubts that the concept will even reach production at all. Kia says that you shouldn't bet on that as they had already released two production models originating also from concept cars: Kia Telluride and Kia Stinger.
So sooner or later we might be able to expect something out from the HabaNiro and it is also evident that Kia itself appears to be ready for the future of the automotive industry indeed.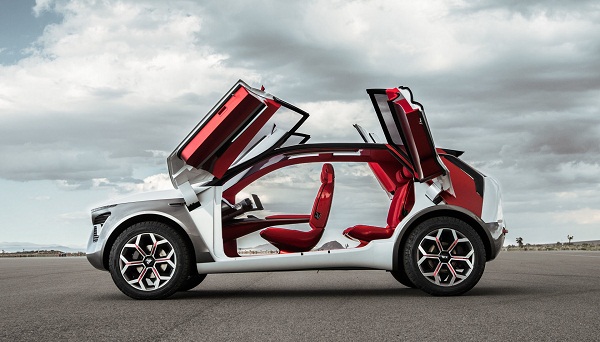 We've just had to wait for a little while longer to see the HabaNiro concept become an actual production vehicle
For more news, reviews and updated prices for the latest car models please stay posted here at Philkotse.com.

Know more about Kia

Here is the complete price list for Kia Philippines for 2023. Of note, Kia currently has eleven different models. It has three sedans namely the Soluto, Forte, and Stinger. It also has one hatchback model, the Picanto. For crossovers, it currently has the Sorento, Sportage, Stonic, EV6 and Seltos. It also has the Carnival as its entry into the minivan segment, as well as the K2500 as its light commercial vehicle model.

Cesar G.B. Miguel
Author