Hyundai's latest EV is cute, but it probably won't fit you inside.
For Hyundai, EVs are meant to cater to many kinds of people. That includes the young, old, and the young at heart. As such, the Korean carmaker revealed a new fully electric model in October 2020. It's small, but it's based on the "45" EV concept. So regardless of its tiny size, it still bears the same design cues as its larger brother.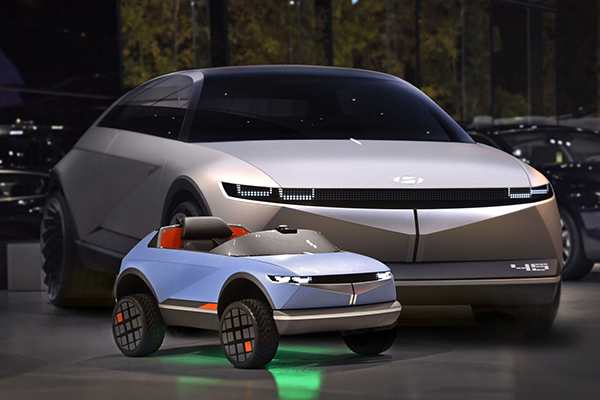 Hyundai's tiniest EV together with the 45 EV Concept
From the front, one can see that it comes with the same U-shaped headlight clusters as the 45 concept. When viewed from the sides, it's also plain to see that it even bears the same character lines. This still-unnamed Hyundai EV however, comes with an open-top design. A permanent open-top design.
This allows its tiny operator to let his/her locks fly in the wind while cruising around the backyard, or even in the living room. Also, the driver is given a push start button, LED headlamps, and LED taillights. It's also equipped with a comfortable but serious-looking steering wheel which very much looks like the ones on open-wheel racing cars.
>>> Related: Hyundai launches Ioniq sub-brand, to roll out 3 EVs starting 2021
A Special Gift for Kids: Hyundai's Smallest EV | Production Film
While it looks very metallic on the outside, one surprising fact about this EV is that its frame and body are made out of wood. This mirrors the environmentally-friendly materials used on the larger 45 concept.
Propelling this tiny vehicle is a pair of 24V DC motors. With their 240W of total output, the tiny EV can reach an incredible 7 km/h. And just like many open-wheel racing cars, the small EV only has one seat positioned in the middle. 
If you haven't guessed by now, the car we're talking about is intended for the younger driver. No, not youths who can get their student driver licenses, but rather little tykes. Well, a very determined, or very small adult can theoretically fit inside this tiny EV, but the car's future owner might give you an unimpressed pout if you did that.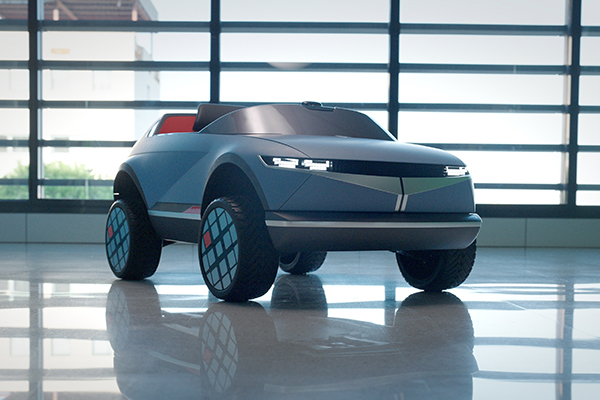 Would you..err, would your kids like one?
Without a doubt, Hyundai engineers had a lot of fun designing and building this toy EV. Furthermore, it seems that the Korean carmaker is actually planning on selling a production version in the future.
For more automotive news, car reviews, and car maintenance tips, keep reading here on Philkotse.com.
Know more about Hyundai

Philkotse.com offers a wide variety of Hyundai cars. From fuel-efficient vehicles to big family automobiles, browse through countless selections that will not only satisfy your needs but your budget as well. Furthermore, stay updated with the latest news, updated price list in the Philippines, automobile reviews, and information about your favorite Hyundai model.

Cesar G.B. Miguel
Author