10 units of Class 2 PUVs are turned over.
Hyundai Asia Resources, Inc. (HARI), the official distributor of Hyundai vehicles in the country, is aiding the country to better normal by supporting the government's Public Utility Vehicle Modernization Program (PUVMP). The province of Pangasinan recently received 10 of Hyundai's Class 2 HD50S Modern Public Utility Vehicle (PUV) set for operation.
The Tayug Pangasinan Transport Cooperative (TAPTRANSCO) is the transport group in Pangasinan that will be handling the 10 delivered Class 2 PUVs. The transport group is new to the province but has already responded to the government's modernization campaign.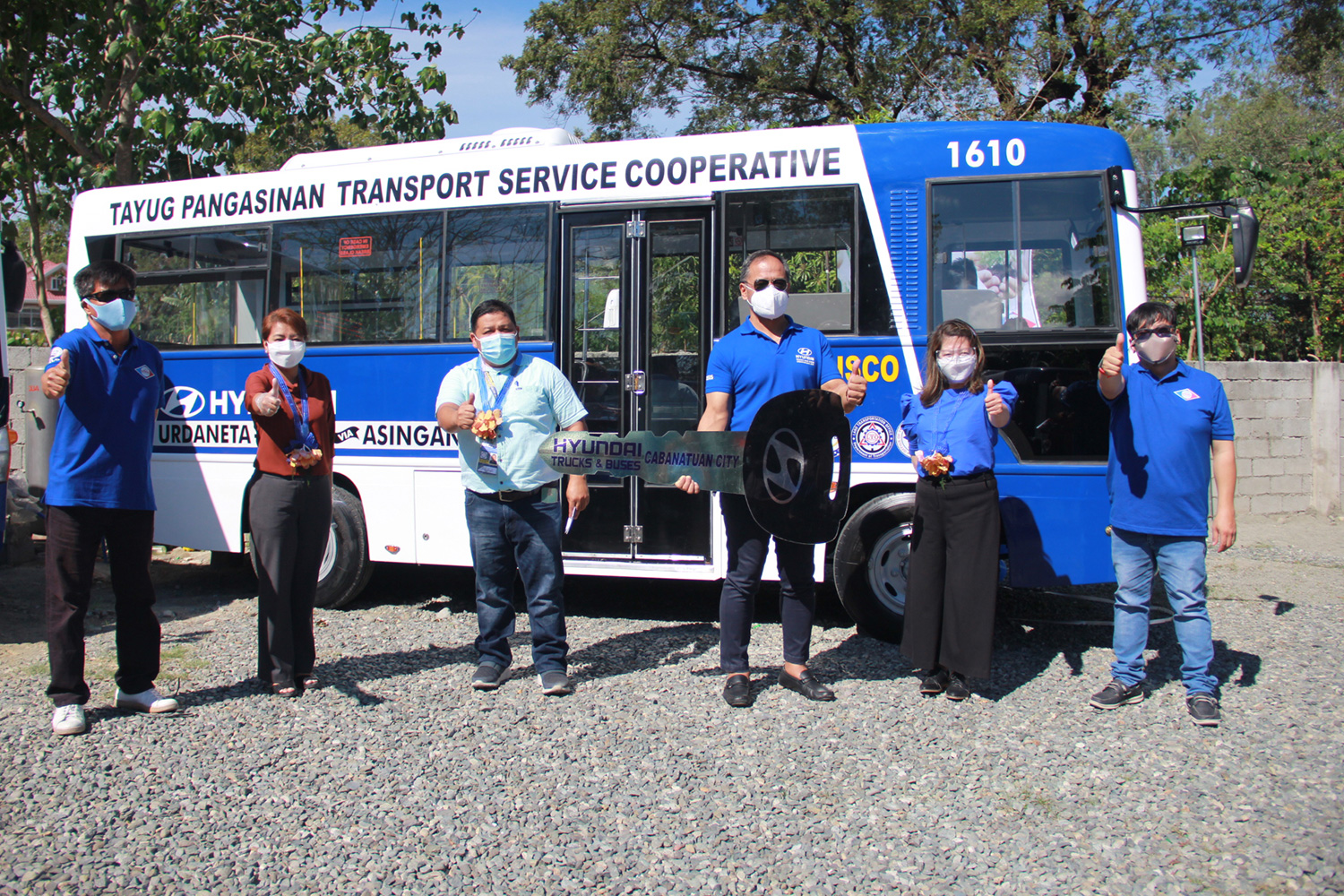 Tayug Pangasinan Transport Cooperative is ready to roll its Hyundai modern PUVs
The turnover ceremony was graced by local government and transport group leaders who are committed to supporting the PUVMP. Mr. Manuelito B. De Vera, TAPTRANSCO Board of Director, sent his gratitude towards those who work for the better of their community especially in the line of transportation.
The Hyundai HD50S Modern PUV Class 2 is providing commuters in Pangasinan a more convenient mode of transportation as it comes with features such as a roof-mounted air conditioning, Wi-Fi module/router, 7-inch monitor, GPS tracker, CCTV cameras, and a speed limit warning buzzer for safety.
The Modern PUV Class 2 received its DOTr's Certificate of Compliance (COC) in 2019 along with the H-100 Class 1.
>>> Related: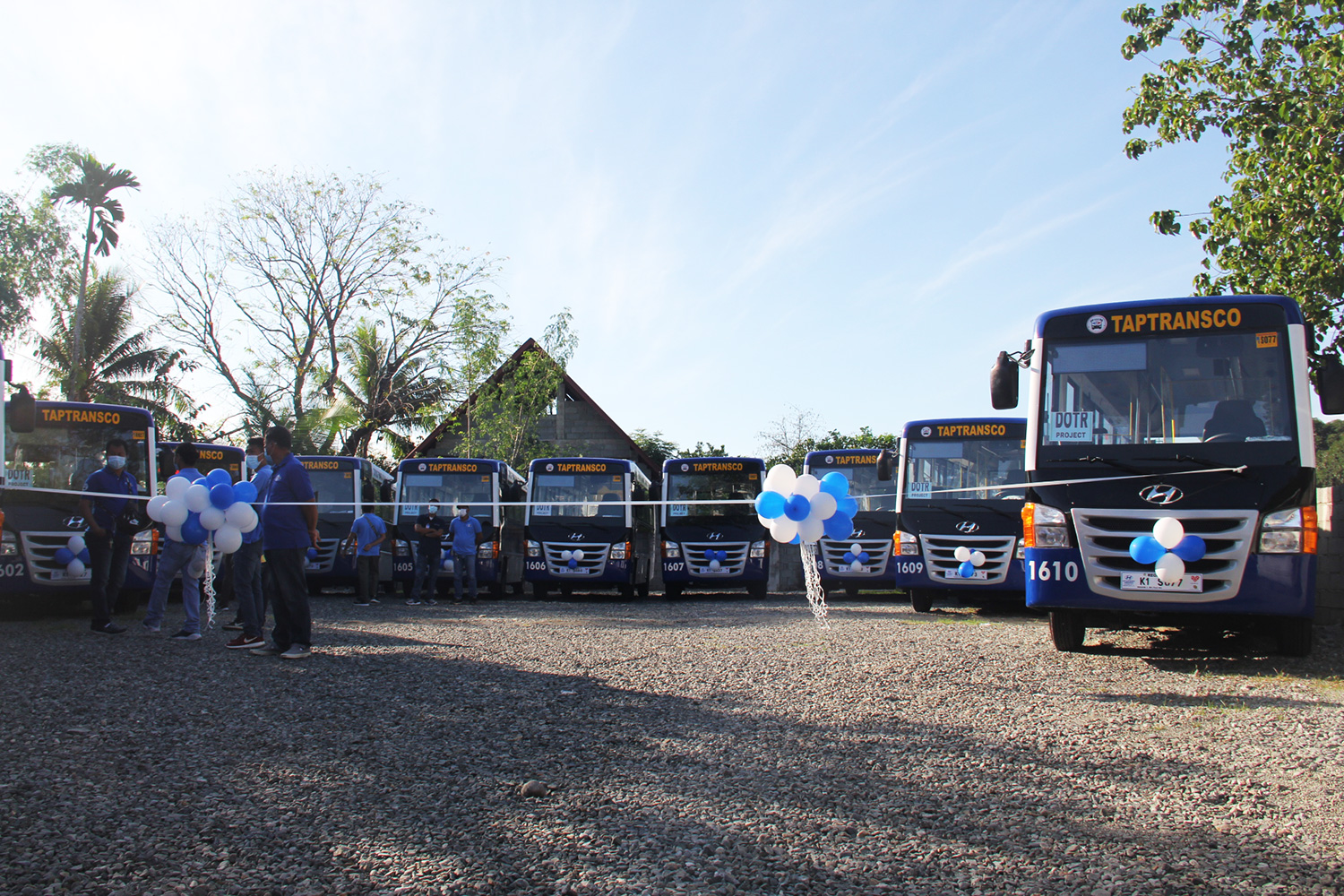 Small steps toward a greener mode of transportation
Thanks to its 3,415-mm wheelbase, the Class 2 HD50S can seat up to 22 passengers and can accommodate up to 10 standing commuters. It also comes with an Auto Fare Collection System for contactless payment and plastic dividers to ensure social distancing is observed within the vehicle.
Aside from Pangasinan, HARI has also handed modern PUVs in Cavite and Tarlac to start revolutionizing their respective provinces. As of this writing, the Korean carmaker has already delivered over a hundred units of modern PUVs.
Here at Philkotse.com, we value your interest in the automotive industry. Visit our website to find out more.
>>> Related: Used cars for sale in Manaoag Pangasinan

Know more about Hyundai H-100 2022

The all-new H100 by South Korean carmaker Hyundai is a reliable and versatile commercial vehicle that can assist your business. Though belonging to the light truck category, this dependable workhorse can carry a good amount of load or passengers depending on the variant. Also, its exterior is designed with some essence of a regular automobile making it stand out among its league. Locally, the following variants are available in the market today: the Hyundai H-100 2.5 CRDi GL Cab & Chassis without aircon, the Hyundai H-100 2.5 CRDi GL Cab & Chassis with aircon, the Hyundai H-100 2.5 CRDi GL Shuttle Body without aircon, the Hyundai H-100 2.5 CRDi GL Shuttle Body with aircon, the Hyundai H-100 2.5 CRDi GL Class 1 PUJ without aircon, and the Hyundai H-100 2.5 CRDi GL Class 1 PUJ with aircon.

Rex Sanchez
Author