Get your brand-new Hyundai today before its price rockets.
New excise taxes under Republic Act 10963 or the Tax Reform for Acceleration and Inclusion (TRAIN) has caused a stir in the local auto market these days. However, if you're a Hyundai fan, you are lucky as you can bring home a brand-new Hyundai cars in the Philippines at 2017 prices along with attractive discounts.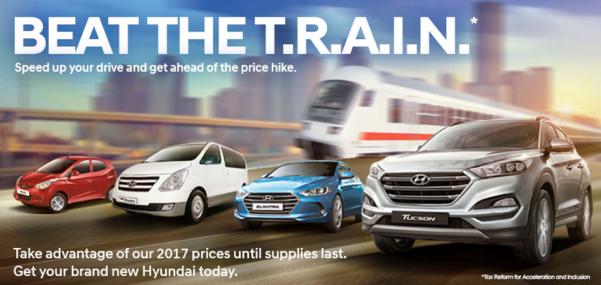 Hyundai's "Beat the T.R.A.I.N" Promo
Named "Beat the T.R.A.I.N", the latest Hyundai's promo is open to all customers who purchase any of the selected Hyundai models as follow:
Hyundai Eon
Hyundai Accent
Hyundai Elantra
Hyundai Grand Starex
Hyundai Sonata
Hyundai Santa Fe
Hyundai Tucson
Hyundai Veloster
… from any Hyundai dealership across the country with last year's price from January 1 to 31, 2018.
In addition to that, car buyers also have chance to avail special packages. As for the reason of the unchanged Hyundai car prices, most of those cars are technically 2016 and 2017 vehicles; therefore, they can definitely avoid the new excise taxes.
If you are Hyundai fans and are into one of the aforesaid car, rush to the nearest Hyundai dealers right now since it is highly likely that when February comes, the pricing for 2018 Hyundai models will accelerate.