It's better than a normal air filter.
Earlier this year, we talked about how some car manufacturers are developing air filtration systems for their vehicles. Why? Well, the environment isn't getting any cleaner, and air pollution is relatively high especially in urbanized cities like Metro Manila. Moreover, the threat of COVID-19 is still persistent and shows little to no signs of slowing down.  
However, life needs to go on. To address the need for a safer car driving experience, numerous car companies are introducing better cabin air filters. Examples include the Chinese car brand Geely, and there's also Ford with its micronAir filter. The latest company to come up with something similar is Honda as it introduced the PM2.5 cabin air filter.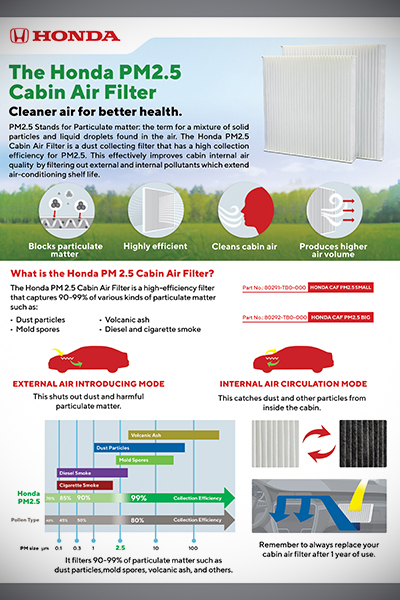 Here are some details on the new Honda PM2.5 cabin air filter.
The name PM2.5 stands for particulate matter, a filter that's capable of dealing with liquid droplets floating around in the air. It can also deal with solid particles like dust, pollen, and other nasties like mold spores and even volcanic ash. The PM2.5 also produces higher air volume, which improves your Honda's air-conditioner performance.
>>> Related: Complete guide to the Honda Philippines' local lineup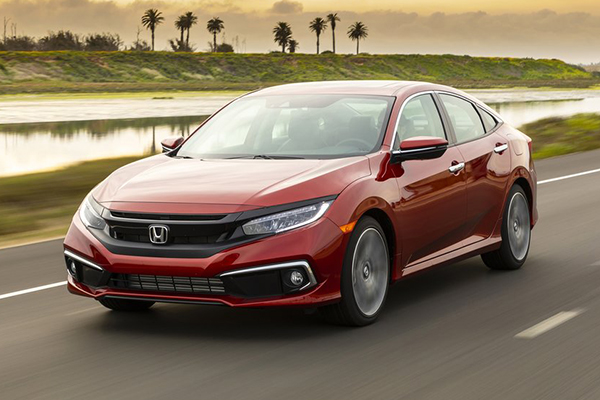 What are you waiting for? Get one for your Honda now.
So how effective is the PM2.5? According to Honda, the PM2.5 cabin air filter has a 99 percent collection efficiency. That means, it's able to deal with smoke and mold spores better than the usual pollen type filter, which only has 80 percent collection efficiency. While it's more effective than the stock filter, Honda still recommends replacing the PM2.5 cabin air filter after one year of use.  
Contact the nearest Honda Cars dealership near you to know more about the PM2.5 filter. For the latest automotive news, keep reading here on Philkotse.com.
Know more about Honda

<p>Car enthusiasts in the country are lucky to have a wide variety of Honda passenger cars, MPV, SUV, and vans offered by the HCPI. Some of the most popular Honda models are the Honda Civic, Honda City, Honda Jazz, Honda Accord, Honda CRV, Honda BRV, and Honda Odyssey. You can visit Philkotse.com to know more about Honda models, available promos, as well as the latest news, reviews, updaters specs, and other information on the website.</p>

Cesar G.B. Miguel
Author