It's the final extension of Honda's promo for its customers.       
If you're still trying to make up your mind about having a Honda in your garage, September is probably the best time to do so. Honda Cars Philippines, Inc. (HCPI) announced that it is extending its "Great Deals, Bright Tomorrow" promo until September 30. Past that, well, you might regret not getting one.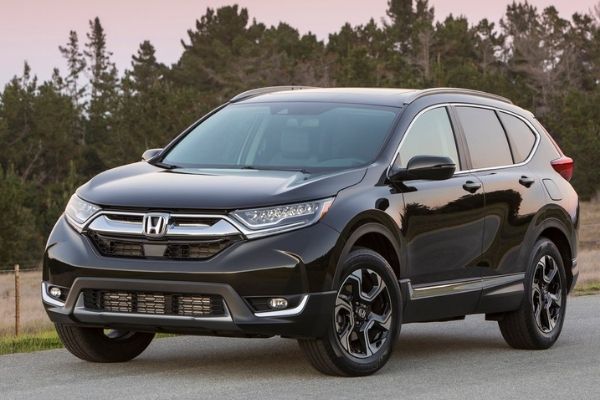 You can save up to Php 150,000 on a 2019 CR-V 2.0 S CVT
For just a special all-in downpayment of Php 10,000, customers can already get behind the wheel of their own 2019 Brio 1.2 S MT variant. If you have something a little sportier in mind, the 2020 Civic RS Turbo CVT entails a downpayment of only Php 86,000.
More specials are in store for cash buyers, with the 2020 BR-V 1.5 V CVT offering a Php 70,000 discount off its Php 1,155,000 sticker price. The 2020 Mobilio 1.5 RS Navi CVT and the 2020 City 1.5 VX+ Navi CVT are both slashing Php 120,000 off, while the 2019 CR-V 2.0 S CVT gets you Php 150,000 in savings.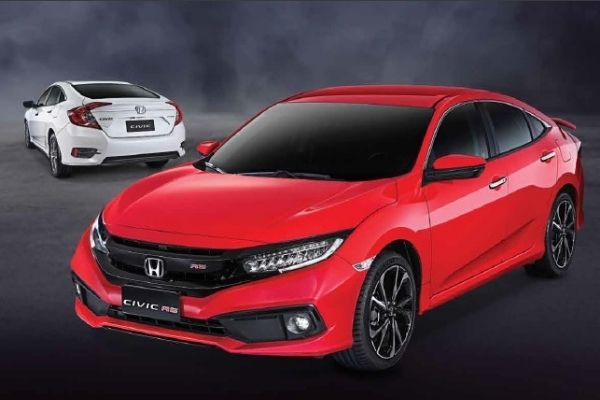 Drive home the Civic RS Turbo CVT for just a downpayment of Php 86,000
HCPI is also offering a special all-in financing program at 10 percent downpayment, with payment terms from 36 to 60 months for selected Honda models. These will be available through BPI Family Savings Bank, RCBC, China Bank Savings, and Bank of Commerce. Other perks for buyers are low cash out, low monthly amortization, and free one-month amortization with 36 to 60 months payment at 15 and 20 percent downpayment.
These can also be availed through UCPB, BDO, PNB, PSBank, East West Bank, and Robinsons Bank. Bank loan applications can also be submitted through the Auto Loan link page at the HCPI website.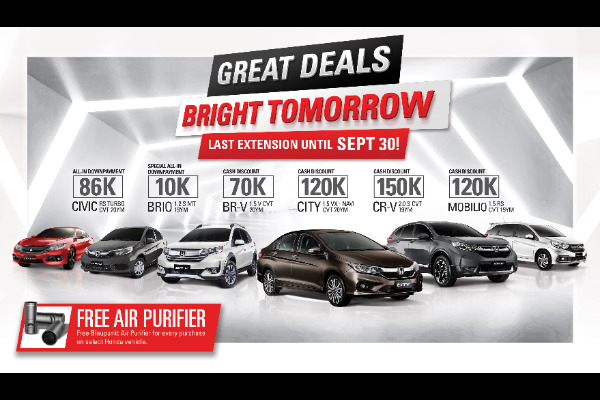 The promo is on its final extension for September
Purchases of the City, Civic, BR-V, and Mobilio also come with a free Blaupunkt Air Purifier AirPure AP 1.0 set. It's probably going to eliminate that new-car smell you've been looking forward to, but at least you'll be driving with cleaner air inside the cabin, a must for the new normal.
All offers include 3-year LTO registration and chattel mortgage, as well as free one-year comprehensive insurance with Acts of Nature coverage on selected banks.
"At Honda, we truly care about everyone's safety and well-being, especially during these trying times," says HCPI President Masahiko Nakamura. "Through these special offers, we aim to help provide mobility and offer ease of ownership to Filipinos as we face the new normal."
More car offers are lined up for you at Philkotse.com.
Know more about Honda

<p>Car enthusiasts in the country are lucky to have a wide variety of Honda passenger cars, MPV, SUV, and vans offered by the HCPI. Some of the most popular Honda models are the Honda Civic, Honda City, Honda Jazz, Honda Accord, Honda CRV, Honda BRV, and Honda Odyssey. You can visit Philkotse.com to know more about Honda models, available promos, as well as the latest news, reviews, updaters specs, and other information on the website.</p>

Joseph Paolo Estabillo
Author