You can now have your Foton serviced at home.
Foton Motor Philippines, Inc. (FMPI) is rolling out with three distinct after-sales services as an effort to address its customers' mobility needs amid the COVID-19 pandemic. FMPI ensures that the after-sales programs are driven by its will to provide safe and quality services to its customers.
The first after-sales service is the EC Mobile Service Truck. FMPI knows how the pandemic disrupted its customers' scheduled maintenance services and repairs. This is why the EC Mobile Service Truck will bring maintenance services to its customers' homes.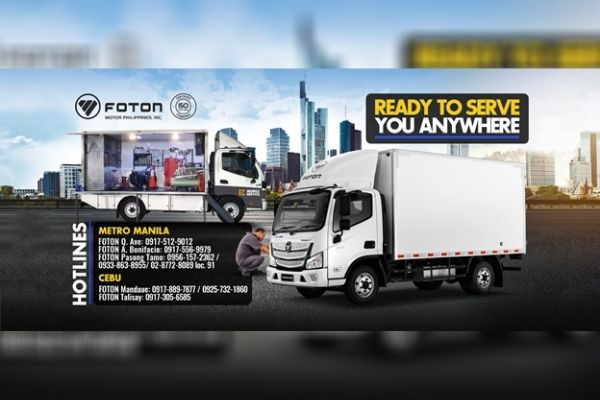 EC Mobile Service Truck
The EC Mobile Service Truck is accompanied by skilled professional mechanics capable of conducting Preventive Maintenance Services (PMS) as well as onboard electronic troubleshooting and diagnostic. The said after-sales service also includes repairs related to aircon, engine electrical, mechanical, and under chassis.
"The EC Mobile Service Program underscores a commitment we've made since the beginning of our operations here which is to constantly improve the quality of our customer experience," says Rommel Sytin, president of FMPI.
As of this writing, the EC Mobile Service Truck is only available in Metro Manila and Cebu. FMPI is planning is to expand this after-sales service soon to accommodate more customers anytime and anywhere.
The second after-sales service is the EC Genuine Parts Free Delivery Promo. As the name suggests, Foton customers can purchase Foton parts from the comfort of their homes and enjoy free delivery. To get started, customers would have to call or text the Foton EC Parts hotline 0999-999-9996.
>>> Related: Foton PH debuts diesel-powered Gratour TM 300 for small business needs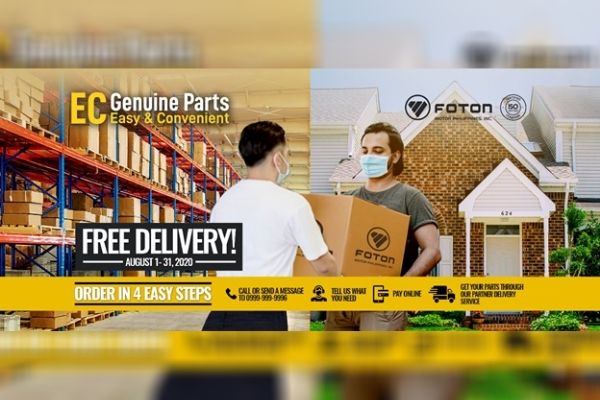 EC Genuine Parts Free Delivery Promo
FMPI hopes that this after-sales service will assist in the mobility needs of its customers while making sure of everyone's safety and convenience. This free after-sales service will run until August 31 only.
Lastly, the Free Antibac Solution Promo that could further help its customer's daily battle against COVID-19. FMPI reminds everyone of the importance of health security, especially during today's health crisis.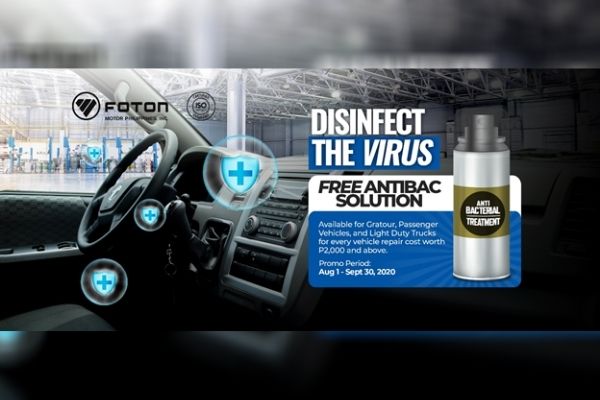 Free Antibac Solution Promo
Of note, Foton customers who will have their vehicles serviced with a repair cost amounting to Php 2,000 and above may avail of the free antibacterial solution.
The Foton units qualified for this after-sales service are the Gratour, Toplander, Toano, Transvan, Traveller, light-duty trucks, variant units with customized special body under the Gratour Series. The Free Antibac Solution Promo will run until September 30.    
Here at Philkotse.com, we value your interest in the automotive industry. Visit our website to find out more.
Know more about Foton Gratour 2021

Foton is known for producing pickup trucks, large commercial vans, and heavy-duty trucks. This diversified as the brand made its entry into smaller carriers. The Gratour is Foton Philippines' line of commercial vehicles that comes in eight variants. These are the Dropside, F-Van, Jeepney, Wing Van, MT MPV, TM MPV, 8-Seater Minivan, and the most recently released iM6 MPV 2020 version. Its variety of models can cater to a range of commercial or domestic requirements. The Gratour is powered by a 1.5-liter gasoline engine attached to a manual transmission. Its most premium iM6 variant is a compact MPV that offers a slew of safety and tech features such as automatic climate control, a touchscreen entertainment system. The MPV produces 115 hp and 150 Nm of torque which proves adequate for hauling cargo and carrying a full car of passengers.

Rex Sanchez
Author