It has everything you need in a truck, according to Ford.
When the next-gen Ford Ranger debuted late last year, the Blue Oval claimed that the truck is in its most versatile form. That versatility is backed by the model's improved space for both the bed and the cabin, making it an ideal workhorse vehicle.
The most versatile Ranger
Committed to delivering a customer-centered design, the all-new midsize pickup truck is designed with an array of organization and storage solutions to secure cargo. Ford gave a rundown of the features that make the Ranger one versatile vehicle.
"Our intent was not to simply create a good truck. We wanted to deliver an exceptional one that people would want to own – one that customers around the could trust to tackle anything," Global Trucks Enterprise Product Line Management Director Gary Boes.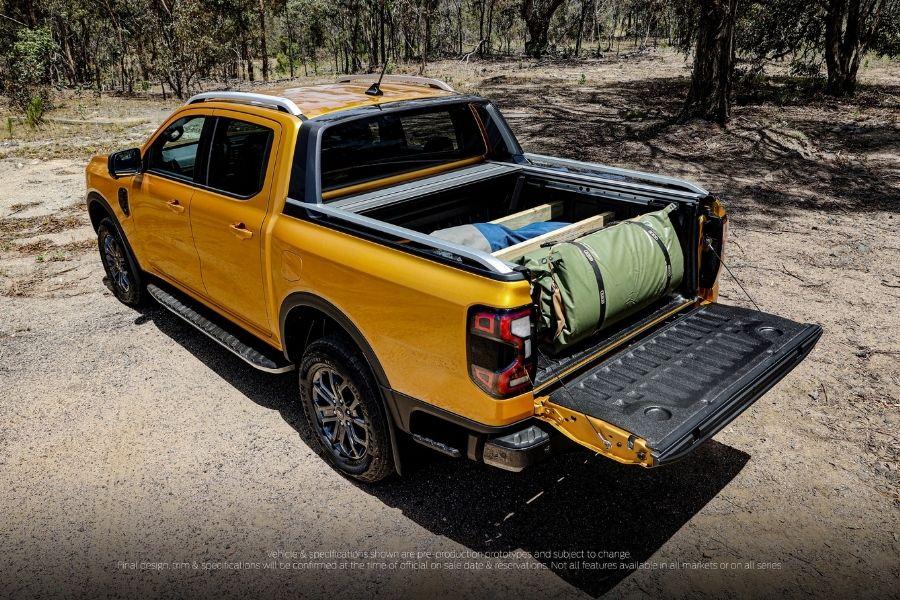 It maximizes cargo bed space
With a cargo box rated at 1,233 liters, the next-gen Ford Ranger boasts the most space in its respective class. An easy-lift tailgate is installed so it can be easily opened and closed. To make full use of the tailgate, Ford made it tough enough so customers can use it as a work surface. The truck also gets a powered roller shutter to open and close the bed from the top.
A lot of useful features are strategically installed for the cargo bed. These include external tie-down rails, internal tie-down rails with spring-loaded, adjustable cleats which can slide into locations, load box lighting, zone lighting, and power to the box (400W or 12V) for powering various appliances such as a laptop, 24-inch LED TV, rice cooker, among others.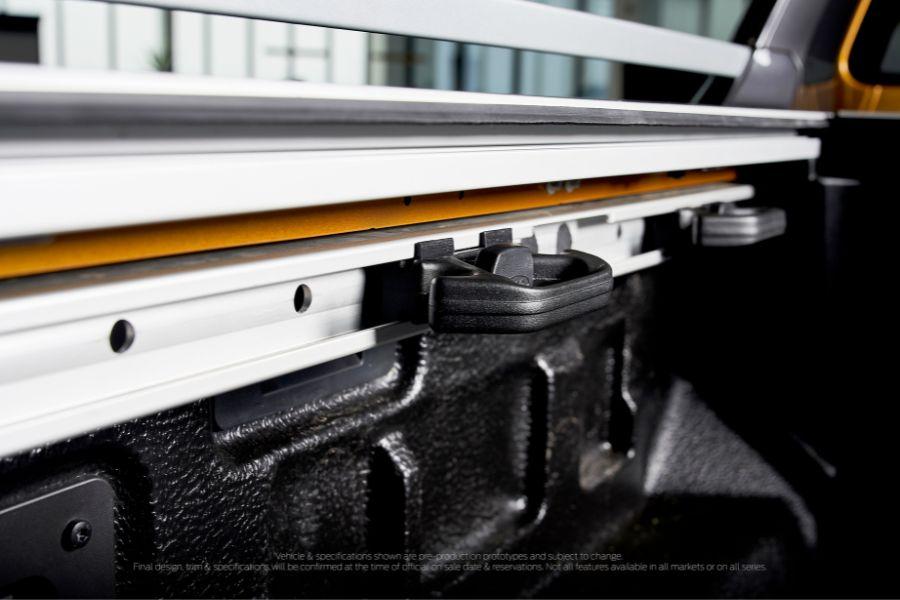 Adjustable cleats
Moreover, the Ranger is equipped with a new drop-in bedliner which comes with functional divider locations. Customers can get creative by sliding custom-made pieces of wood into slots molded into the bedliner. With this, the truck can deliver to the different hauling jobs depending on the type of space an owner needs.
For an even more versatile Ranger, the American marque is encouraging customers to get dedicated accessories developed with ARB 4x4. All these features were added with intention so owners can make full use of their trucks.
"We focused on authenticity and delivering a truck that wasn't superfluous, meaning everything in it had a purpose and meaning," said Ranger Extension Design Manager Leigh Consentino.
The next-gen model delivered
Since most pickups are used locally for family and business, the versatility of the next-gen Ford Ranger can help it cater to the various demands in the market. Ford Philippines will reportedly bring in the all-new model sometime this year.
Catch the latest update on the 2022 Ford Ranger at Philkotse.com.

Know more about Ford Ranger 2023

The 2023 Ford Ranger is a 4x4 or 4x2 pickup truck. It is the latest version of the said model, and as of its launch in the Philippine market, it has a total of eight different variants.
These are the top-spec Wildtrak 4x4, Wildtrak 4x2, Sport 4x4, Sport 4x2, XLT 4x2, XLS 4x2 AT, XLS 4x2 MT, and the entry-level XL 4x4. As of 2023, prices for these trims ranges from php 1,213,000 to Php 1,910,000.
Under the hood of the new Ranger are two-different diesel mills. For the Wildtrak 4x4, it uses a 2.0-liter biturbo that can churn out 210 horsepower and 500 Nm of torque. It is also the sole trim that uses a 10-speed automatic tranny.
The rest of the all-new Ranger then gets a 2.0-liter turbodiesel that can produce up to 170 horsepower and 405 Nm of torque. Only the XLS 4x2 and the XL 4x4 may come with a six-speed manual. The other non-biturbo trims then use a six-speed automatic.
Size-wise, the all-new 2023 Ranger is 5,370mm long, 1,918mm wide, and 1,884mm in height. They also offer a wheelbase length of 3,270mm, and a ground clearance of 235mm.
Locally, the 2023 Ford Ranger faces the Toyota Hilux, Nissan Navara, Mitsubishi Strada, Isuzu D-Max, Mazda BT-50, etc.

Rex Sanchez
Author