And the EcoSport now starts at P799,000.
And the EcoSport now starts at P799,000.
Ford Philippines is starting the year out with flair by offering the 'Deal After Deal' promo which provides cash discounts, all-in low down payment offers, and free ownership packages for its vehicles. The said promo will run until January 31, 2021, only.
With the 'Deal After Deal' promo, the renowned Ford Ranger is now available with a cash discount of up to Php 90,000. Customers can also avail of the Ford Ranger with a Php 88,000 all-in low down payment if they don't wish to pay in full.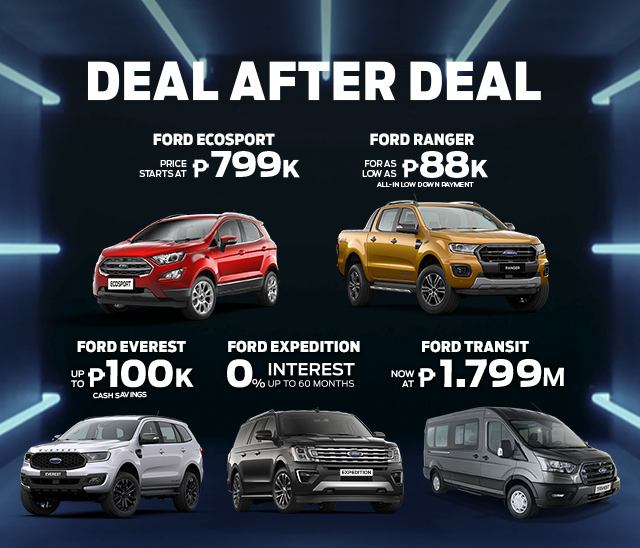 Ford Philippines' January 2021 Promo
The Ford Ranger is the American car brand's entry to the local pickup truck segment. All vehicles, except the Ford F-150, within the said segment are powered by a diesel engine. As such, the Ford Ranger is offered with two engine options, namely the 2.2-liter turbocharged 4-cylinder diesel engine and the more powerful 2.0-liter 4-cylinder diesel engine.
Aside from the Ranger, Ford Philippines is also offering the EcoSport, which now comes with a new suggested retail price (SRP) at Php 938,000, and is offered with a cash discount of Php 139,000. That said, the subcompact crossover is available with a starting price of Php 799,000 this January. It is also offered with an all-in low down payment of Php 23,000.
>>> Related: 2020 Ford Ranger Raptor defends title as best pickup truck in PH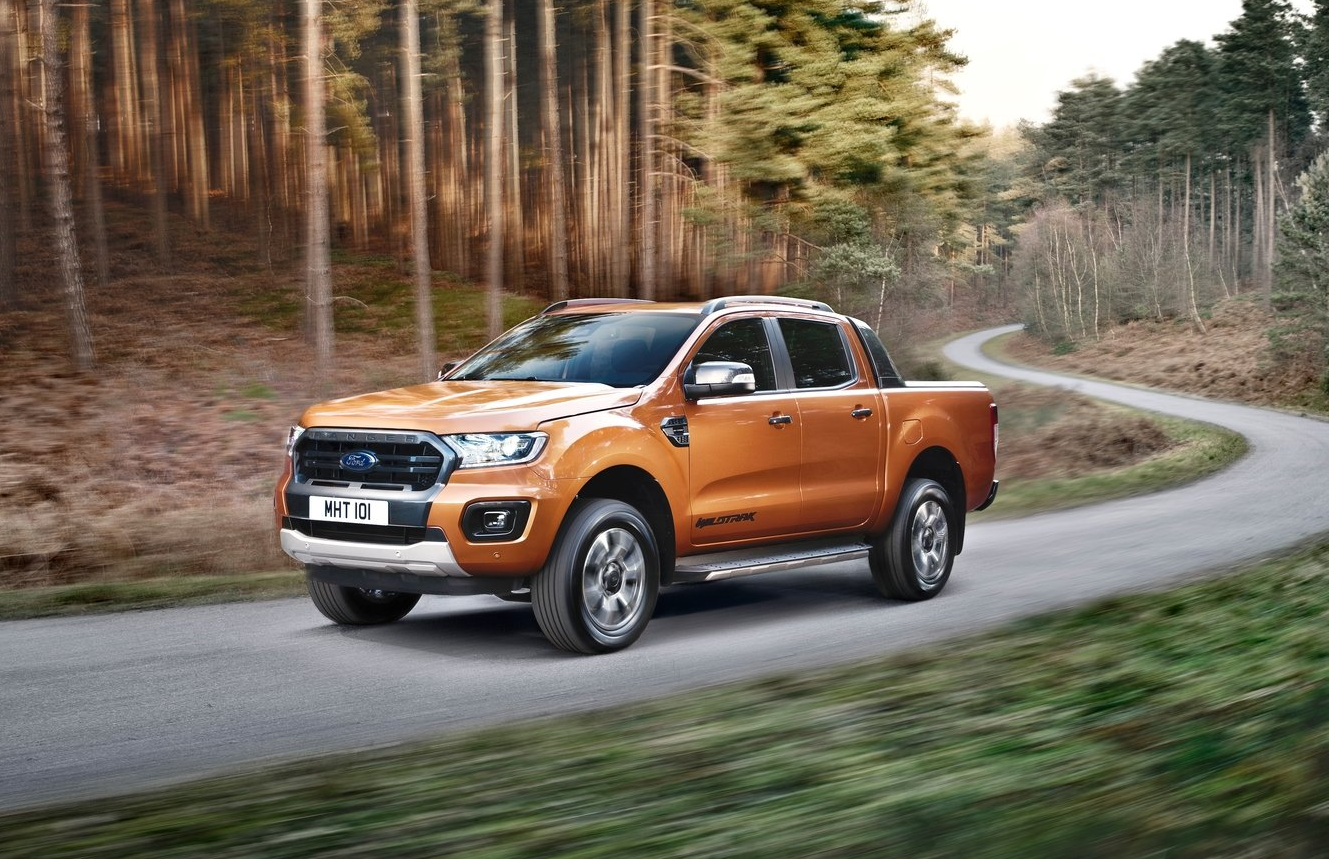 The Ford Ranger pickup truck
For those who wish for a large Ford vehicle, the 'Deal After Deal' promo is offering the Everest with a Php 100,000 cash discount. On the other hand, the Ford Expedition full-size SUV with zero percent interest up to 60 months at a 20-percent down payment. Moreover, the 15-seater Transit comes with a new SRP of Php 1,999,000, as well as a Php 200,000 cash discount.
The Ford EcoSport subcompact crossover
"We want to start the year on a high note with these great deals to our customers, making the Ford vehicle ownership easier and more convenient for them," shares PK Umashankar, President and Managing Director of Ford Philippines. "With these promotions, we hope to see more Filipino customers drive and enjoy their new Ford vehicles this 2021."
Here at Philkotse.com, we value your interest in the automotive industry. Visit our website to find out more.
Know more about Ford Ranger 2021

<p>The Ford Ranger received numerous facets and practicality and is one of the long-running in the segment of pickup trucks. Still, it has changed a lot in recent years, and today, it is equipped with proper SUV features, truck muscularity, spacious cabin, car drivability, and the like.</p> <p>The sport-themed oriented urban truck was intended for the buyer&#39;s active lifestyle. Hence, the Blue Oval Company&#39;s midsize pickup truck is also utilized as a lifestyle &#39;weekend&#39; SUV aside from being just a pickup car. Its robust and multi-talented platform is common for both Ford Ranger and <a href="https://philkotse.com/ford-everest-price-philippines" title="Ford Everest Philkotse Car Guide">Everest</a>, the latter is considered one of the leading SUVs in its respective segment.</p> <p>Powering the Ford Ranger is either a 2.5-litre or&nbsp;3.0-litre Dura TORQ TCDi diesel engines that supply high values of power and torque as well as better mileage. It also features enough room and additional space at the back for either business or personal purposes.</p> <p>The double cabin pickup truck comes with on-road agility, together with its competent handling and reasonable off-roading capability with a 4x4 mechanism. Moreover, the midsize pickup truck&nbsp;features top-class safety features and competes with the types of <a href="https://philkotse.com/isuzu-d-max-price-philippines" title="Isuzu D-Max Philkotse Car Guide">Isuzu D-Max</a>, <a href="https://philkotse.com/toyota-hilux-price-philippines" title="Toyota Hilux Philkotse Car Guide">Toyota Hilux</a>, <a href="https://philkotse.com/chevrolet-colorado-price-philippines" title="Chevrolet Colorado Philkotse Car Guide">Chevrolet Colorado</a> and, <a href="https://philkotse.com/mitsubishi-strada-price-philippines" title="Mitsubishi Strada Philkotse Car Guide">Mitsubishi Strada</a>.</p>

Rex Sanchez
Author