Ford Europe has recently developed technology that will notify drivers when an emergency vehicle is nearby.
Driving on Philippine roads is confusing enough as it is, with occasionally conflicting traffic signs, hidden traffic enforcers, non-existent road markings, and the staple errant motorist giving your blood pressure an unnecessary lift.
 
As if that weren't enough, once in a while you would hear sirens blaring from an emergency vehicle responding to, well, an emergency. Being the law-abiding citizen that you are, you're willing to oblige and pull over just to make way – provided, of course, that you knew where it was coming from. The din of Philippine traffic, from horns to open mufflers can make it difficult to pinpoint the source of such an urgent sound.
And for lives hanging in the balance, even a second's delay can feel like an eternity.
Fortunately,
Ford
Europe has the answer. The company announced that it has recently developed
technology
that will notify drivers when an emergency vehicle is nearby.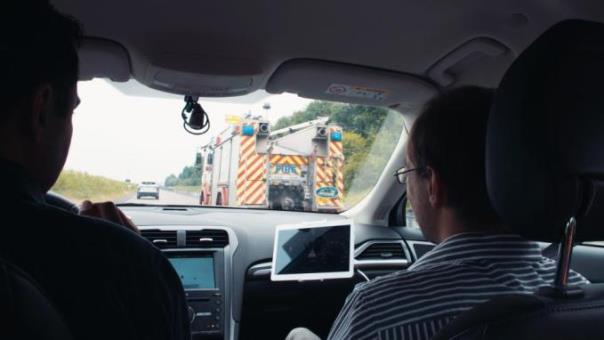 Ford Europe has recently developed technology that will notify drivers when an emergency vehicle is nearby
The system will send a signal from an ambulance, fire engine or police car directly to motorists in the immediate vicinity. The signal will be processed into audible and visual alerts on the instrument cluster, informing drivers of the exact location of the siren and its distance from their position. The drivers can then pull over more quickly, enabling emergency services to reach their destinations faster. 
According to Christian Ress of Ford Europe's research and advanced engineering division, the system will help improve response time for emergency personnel. "Time is precious for emergency services and this technology could help to shave valuable seconds off their journeys by enabling drivers to avoid being an obstruction".  
Ford is set to demonstrate their emergency vehicle warning system this week at the UK's Autodrive event, a £20 million government-sponsored trial of networked cars that is backed by various technology and automotive firms, local authorities and academic institutions.
>>> 
To find out more about t

he next generation Ford Focus replacement, 

please click here.
You can see a YouTube video explaining how the technology works below: 
Taking the guesswork out of getting out of the way
Statistics show that in 2015, there have been 475 road accidents in the UK involving emergency vehicles. Ford Europe hopes that the technology will eventually advise drivers on the best course of action in safely making way for emergency responders on the road.
Apart from its emergency vehicle warning system, Ford is also conducting trials on another system to warn motorists of potential accidents when nearing a crossroads or intersection. A car with intersection collision warning will broadcast its location to nearby vehicles that are similarly equipped, enabling them to instantly calculate the probability of a collision. If the risk is high, the system will advise both drivers to either slow down or stop. 
Ford
had previously demonstrated similar systems that warn of cars ahead braking abruptly, in case they are hidden by a bend in the road, as well as how to synchronize with traffic lights to improve travel in urban areas. The company expects to conclude trials for all four technologies by the end of 2018.  
Here's hoping that the technology will reach the Philippines in the not-too-distant future.   

>>> Ford Philippines has appointed its former Finance Vice President as new Vice President for Marketing and Sales. Read our article for more details. 

See also below: The Ford OFW Assist Program
 

Joseph Paolo Estabillo
Author