The F-150 Raptor R has its sights set on the RAM TRX.
The 2021 Ford F-150 Raptor recently made its global debut that intends to give a better high-performance off-road experience. The blue oval brand's new truck is packed with features that will satisfy off-road enthusiasts. It now has a more refined exterior look, more suspension travel, 24-inch coil springs, and updated tech gizmos. 
2021 Ford F-150 Raptor Quick Look: Raptor R is coming
However, it seems that the 2021 F-150 Raptor will still be having the same power output from its twin-turbo 3.5-liter EcoBoost engine that delivers 450 hp and 691 Nm of torque. The reason for this is that Ford did not share any details whether the said engine now produces a greater power output rating.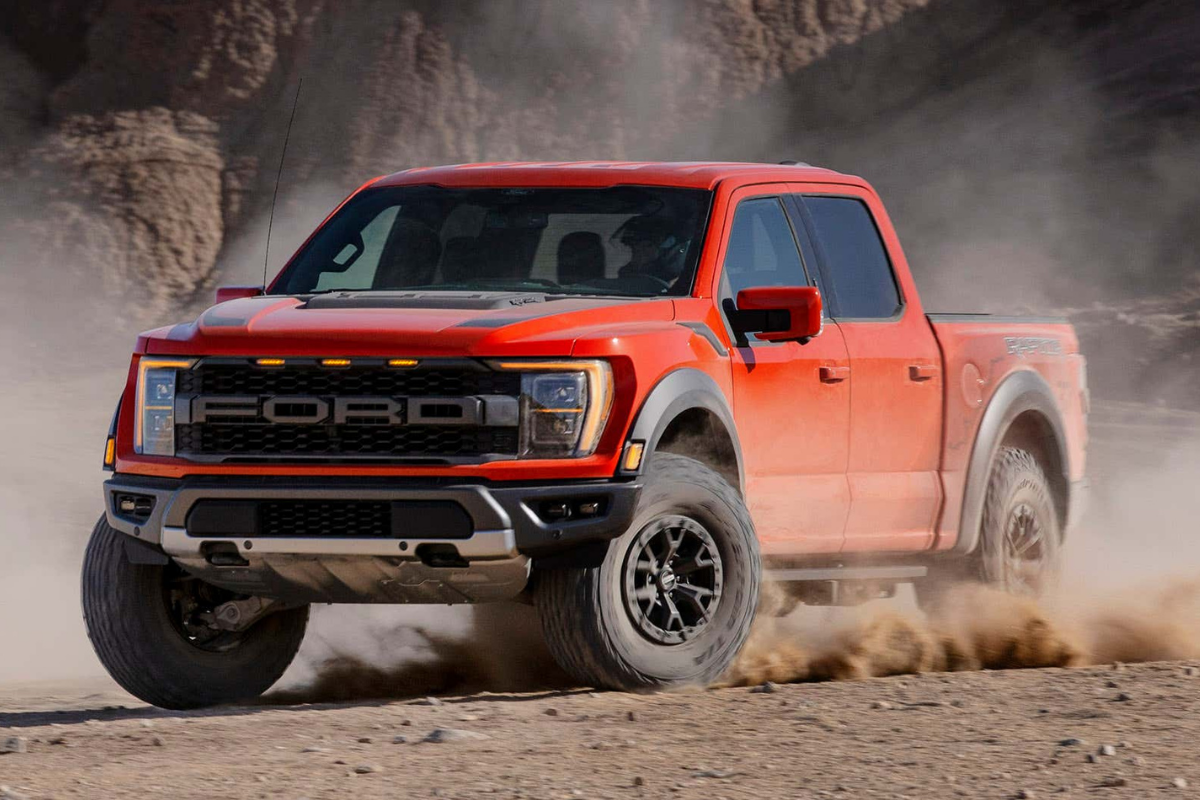 2021 Ford F-150 Raptor
Despite that fact, Ford announced that a more powerful and more high-performance off-road truck will be coming next year in the form of the F-150 Raptor R.
Reports are saying that the upcoming F-150 Raptor R will be powered by a supercharged 5.2-liter V8 engine that churns out 760 hp and 846 Nm of Torque. The said engine is the same power unit found on the Ford Mustang GT500.
Now, you might be wondering why is it necessary for Ford to slot in a V8 engine to the F-150 Raptor. The answer to that is there's another pickup truck that comes with serious power under the hood. The said truck is the RAM TRX, which is equipped with a 6.2-liter V8 Hellcat engine that can make 702 hp and 881 Nm of torque.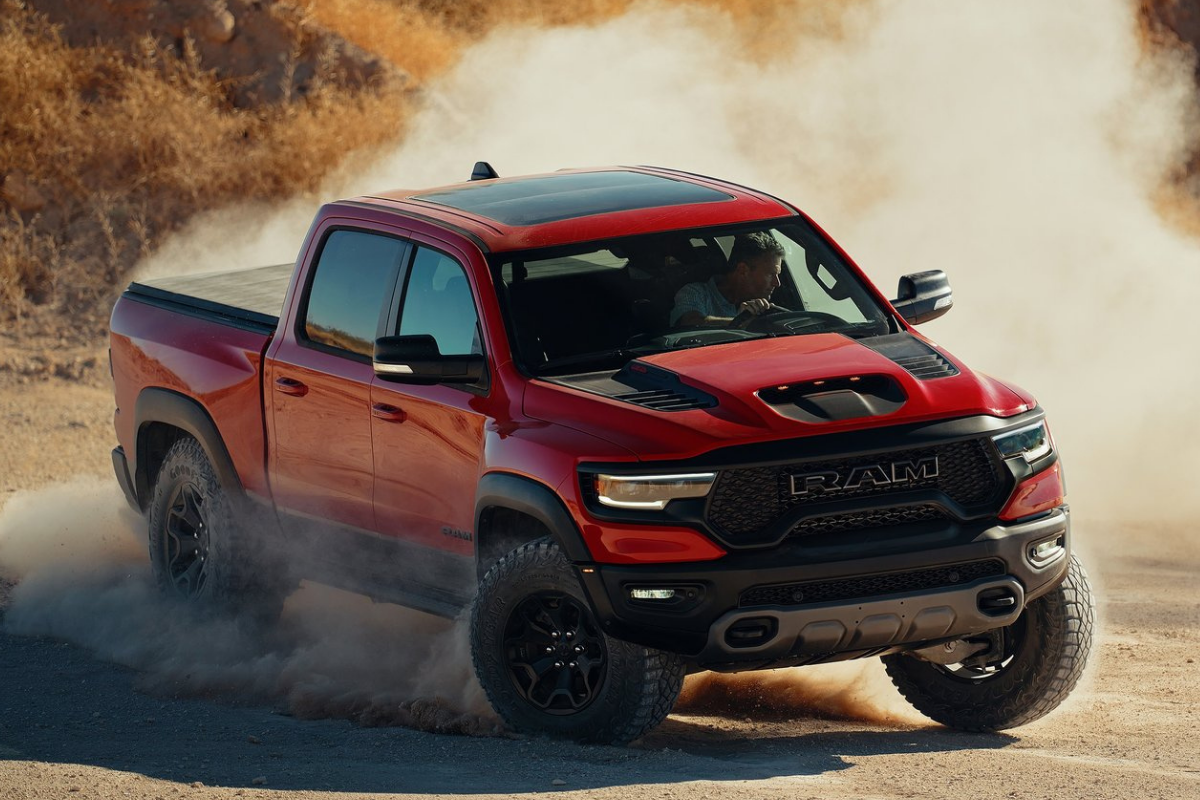 RAM TRX
>>> Related: Ford confirms upcoming V8-powered Raptor R will be street legal
The RAM TRX's V8 Hellcat engine can easily leave the 2021 F-150 Raptor in the dust, a fact that Ford wanted to address. Currently, the RAM TRX is being marketed as the "apex predator of the truck world." As such, the upcoming F-150 Raptor R is the blue oval brand's counterpunch to the RAM TRX.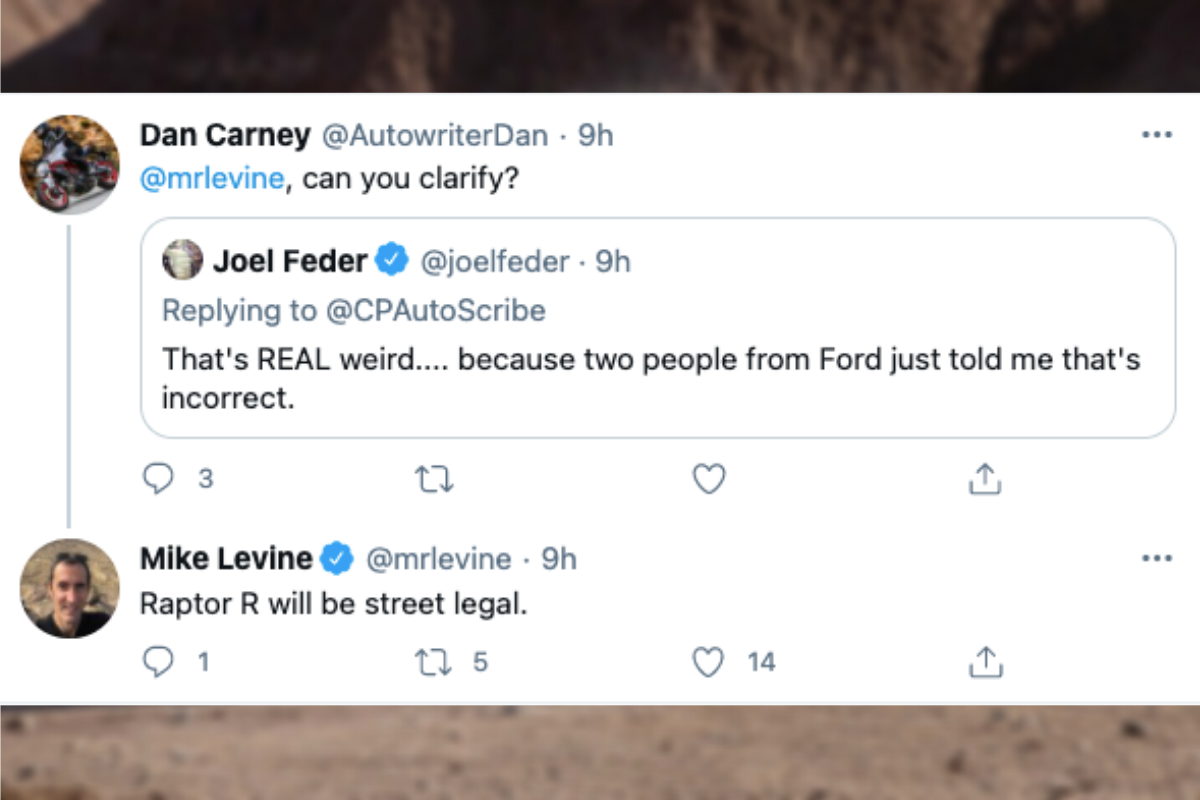 Raptor R will be street legal
With that in mind, it's more likely than not that the Ford F-150 Raptor R will be equipped with a V8 engine. Ford only needs to officially confirm the said report. Speaking of which, Ford North America Product Communications Manager Mike Levine confirmed through Twitter that the F-150 Raptor R will be street legal.
This means that the said truck will not be restricted to off-road driving alone. Ford is set to reveal the F-150 Raptor R next year. But, and as of this writing, the blue oval brand has yet to announce the exact launch date of the F-150 Raptor R.
Visit Philkotse.com to get more of the latest automotive news.
Know more about Ford F-150 2021

One of the most popular and comprehensive pickup trucks in the market is the F-150, made by Blue Oval car brand Ford. This generation was introduced since 2015 and undergone remarkable changes throughout the years. The pickup truck has improved in terms of towing and hauling capacities, for those with 10-speed automatic transmission and select engines with extra engine power. In 2019, the Ford F-150 model added new shocks, new engine as well as features like forward- collision warning, pedestrian detection, and automatic emergency braking. In 2020, all engines of the pickup truck come with a 10-speed automatic transmission. It is equipped with engine options and several features. It suits all categories, whether it is for an entry-level truck or luxury. Moreover, aside from the customization options offered, the Ford F-150 features a powerful engine, appealing style, and a roomy interior as well. For cargo capacity, the pickup truck provides three various bed lengths such as 5 feet and 6 inches, 6 ft. and 6 in and 8 ft. Also, there are some small-item storage spaces available. Furthermore, it is available in six distinct colors: Star White, Oxford White, Agate Black, Rapid Red, Blue Jeans, and Iconic Silver. At present, the Ford F-150 has two different trims - Ford F-150 4x2 Lariat SuperCrew AT that costs Php 2,698,000 and Ford F-150 4x4 Platinum SuperCrew AT that costs Php 2,998,000.

Martin Aguilar
Author