Don't you wish we have both monster trucks in the Philippines?
The Philippine automotive market is just getting reacquainted with full-size trucks. With the local release of the Ford F-150, we now have two locally available models in the said segment. The other is of course the Ram 1500.
Now, it's pretty obvious that the Americans are always getting exciting "sport" versions of their full-size trucks. It's been a part of their market for quite some time now, and it's something that sadly we Filipinos are jealous of because we don't have these kinds of trucks in our market. Case in point is the Ram TRX, which from the get-go is oozing with Americanness just like its Ford-150 Raptor rival.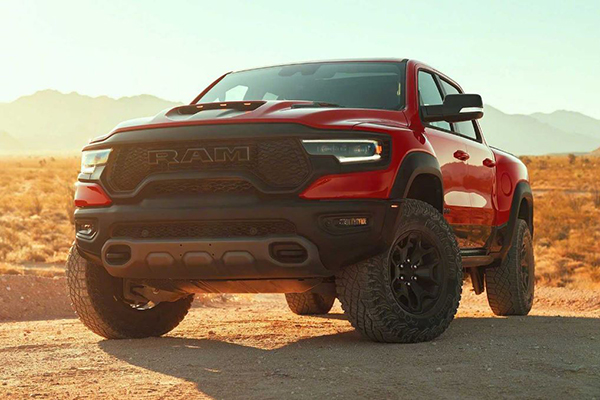 Massive, but definitely athletic.
Ram TRX: Big power, nimble body
As Ram itself would have it, the 2021 TRX is the "apex predator of the truck world." And guess what, the company might be telling the truth.
Under the hood, the TRX's 6.2-liter V8 Hellcat engine can make 702 horsepower and 881 Nm of torque. Those figures on the Ram, of course, leaves the F-150 Raptor in the dust as the latter's V6 only makes 450 horsepower and 691 Nm. Make no mistake, the F-150 Raptor is a powerful beast, but the TRX just has more grunt.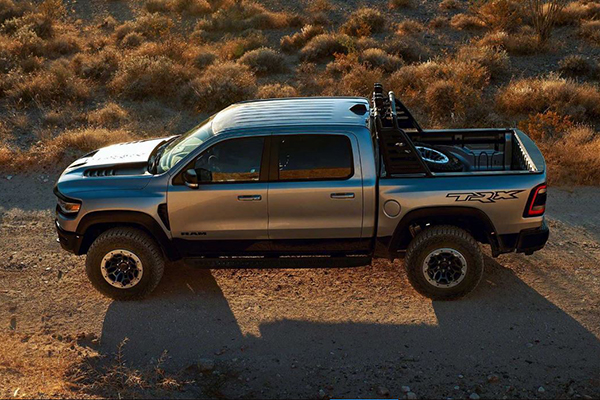 Check out those huge tires.
Apart from all that power, the TRX also has some pretty nifty features that enable it to go off-road. There are the 2.5-inch Bilstein adaptive shocks that allow for a whopping 13 to 14 inches of wheel travel. There's also a rear locking differential, 305mm of ground clearance, and almost a meter of maximum water fording depth.
Those figures though are very comparable to the F-150 Raptor. Even their approach and departure angles are almost the same at 30 degrees, and 23 degrees respectively. The TRX can also tow up to 3,674 kilograms, and it can carry around a maximum of 594 kilograms.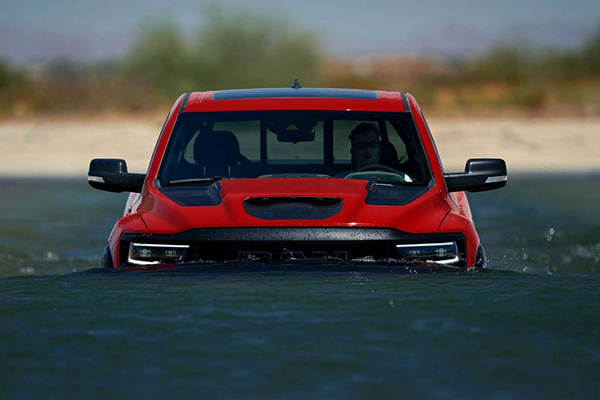 You'll probably drown before the Ram TRX does.
Looks-wise, the TRX is also what you would expect. It is larger and taller than a normal Ram. It rides on a set of massive 13-inch wide Goodyear Wrangler Territory. 
>>> Related: RAM 1500 is facing a tough rival with the PH-spec Ford F-150
Ram TRX: Cushy interior, and a lot of features
Apart from being a tough, capable, and monstrously powerful truck, the TRX also has a wealth of comfort and convenience features. For starters, the TRX follows the current trend of tacking on massive touchscreen head units with its 12-inch touchscreen.
The said touchscreen uses the latest UConnect software, and it's also linked to a 19-piece Harman Kardon speaker set. On top of that, the TRX's seats can either be clad in three combinations of materials: suede and leather, vinyl and cloth, or premium wrapped leather and suede with carbon fiber.
For safety, the TRX is equipped with lane-keep assist, a 360-degree view camera, a trailer backup assist, blind-spot monitoring, adaptive cruise control, forward collision warning, electronic roll mitigation, and six airbags.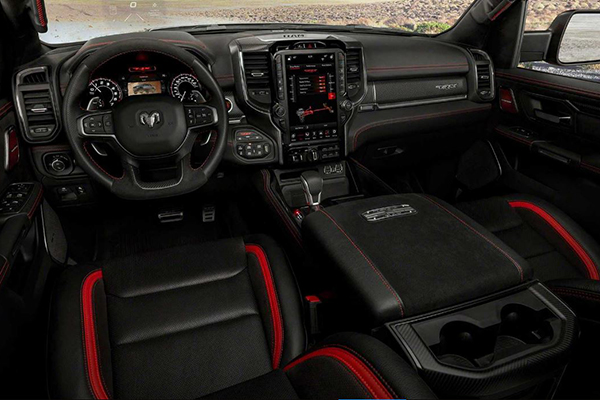 Check out that huge touchscreen.
With all those features in mind, the Ram TRX starts at a price of $69,995 or Php 3,402,631 at current conversion rates. So yeah, the TRX is definitely more expensive than the 1500 if due to some miracle, it gets sold here in the Philippines. Compare that to the F-150 Raptor, with its cheaper starting U.S. market price of $52,855, or Php 2,569,413, also before taxes. 
And in talking about full-size "sport trucks," it's also interesting to note that there's actually a market for the F-150 Raptor here in the country. It's a small one, but it definitely exists. As such, it can also be assumed that a few Pinoys might actually want the Ram TRX as an alternative.
So, what do you think of the Ram TRX? For more automotive industry updates, keep reading here on Philkotse.com.
Know more about Ram

If you want to explore more vehicle options, you can check out our online guides from the safety and comfort of your own home. You can visit Philkotse.com to learn more about Ram 1500 models, available promos, as well as the latest news, reviews, updates specs, and other information on the website.

Cesar G.B. Miguel
Author