It's been a bumpy ride through the years, but this SUV was built for it. 
The iconic Ford Bronco for sale nameplate returns to the Ford stable, refreshed and rejuvenated after a break of more than two decades. The Big Oval has left no stone unturned in making the latest iteration more powerful and more capable than its predecessors, making sure that its legendary SUV can outclimb, out-trek, and outpace what its competitors have to offer. As a result, the next-generation Bronco comprises two- and four-door body configurations, accompanied by the smaller Bronco Sport.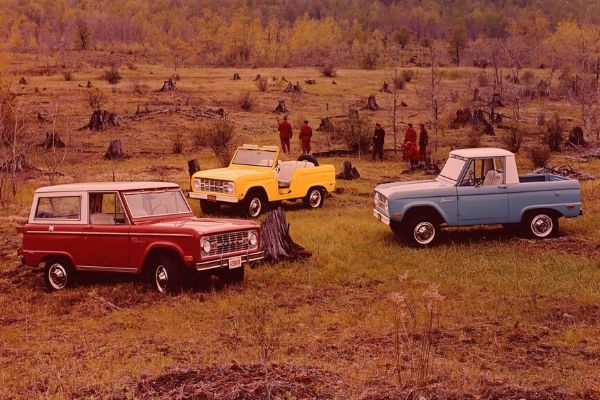 The Ford Bronco has been around since 1966
In order to understand why the Bronco's comeback is a big deal for SUV (and Ford) fans, let's take a drive down memory lane to revisit its previous iterations.    
First Generation (1966-1977)
Still fresh from the buzz surrounding its launch of the original Mustang in mid-1964, Ford followed it up with the first Bronco months later for the '66 model year, sporting two doors and four-wheel-drive. It was the company's answer to the CJ-5 (Jeep's first civilian model) and the Scout from International Harvester.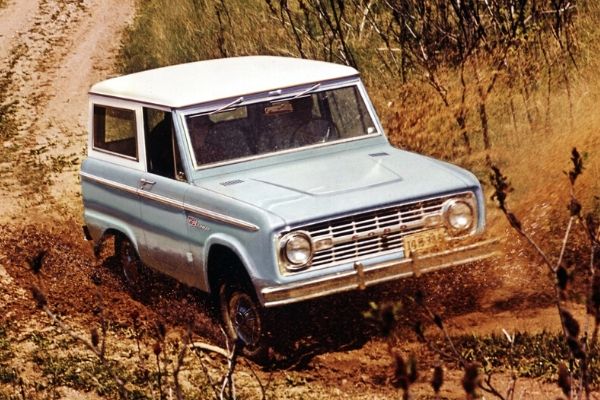 The first-generation Bronco was built on an original chassis
The first-generation Bronco encompassed wagon, half-cab pickup, and open-body roadster configurations. With an eye for simplicity, Ford assembled the entire Bronco range with a single drivetrain, as well as flat windshields, straight C-section bumpers, and symmetrical door skins. The chassis was all-original, not based on any Ford vehicle in existence at the time, although it did share some components with the F-100 pickup.
Powering the Bronco at launch was a 2.8L straight-six derived from the Ford Falcon, generating 105 hp. A 3.3L V8 option became available in March 1966, putting out 200 hp. These would later be joined by a 4.7L Windsor V8 and a bigger 4.9L version by the end of the first generation's production run. A column-mounted three-speed manual shifter was the default transmission along with a floor-mounted transfer case shifter, eventually accompanied by a three-speed automatic.           
>>> Related: 2021 Ford Bronco: The icon is back – Launch Specs, Details, Pricing
Second Generation (1978-1979)
The second Bronco was entered as a full-size SUV in order to take on newer rivals such as the Chevrolet K5 Blazer, Dodge Ramcharger, and the Jeep Cherokee. This time, the Bronco borrowed its chassis from the F-Series as part of Ford's cost-efficiency measures. This resulted in the second-generation Bronco sporting larger dimensions, while being relegated to a single two-door body style with a removable hardtop.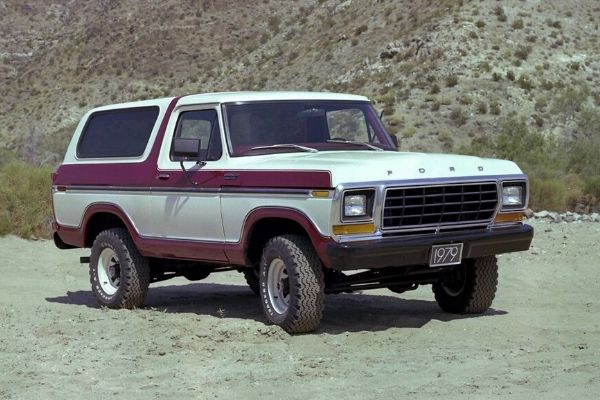 The second-generation Bronco became a full-size SUV 
Customers could choose from a pair of 5.8L and 6.8L engines, both V8s. Power wasn't especially abundant, with the more powerful unit maxing out at 149 hp. Four-speed manual and three-speed automatic transmissions were offered, and the Bronco introduced a power-operated tailgate glass which would become a standard feature on subsequent iterations.
Although this was the shortest-lived Bronco generation, it still managed to be recognized in four-wheeler publications. This model even managed to become a literal holy roller, with three examples converted into Popemobiles for Pope John Paul II's U.S. visit in 1979.
>>> Related: Check out the used Ford Galaxie for sale also from the 1970s
Third Generation (1980-1986)
The third iteration of the Bronco retained the previous generation's proportions, sharing much of the chassis and external sheet metal with the F-150. The solid front axle was replaced by independent front suspension (called a Twin-Traction Beam) to improve ride quality and handling, lowering the ride height while maintaining ground clearance. Ford also gave the Bronco a diet, shaving off 500 lbs. from the overall weight while giving the machine a more aerodynamic silhouette.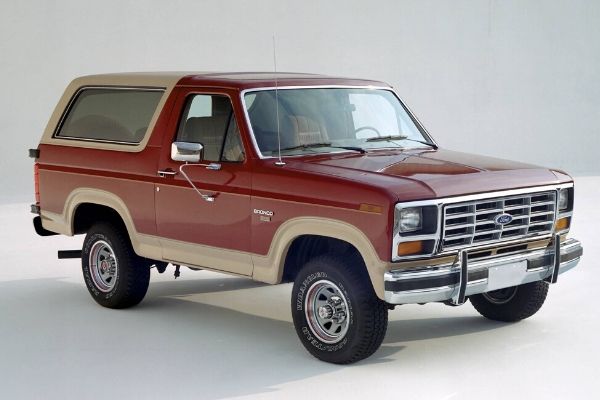 Ford reduced the weight on the third-generation model
Three V8 engines on offer were accompanied again by an inline-six, the first since 1966, mated to four-speed manuals and a new four-speed automatic with overdrive. The 5.0L V8 was upgraded from carburetor to multiport electronic fuel injection in 1985, resulting in an output boost to 190 hp. This Bronco was also the first to sport the trademark Ford oval emblem, during a minor 1982 facelift.
This was accompanied by a smaller variant, the Bronco II, a compact SUV based on the U.S.-market Ranger. It was quite underpowered in its time, managing only 115 hp from its standard 2.8L V6 that worked with a selection of four- and five-speed manuals or a three-speed automatic. The Bronco II added a 2.3L 4D55T turbodiesel engine from Mitsubishi in 1986. But even that wasn't enough to boost flagging sales, and the Bronco II was replaced by the Explorer in 1990. 
>>> Related: Most trending! Things we know so far about the Ford Bronco 2020
Fourth Generation (1987-1991)
Ford welcomed the aerodynamic age with a shapely new Bronco, featuring sculpted exterior and interior edges. Called the "brick nose", the fourth-generation Bronco cut through the air more cleanly than its "bull nose" forebears, featuring rounded wheel arches as well as wraparound bumpers and headlamps.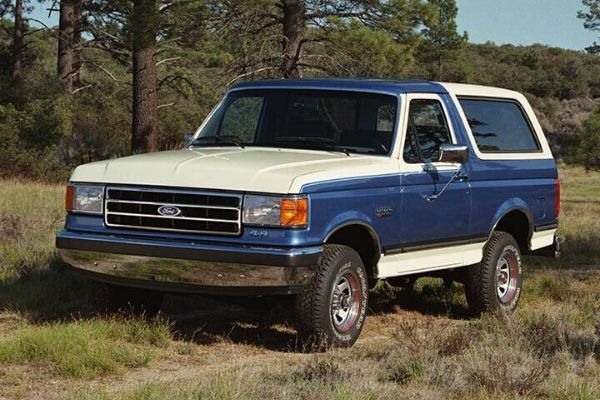 A more aerodynamic shaped distinguished the fourth generation 
Engine options were carried over from the previous generation, including the 4.9L inline-six, the 5.0L V8, and its high-output (HO) version, all receiving electronic fuel injection. Manual and automatic transmission choices spanned three to five forward gears. Push-button four-wheel-drive was available for the first time, as well as rear anti-lock brakes.
Ford offered a Silver Anniversary Edition Bronco in 1991 to commemorate 25 years of production. Basically a cosmetic enhancement package, it featured Currant Red exterior body paint and a gray leather interior upholstery, the first time that the material was used on a Bronco.
Fifth Generation (1992-1996)
Continuing the tradition of sharing underpinnings and stylistic cues from the F-Series, the fifth-generation Bronco added crumple zones to improve safety, as well as a driver's side airbag, 3-point rear seatbelts, and four-wheel anti-lock braking system (ABS). A larger grille was flanked by wraparound headlamps and sat above a bigger, rounded front bumper. The hardtop was still removable, but Ford discouraged the practice due to legal issues over compromising the rear seatbelts and center brake light.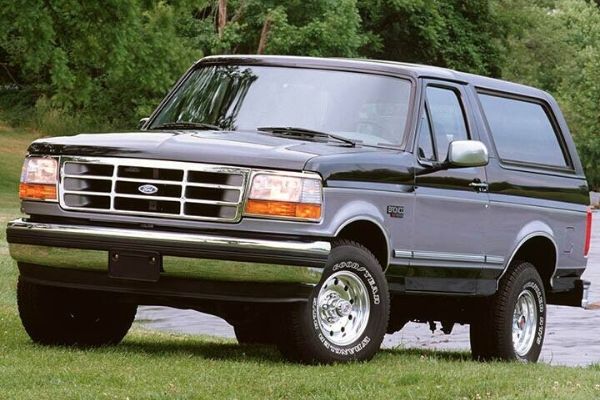 The fifth-generation Bronco placed more emphasis on safety
The Bronco's engine range comprised a 4.9L straight-six, 4.9L V8, and 5.2L Windsor engines which were little more than adequate in propelling the SUV's mass. A five-speed manual and two four-speed automatics were standard equipment. By this time, the Bronco was becoming increasingly left behind by four-door off-roaders, as well as customers who were yearning for open-top motoring.
A momentary burst of fame came about in 1994 when a white fifth-generation Bronco featured prominently in a televised low-speed police chase along Interstate 405 in Los Angeles. Its famous occupant? Football player O.J. Simpson, a suspect in the murder of his ex-wife Nicole and waiter Ron Goldman at the time the incident happened.          
Sixth Generation (2021)
Ford and Bronco fans had reason to celebrate with the release of the all-new Ford Bronco and Bronco Sport in July 2020. Launched as a 2021 model, the new Bronco is now available in a selection of two body styles and is locking onto the Jeep Wrangler as its primary target. The design harks back to the first-generation model, with a three-dimensional grille surrounded by round LED headlamps. Notable design features are the removable doors and roof which can be stowed aboard the SUV. 
>>> Related: 2021 Ford Bronco vs Bronco Sport: What are the differences?
2021 Bronco: The Wild Returns 7.13.20 | Ford
The sixth-generation Bronco's modular nature inside and out is supported by over 200 factory-approved accessories, ranging from aesthetics to performance enhancements. Modern technology comes standard with a 12-inch touchscreen head unit offering Ford SYNC 4, Apple CarPlay, and Android Auto, as well as over 1,000 pre-loaded trail maps.
Under the grille, a 2.3L EcoBoost V6 delivers 270 hp and 420 Nm of torque, while a bigger 2.7L twin-turbo EcoBoost V6 makes 310 hp and 542 Nm of twist.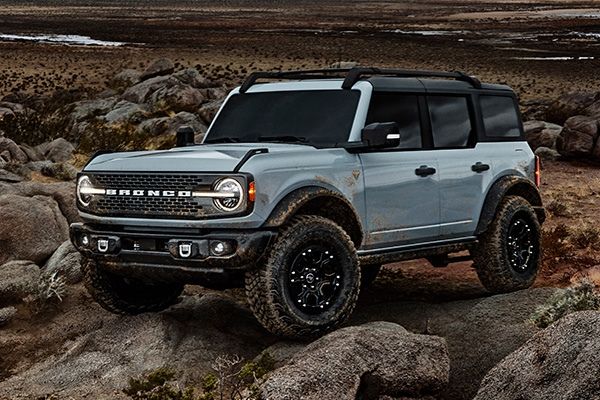 The new Bronco is Ford's next-generation off-roader
Transmission options include a seven-speed Getrag manual or 10-speed automatic, with all-wheel drive as standard. The Ford Co-Pilot 360 suite of driver-assist technologies are on offer, with trail-oriented features for the most intrepid adventurers.
Know more about your favorite car's history at Philkotse.com.

Joseph Paolo Estabillo
Author