The big rig makes a return after almost 30 years.
After nearly 30 years, Ford brings back one of its biggest (literally) and most recognizable nameplates with the all-new 2021 Bronco. This is the long-delayed follow-up to the fifth-generation model that last appeared in 1996, and by the looks of it, the lengthy absence has done the machine a world of good. 
The new model strengthens its big-rig heritage while bristling with new technology, and is poised to take on a fellow American icon, the Jeep Wrangler, in off-road supremacy. Available as a two- and four-door adventurer, the new Ford Bronco presents itself as a blank canvas that's as enjoyable in its base form as it is mounting any one of 200 factory-spec options both inside and out.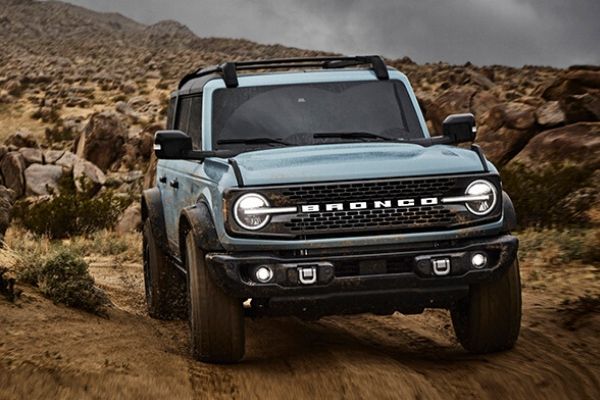 The Bronco is setting its sights on the Jeep Wrangler
Exterior
On the outside, the 2021 Ford Bronco is a more faithful reproduction of the original that started it all in 1966. The boxy silhouette is blended with the overt curves of the wheel arches, fronted by the more upright fascia. Circular LED headlamps to flank the prominent Bronco branding on the black grille, while upright LED tail lamps are found on the rear corners with the tailgate-mounted spare tire.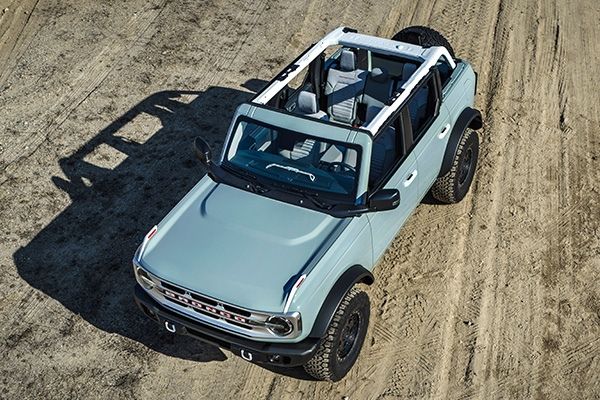 Removable roof and doors add to the new Bronco's ruggedness
A prominent detail on the hood is the inclusion of Trail Sights which serve as indicators for marking where the Bronco's front corners are, as well as tie-down straps for roof-borne cargo. Rather than being attached to the doors, the side mirrors connect straight to the Bronco's A-pillar, retaining the view even when the doors are opened. The doors and roof and removable, with modular options that can be stowed away on board, doing away with bulky accessories. A set of 17-inch wheels wrapped in meaty 32-inch tires are found on the Bronco's four corners.
Interior
The modular approach extends into the Bronco's cabin, with seats decked out in marine-grade vinyl. Active and passive drain plugs on the floor make the interior easy to wash off after a day of traipsing in the mud, in another apparent swipe at the Wrangler. A built-in device rack makes it easier for owners to carry personal gadgets without having to rely on aftermarket accessories.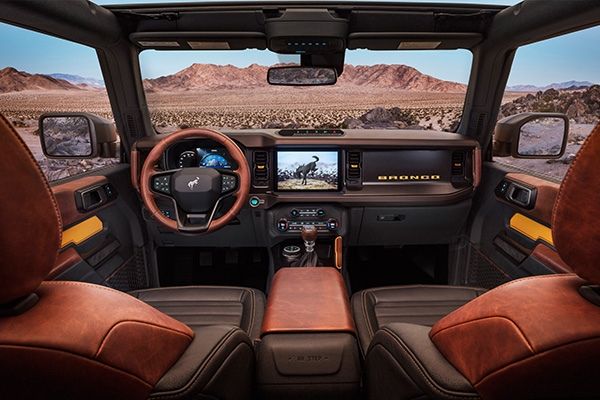 Even the Bronco's interior is open to customization options
The grab handles are removable, and the cabin teems with various elements that can easily be replaced by an official Ford accessory.
A 12-inch touchscreen on the dashboard runs Ford SYNC 4 with Apple CarPlay and Android Auto. Over 1,000 pre-loaded trail maps and a trail tracking system allow drivers to share their progress with other Bronco owners.
>>> Related: 2021 Ford Bronco Sport unibody off-roader – Launch Specs, Details, Pricing
Engine
The new Ford Bronco runs on a 2.3L EcoBoost inline-four that generates 270 hp and 420 Nm of torque, working with either a 7-speed Getrag manual transmission that features a crawler gear for even the roughest terrain, or a 10-speed automatic gearbox. There's also a bigger twin-turbo 2.7-liter V6 EcoBoost mill that produces 310 hp and 542 Nm of torque, mated to the 10-speed slushbox.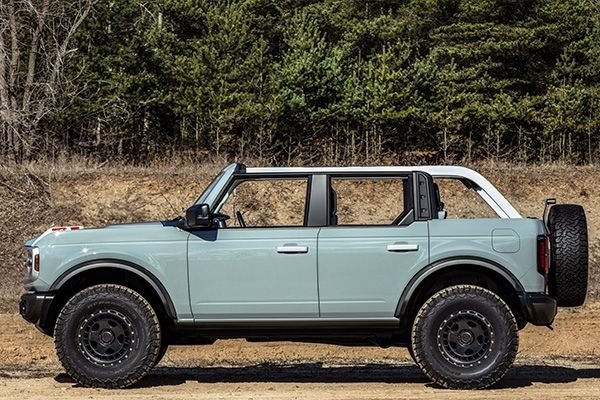 The Bronco is set to conquer the trails even in its base configuration
Four-wheel-drive is standard, with the default offering electronic shift-on-the-fly capability with 2H, 4H, and 4L modes. Low-range is a 2.72:1, increasing to 3.06:1 with an optional electromechanical transfer case. Front and rear locking differentials are available options, along with the High-Performance Off-Road Stability System (HOSS) suspension with Bilstein dampers.
Safety
Driver-assist technologies include Ford's Trail Toolbox, comprising Trail Control (marketed as cruise control for off-road drives), Trail One-Pedal Drive for easier traverses on rocky terrain, and Trail Turn Assist to manage the Bronco's turning radius. An advanced 360-degree surround camera system gets rid of blind spots for especially difficult patches of wilderness.
Price
Spread across seven trims, the 2021 Ford Bronco is priced in the equivalent of Php 1.5 million to almost Php 3 million (depending on the trim level) at current exchange rates – of course, those are without the applicable taxes here.
Ford is accepting pre-orders for U.S. customers, with deliveries starting by spring next year. Let's see if Ford Philippines can bring this big boy to our local market by then.
Get more updates on new vehicles at Philkotse.com.

Joseph Paolo Estabillo
Author