A mystery Ferrari having the appearance of 458 Italia and 488 GTB was spied in the cold-weather testing in Sweden.
Recent
photos spied
on a Ferrari testing in snow weather spurs a rumor that the Dino is just around the corner for the comeback.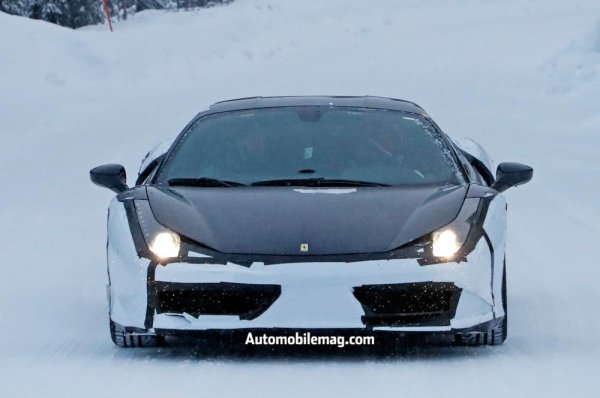 Take a look at the front, though the car merely looks like a 458 in the hood and the headlights, the taped-up bumper is a new feature that you can't find on the 458 and 488.
On the sides, the wheels share the design with the 488's. The huge intakes on the quarter panel, which size and position are completely different from the 488's are really unique and striking.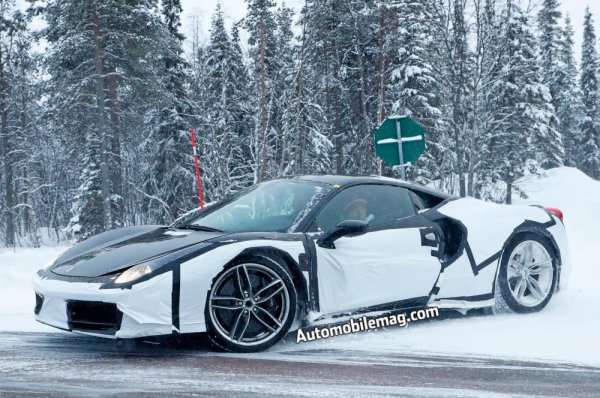 At the rear, this
Ferrari
bears a strong resemblance to the 458, but the exhaust configuration is lower. Furthermore, instead of the tri-tip exhaust of the 458, it is equipped with a more conventional dual exhaust.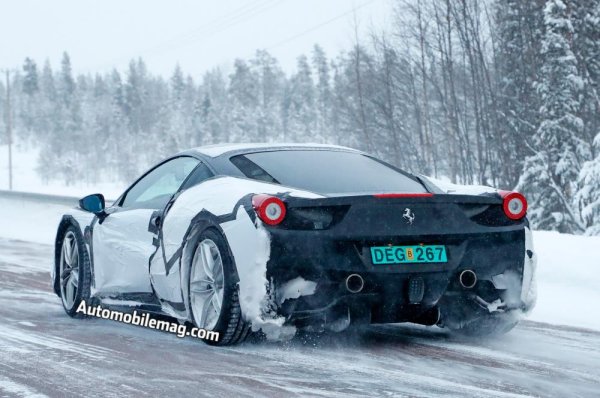 From what the appearance suggests,  the supercar is believed to be the Dino coming back for a showtime. Whatever it turns out, the testing reveals that this car didn't sound like a V8. It's probably furnished with an Alfa Romeo's 2.9-liter twin-turbo V-6 which delivers 505 hp and 443 Nm of torque in the Giulia Quadrifoglio. 
Taking advantage of the existing hardware is one way to reduce the price of this new supercar since there're rumors about a $200,000 price range. 
Under the light camouflage, the new
supercar
of Ferrari is getting prep for the two upcoming global auto shows this year. The Frankfurt
auto show
in September 2017 or the Los Angeles auto show in November 2017 would be the venues for the car to make its first appearance.
Know more about Ferrari

In the Philippines, Motostrada Inc. located at the Bonifacio Global Center, Taguig City is the official distributor of renowned Ferrari cars nationwide. Aside from modern releases, they also offer pre-owned automobiles and provide maintenance programs for your prized possession. If you're searching for a more convenient way to browse Ferrari cars, go online and visit Philkotse.com. The user-friendly site has a wide selection of new and old models plus, you can enjoy exciting promos and deals. Also, know the latest news, reviews, and information about your other favorite car brands.