Ferrari Philippines: Overview & Price list in October 2020
In the Philippines, Motostrada Inc. located at the Bonifacio Global Center, Taguig City is the official distributor of renowned Ferrari cars nationwide. Aside from modern releases, they also offer pre-owned automobiles and provide maintenance programs for your prized possession. If you're searching for a more convenient way to browse Ferrari cars, go online and visit Philkotse.com. The user-friendly site has a wide selection of new and old models plus, you can enjoy exciting promos and deals. Also, know the latest news, reviews, and information about your other favorite car brands.
Ferrari Philippines price list 2020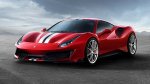 The Ferrari 488 is a mid-engine premium sports car celebrated worldwide due to its consistent and exceptional performance on the road and challenging race tracks. Since its release, this outstanding automobile received recognitions such as the "Supercar of the Year 2015" from Top Gear, Motor Trend's "Best Driver's Car in 2017" and "International Engine of the Year" from 2016 to 2018. Locally, it is offered in three powerful variants: the Ferrari 488 GTB, the Ferrari 488 Pista, and the Ferrari 488 Pista Spider. It comes in Nero Black, Nero Daytona, Rosso Dino, Grigio Silverstone, Gallo Modena, Blu Swaters, Rosso Mugello, Rosso Corsa, Verde British, and Avoria.
Variants and price list
| | | |
| --- | --- | --- |
| Automatic | Gasoline | 2 seats | Negotiable price | Get Quote |
| Automatic | Gasoline | 2 seats | Negotiable price | Get Quote |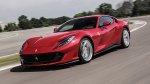 True to its name, the Ferrari 812 Superfast is the Italian company's most agile offering to speed lovers all over the world. Aside from its powerful engine, its breathtaking exterior is carefully engineered and merged with aerodynamic details to level up its skills. Inside, its cabin is fitted with contemporary details guaranteed to provide comfort, luxury, and safety. The Ferrari 812 Superfast and the Ferrari GTS are locally available in the Philippines. It is offered in five exciting colors: Nero Black, Bianco Fuji, Rosso Corsa, Blu Pozzi, and Giallo Modena.
Variants and price list
| | | |
| --- | --- | --- |
| Automatic | Gasoline | 2 seats | Negotiable price | Get Quote |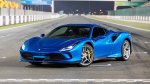 Adding to the established and impressive lineup of majestic sports cars of Ferrari is the Ferrari F8 Tributo 2020, named after the most powerful engine in the Italian company's unmatched history. It features a superior and highly-detailed exterior crafted every inch with contemporary lines and curves to assist its supreme aerodynamic capability. Inside, it is furnished with premium highlights specifically designed to provide its lucky riders the utmost safety, comfort, and convenience. The Ferrari F8 Tributo is powered by a 3.9-liter eight-cylinder engine acclaimed from 2016 to 2018 as the "Best Engine" in the International Engine of the Year awards. It is offered in different metallic and glossy tones of black, red, green, blue, and brown.
Variants and price list
| | | |
| --- | --- | --- |
| Automatic | Gasoline | 2 seats | Negotiable price | Get Quote |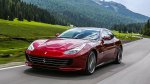 The Ferrari GTC4Lusso is a premium vehicle designed for speed-loving riders that drives a long distance. It's interior is designed with a sporty elegance highlighted with gorgeous details that will make head turns. Stepping inside its posh cabin is a delightful experience as it is fitted with contemporary features that guarantee topnotch comfort and overall safety. Whether you are cruising in the city or exploring a mountainous track, expect full power from this acclaimed vehicle. Locally, the Ferrari GTC4Lusso and the Ferrari GTC4Lusso T is available in Nero Black, Rosso Corsa, Rosso Mugello, Giallo Modena, Nero Daytona, Blu Swaters, Blu Scozia, British Avorio, Verde British, Grigio Silverstone, Grigio Scuro, Biano Avus, Rosso Dino, and Rosso Scuderia.
Variants and price list
| | | |
| --- | --- | --- |
| Automatic | Gasoline | 4 seats | Negotiable price | Get Quote |
| Automatic | Gasoline | 4 seats | Negotiable price | Get Quote |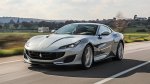 The Ferrari Portofino is an ultra-glam coupe with a self-storing hardtop designed for long-distance driving with a high-speed option. It is built with a mid-engine layout and a 2+2 seating configuration. Its gorgeous exterior is meticulously designed by the Ferrari Styling Center headed by Flavio Manzoni. Locally, it is offered in 15 exciting colors: Rosso Mugello, Nero Black, Rosso Corsa, Nero Daytona, Giallo Modena, Blu Pozzi, Blu Scozia, Blu Swaters, Grigio Silverstone, Verde British, Bianco Avus, Grigio Scuro, Rosso Scuderia, Rosso Dino, and Avorio.
Variants and price list
| | | |
| --- | --- | --- |
| Automatic | Gasoline | 4 seats | Negotiable price | Get Quote |
About Ferrari Philippines
Since its official launch in 1947, Ferrari has remained a consistent luxury sports car automaker. The Italian company is synonymous with the acclaimed performance of their vehicles with unmatched speed. Also, their releases are celebrated by drivers and other carmakers all over the world.
Its founder, Enzo Ferrari, was a successful race driver for Alfa Romeo,  a posh Italian car brand. In 1929, he founded the Scuderia Ferrari that began as a division in Alfa Romeo. It provided services to affluent drivers by preparing their powerful race cars. After a successful career as a race car driver and as head of Alfa Corse, he left his position in September 1939.  He then established Auto Avio Costruzioni as his departure in Alfa Romeo forbade him to use the Ferrari name for at least four years. Initially, his company focused on manufacturing aircraft parts and machine tools. In 1947, they released a 1.5-liter, V12 race car named Ferrari 125 Sport. A decade after, his company was renamed Auto Costruzioni Ferrari. 
Since then, Ferrari has launched exceptional vehicles fitted with innovations and gracefully winning various competitions around the world. Some of their acclaimed releases include the Ferrari 500 TRC that won at the 1957 24 Hours of Le Mans, the Ferrari Dino 246 GT hailed to be one of the most beautiful vehicles of all time, the 1980s pop icon Ferrari Testarossa made famous by US television show Miami Vice, and the celebrated Ferrari F40 which is the epitome of a modern supercar.
Car Guide Search
Ferrari Philippines dealerships