A convertible Ferrari: Ferrari 488 Pista Spider has made its way to the Philippines. Let's check it out!
Euro supercars in Manila is always a head turner and something to behold! Not everyone can afford these amazing machines are the epitome of performance and luxury. The Ferrari 488 Pista Spider comes from a long line of supercars that come with a venerable V-8 which is the heart that is similar to the muscle cars of yesteryears.
There's a lot to say about this Italian track to the street through bred that gives it a distinction of automotive royalty that it has. This technology-laden sports car is provided with F-1 technology that's been modified to a street-legal yet derivative of its F-1 ancestry.
This is one beast to tame, but modern technology has given its driver a less arduous learning curve than earlier predecessors. Anyone sitting in the cockpit of this modern roadster will be in the choicest seats that only a few can occupy.
This Ferrari will cost a ransom and buying it is something that will definitely bleed a bank account dry. But it will be worth it!
Ferrari 488 Pista Spider [EXCLUSIVE FIRST DRIVE] 
1. Ferrari 488 Pista Spider: The look
Everything about the 488 is cutting edge with large headlamps that sweep into the hood smoothly, with beautiful geometry. The front full skirt has intakes that give it a fierce and sweeping look. The line from front to back sweep acronymically in smooth flowing design, derived from F-1 experience.
Low slung with angles that push the car lower for less wind resistance. Equipped with a large rim and low-profile tires for that classic Ferrari look. The rear design components improve the backflow to hunker it down more.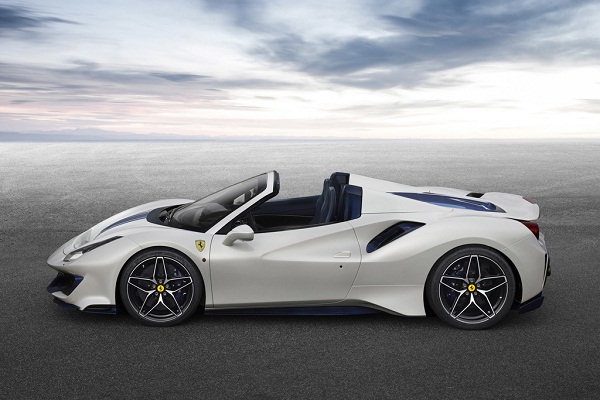 Ferrari 488 Pista Spider comes with a fierce and sweeping look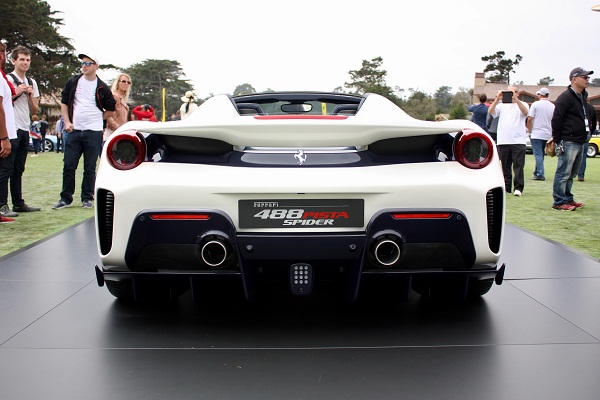 2. Ferrari 488 Pista Spider: Interior
According to the latest car news, the Ferrari 488 Pista Spider interior is luxurious with sophisticated styling, using only posh and first-class materials that aren't cheap looking. All seats a made to fit the driver like a glove, with the instruments easy to read and laid out ergonomically.
Everything inside is pleasant to touch without any hard points inside the cockpit. Everything is made to fit the driver and give the best riding comfort, that money can buy.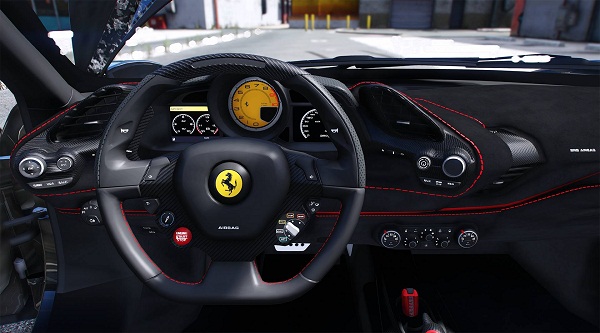 Luxury and modern dashboard
3. Ferrari 488 Pista Spider: Performance 
Ferrari's always are the ultimate driving machines that have the best performance specifications and is the by-word for cutting edge sports car performance. One of the highlights is the normally aspirated V-8 and the twin turbos that generate torque and horsepower worthy of its lineage.
Still keeping the rear wheel drive as the default drive train configuration. Squeezing power from every gear is dual clutch gearbox with an advance race-derived differential. A maximum speed of 340 kph with the fastest acceleration to 200 kph at 7.6 seconds.
Ferrari 488 Pista Spider V-8 turbo engine
>>> Refer to our Ferrari price Philippines to catch up with the latest change of Ferrari models.
4. Ferrari 488 Pista Spider: Safety Features
All the standard safeties are installed in the Ferrari 488 to maintain the best safety suite for the occupants. One of the special features is the Ferrari Dynamic Enhancer (FDE) that allows the driver to control the vectoring control of the car.
Keeping the brakes on point and balancing the movement of the car with its massive V-8 engine is key to avoid oversteer and understeer. Side-Slip Angle Control system is a system that the 488 uses to maintain stability and when turning. Rear engine sports cars have more power in their rear, it is needed to keep the rear from drifting with too much power.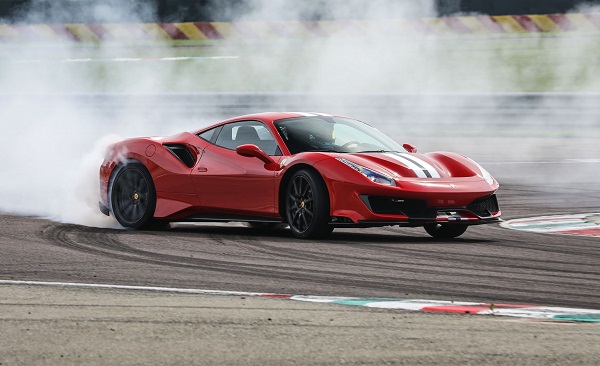 The V-8 engine is key to avoid oversteer and understeer
5. Ferrari 488 Pista Spider: Special features
It's racing heritage is evident with these special features not found ordinary cars. All these features are important to make the 488 go faster and have the best performance with them. Special features like this are what makes the Ferrari one of the most aerodynamic and ultra-modern in car design.
| | |
| --- | --- |
| Magnetorheological suspension (SCM) | Yes |
| F1-Trac | Yes |
| Removable Convertible Top | Yes |
| Rear blew spoiler | Yes |
| 20-inch carbon-fiber wheel rims | Yes |
| Aerodynamic S-Duct | Yes |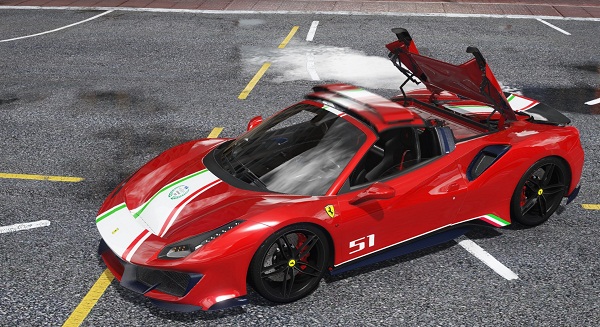 Removable Convertible Top makes the Ferrari one of the most aerodynamic and ultra-modern car
Final thoughts
Drivers who live on the edge will appreciate how well this adrenalin-driven machine does from track to street-legal sports car. It is made to slice through the wind and the Ferrari 488 Pista Spider epic performer that the Italian carmaker is renowned for.
Everything has been included in this four-wheeled package to cater to the most demanding drivers. All rolled into one is power, luxury, and comfort with all the pedigree of the world's fastest supercars to drive in Manila's street.
There's a speed limit, but that is nothing when cruising in this stunner of automotive perfection. No need to say anything fancy about the 488 because it speaks for itself, no jive talk is good enough with a shush is far better. The best advice is to say it in simple words and amazing ones to describe it will follow soon, guaranteed.
For more news, reviews, price-lists and more, please keep reading here at Philkotse.com.

Know more about Ferrari 488 2023

The Ferrari 488 is a mid-engine premium sports car celebrated worldwide due to its consistent and exceptional performance on the road and challenging race tracks. Since its release, this outstanding automobile received recognitions such as the "Supercar of the Year 2015" from Top Gear, Motor Trend's "Best Driver's Car in 2017" and "International Engine of the Year" from 2016 to 2018. Locally, it is offered in three powerful variants: the Ferrari 488 GTB, the Ferrari 488 Pista, and the Ferrari 488 Pista Spider. It comes in Nero Black, Nero Daytona, Rosso Dino, Grigio Silverstone, Gallo Modena, Blu Swaters, Rosso Mugello, Rosso Corsa, Verde British, and Avoria.
Price available upon request
Explore

Norjan Ismail Abbas
Author