Ones doing the #KikiChallenge may be tied to illegal acts.
The #InMyFeelingsChallenge aka #KikiChallenge has swept the world of netizens by storm, drawing the attention of million people jumping on the bandwagon making their own dance challenges along their rolling vehicles. That all came from the song "In My Feelings" performed by Drake.
In the song, the Canadian rapper introduced some fancy dance moves that are appealing to music fans. Also in the song, there may be the one line that sings "Kiki, do you love me? Are you riding?" that makes netizens think it resonates with a guy dancing along a moving vehicle with a girl behind the wheel.
Video: Drake - In My Feelings (Lyrics, Audio) "Kiki Do you love me"
With the #KikiChallenge rising to prominence, safety concerns emerged as well. In fact, there are a myriad of accidents recorded while doing the challenge, which urges governments to take actions.
Our Department of Transportation (DOTr) has warned netizens about the trend and expected support and respect to enforcing the laws from netizens.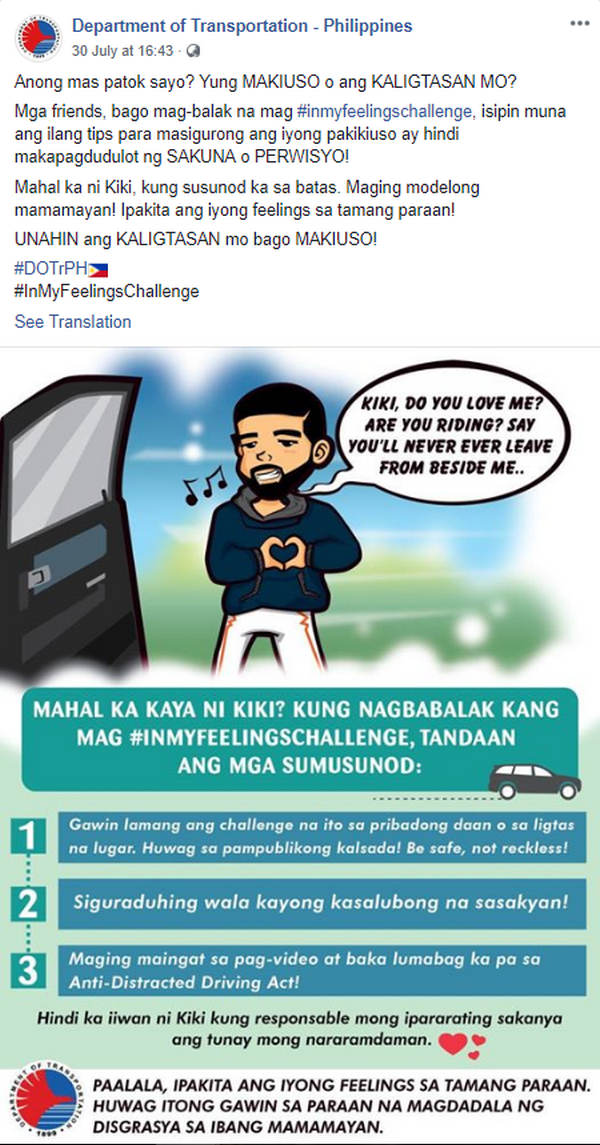 The department made a list of 3 suggestions
The department made a list of 3 suggestions for safety while doing the #KikiChallenge. One is only doing the challenge on personal roads, another choosing roads cleared of other vehicles, and the last one not outlawing the Anti-Distracted Driving Act.
A later post of the department warned drivers might be tied with illegal acts including reckless driving and Anti-Distracted Driving Act while using mobile phones behind the wheel is clearly banned by the law. One who commits these faults can have his/her licenses repealed.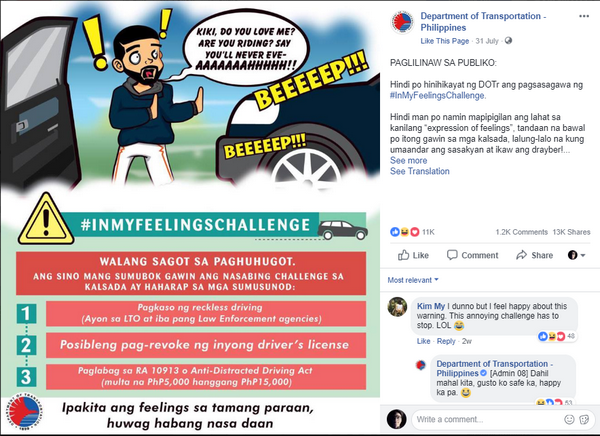 Ones doing the #KikiChallenge may be tied to illegal acts
And you don't want to commit these faults, or else your driver license will be revoked by law. There are more things to keep in mind aside from those three to steer away from having your license suspended.
Some famous figures also tried their hands at the #KikiChallenge.
Actresses Bela Padilla and Kim Chiu took the challenge without the need of their cars:
​
American actor and rapper Will Smith got on the top of a bridge to make more fun out of the challenge:
​
Some challenge videos even include animals as the protagonists:
>>> You might like to read:

Recent posts