What car does your favorite Filipino loveteam own?
Filipinos are big fans of "teleserye" or Filipino TV series – every night, families and sometimes including their friends or neighbors will gather in someone's house to watch their favorite teleserye and sometimes you'll hear them scream or react violently in a certain scene.
I could say that when Filipinos get "addicted" to a teleserye there's no night that we will miss an episode, and there's no way that we won't be updated on our favorite actors and actresses.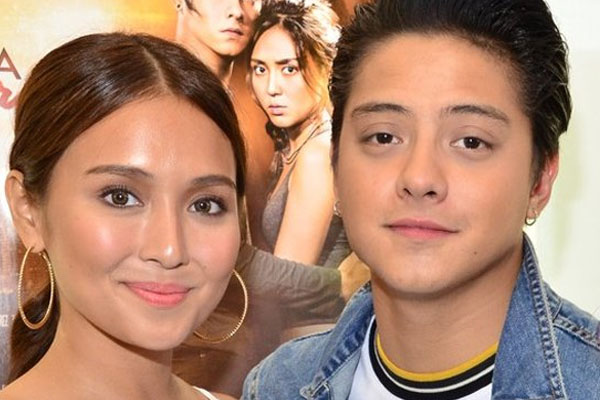 "Kathniel" love team, comprised of Kathryn Bernardo and Daniel Padilla, two of the youngest and most famous celebrities in the Philippines
As fans, Filipinos are curious about what's going on with their favorite actors and actresses lives every day – and the celebrities are also kind enough to share it with their fans. One thing that I'm sure fans would most likely want to know and personally, I am curious about too is what cars do these famous celebrity own? What cars do they use to travel and take them to and from work?
If you are getting curious too, let's go ahead with Philkotse.com and take a peek in some of the popular Pinoy celebrities' choice of ride.
1. Alden Richards
The "Pambansang Bae" who became popular in the all-time hit noon time show Eat Bulaga, alongside with his on-screen other half Maine Mendoza, has quite a car collection. He started with a second hand vehicle when his career is just starting to kick off and later on upgraded to a Mistubishi Pajero and now he owns a black Jaguar XE.
He says that it was one of his dreams to own a sports car and he bought one as a reward to himself for all his hard work.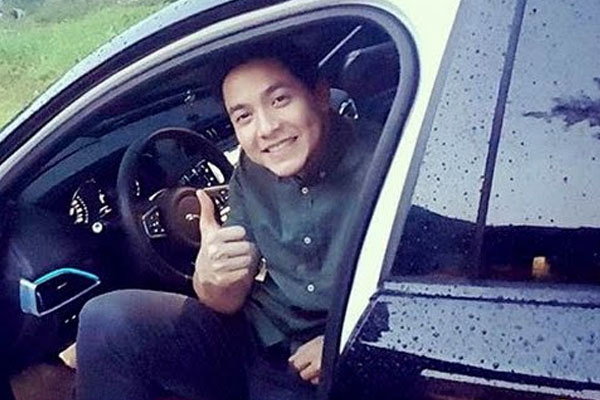 The Pambasang Bae, Alden Richards in his Jaguar XE
2. Maine Mendoza
Of course comes with Alden Richards, the "Pambansang Bae" is his on-screen partner, Maine "Yayadub" Mendoza. One can't be without the other, so we're also going to take a peek on what Maine chose for her ride.
During her Yayadub stint, she was able to buy her own Hyundai Starex Limousine. She bought in on June 2016.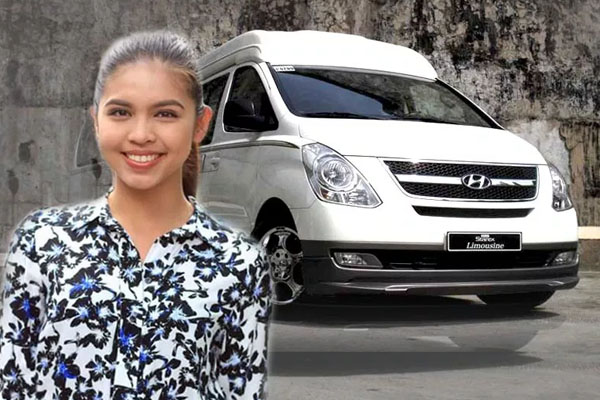 Yayadub Maine Mendoza owns a Hyundai Starex Limousine that drives her to and from work
3. Liza Soberano
Liza is one of the most beautiful faces in Philippine show business. She's known for her role as Agnes Calay, a strawberry farmer in the hit teleserye Forevermore which aired in 2014, which also stars her on-screen love Enrique Gil. This teleserye launched both their careers and they both soared high with non-stop movies and endorsements.
Reaping the benefits of her hardwork, Liza bought a Hyundai Starex van that has customized interiors that seems to be very comfortable so she could get a good rest while driving to and from tapings.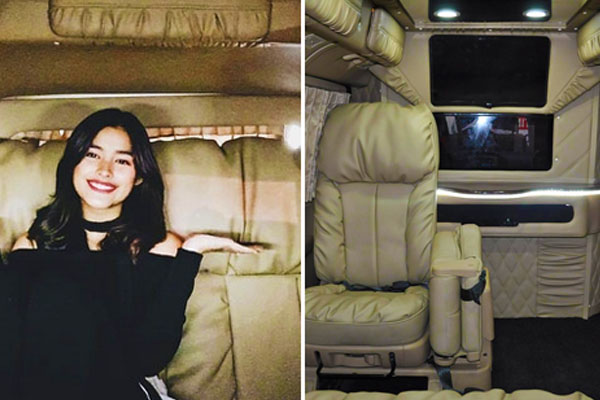 Pretty face Liza Soberano in her nice and comfy customized Hyundai Starex
4. Enrique Gil
Much like Maine and Alden, Liza also comes with Enrique Gil, her on screen sweetheart. Enrique also became popular when he landed the role of Xander Grande, heir to a hotel empire in the hit teleserye, Forevermore. He has quite a car collection too, which includes a red Dodge Nitro and a Chevrolet Camaro 2009, which is the exactly the same model as "Bumblebee" in the hit movie Transformers.
He said that his car investments are his much deserved rewards.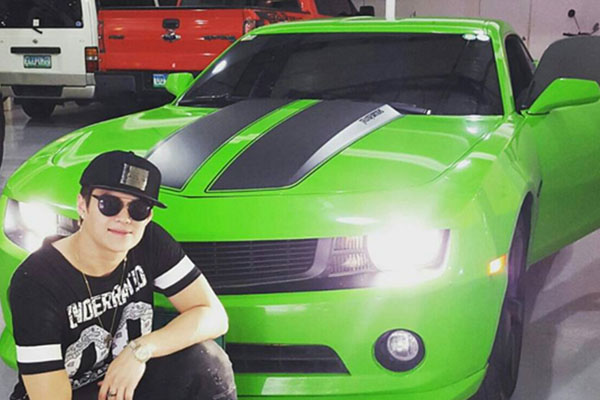 Enrique Gil owns several sports car including a Chevrolet Camaro aka "Bumblebee"!
5. Marian Rivera
Being FHM's three-time sexiest woman in the Philippines, which inducted her to FHM's Hall of Fame, Marian Rivera has also risen to stardom with her beauty and acting stints. Her rise to fame started when she landed the role of "Marimar", in the teleserye of the same title, a remake of the popular Mexican telenovela that starred Thalia.
Being one of the most popular, if not the most popular actress in the Philippines, Marian has all the right to own a luxury vehicle. She owns a classy Mercedes Benz GLK 220, a great choice for both class and family friendliness.
>>> Curious about how the garages of other celebs look like?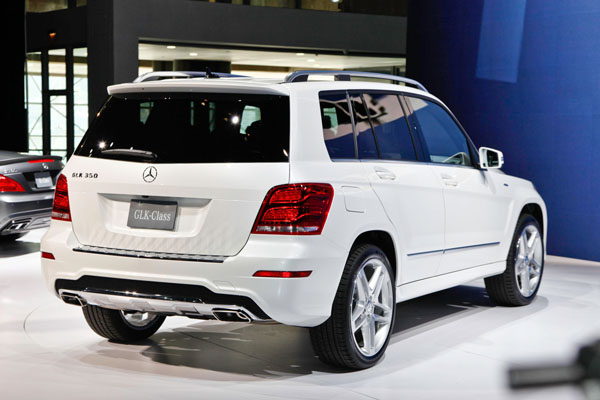 Marian Rivera owns a classy Mercedes Benz GLK 220
6. Dingdong Dantes
Dingdong Dantes is Marian Rivera's husband, whom she met during their MariMar teleserye, where he played the role of MariMar's love interest, Sergio Santibañez. Besides acting, he is also very involved in youth empowerment that he established Yes Pinoy Foundation, Inc. – an organization that focuses on the development of Young, Empowered and Service-Oriented Pinoys.
Dingdong Dantes owns a two-door, four seater, black Maserati Granturismo.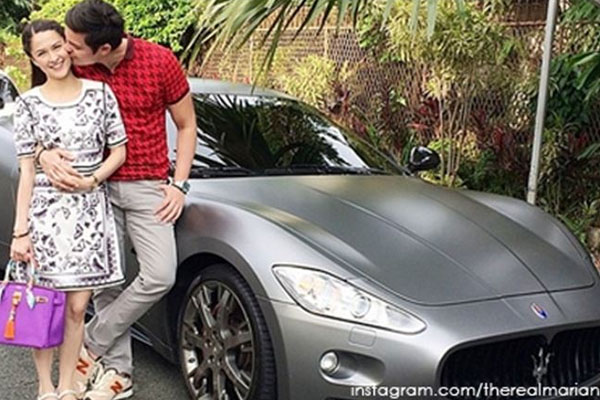 Dingdong Dantes, who owns this Maserati Granturismo, with his wife Marian Rivera
7. Kathryn Bernardo
Kathryn Bernardo is a 22-year old actress who became popular after landing one of the lead roles in ABC CBN's remake of a hit 1990's teleserye, Mara Clara. Her role as Mara boosted her to stardom which consequently earned her the role of Yna Macaspac in another remake of another popular TV series Pangako Sa'yo back in the year 2000.
She starrs here with her reel and real life boyfriend, Daniel Padilla who played the role of Angelo Buenavista, her love interest. Recently they had another successful team up in La Luna Sangre.
The "Teen Queen" Kathryn Bernardo owns a white Lexus XE30 and a customized van too.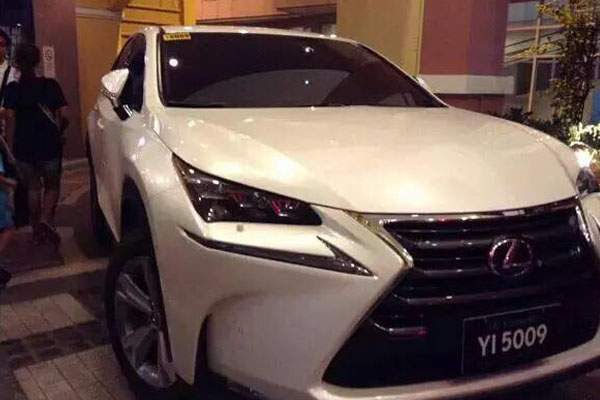 Kathryn Bernardo owns a Lexus where she learned how to drive
8. Daniel Padilla
The "Teen King", Daniel Padilla, Kathryn's on screen and offscreen partner has his own share of car collection too. He owns a Dodge Challenger, Mercedez Benz, Chevrolet Corvette and a Corvette Stingray.
He also owns a customized van which is the black counterpart of Kathryn's customized van.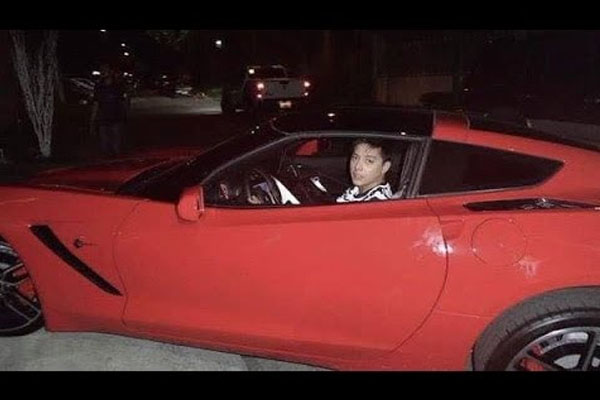 Daniel Padilla driving his Dodge Challenger, one of the sports car he owns
>>> Click here to catch latest car news worldwide


Ivy Kristia Padura
Author