It's inching closer to a 2022 opening.
The Department of Public Works and Highways (DPWH) reports that the Intramuros-Binondo Bridge is currently at 77 percent completion, putting it on track to open by early next year.
The new bridge is being prepared for a 2022 opening to the public
According to DPWH Secretary Mark Villar, workers on the project have nearly finished installing the fabricated precast concrete slab panels on the assembled steel beams, following the completion of the sling cable tensioning components. These will comprise the main bridge carriageway. Meanwhile, there are 114 out of 135 piles completed which will be used for abutments, piers, and ramps, with the remaining 21 mostly located at the Estero De Binondo area.
One challenging aspect of the project is the presence of overhead lines for electricity and other utilities at the bridge's north approach. DPWH Undersecretary for Unified Project Management Office (UPMO) Operations Emil Sadain conducted a field assessment with Project Manager Melchor Cabiling, to observe how the cables can potentially affect the launch of the steel box girders needed for the down-ramp portion.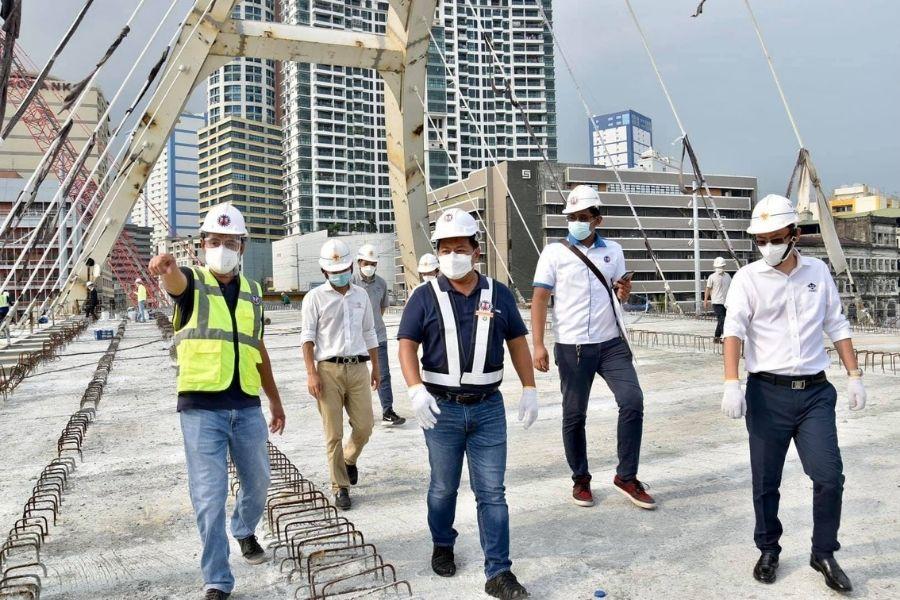 DPWH officials conducted a field assessment of the project
The high-tension wires and distribution poles propping them up pose a serious safety concern for the construction of the ramps at both the Binondo and Intramuros points of the bridge. Sadain said that the DPWH UPMO Roads Management Cluster 1 is following up on its request to the Manila Electric Company (Meralco) and telecom companies to relocate the cables and posts.

Funded through a China Aid grant at an estimated project cost of Php 39.9 billion, the Binondo-Intramuros Bridge spans 680 meters while buoyed by basket-handle tied steel arches. This is accompanied by a viaduct structure over Estero De Binondo.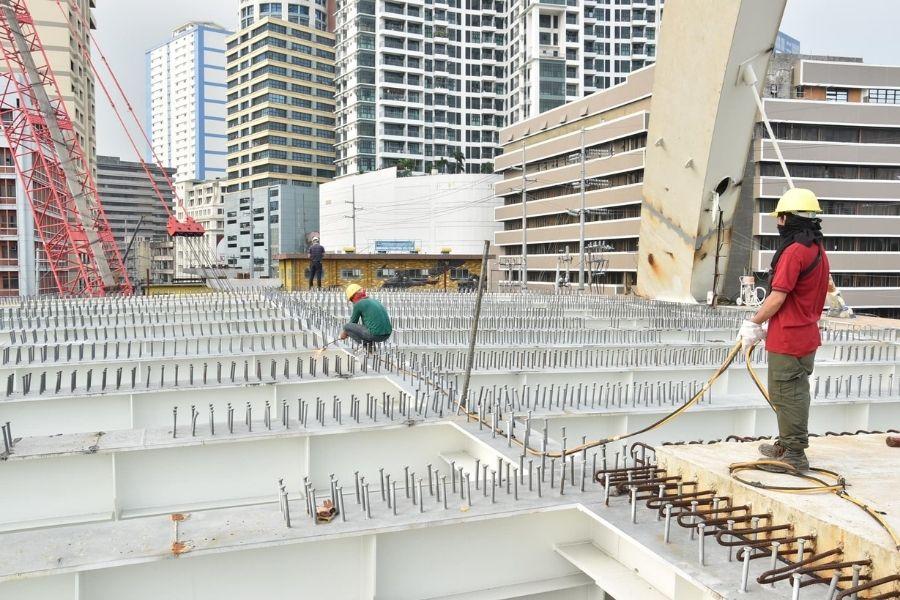 Workers are about to complete the installation of concrete slabs
Construction of the bridge has been slowed down due to pandemic lockdowns, but the DPWH said that it has been taking proactive and preventive measures for workers, in cooperation with contractor China Road and Bridge Corporation. The DPWH plans to open the bridge to the public by the first quarter of 2022.
We'll bridge the gap in your knowledge of transport infrastructure at Philkotse.com.

Joseph Paolo Estabillo
Author