The new grand tourer looks quite impressive.
Here are all we know about the Toyota Supra 2018 at the present:
The new Toyota Supra will ride on the same platform as the BMW Z4.
It will likely be powered by a 400-hp 3.5L turbocharged V6 engine.
It is scheduled to kick off at the upcoming 2017 Tokyo Motor Show on October 25.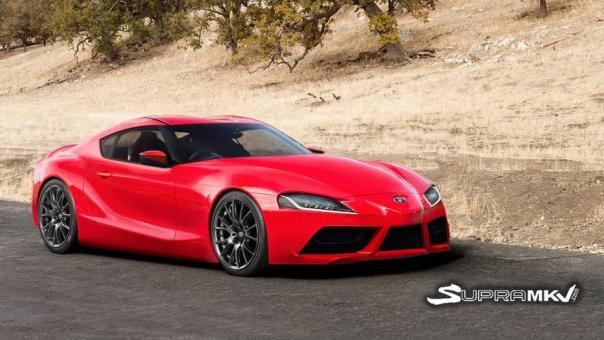 The rendering completely shows the supposed production Toyota Supra
No words on its design. Thus, it's a litter wonder what the new Toyota Supra 2018 will look like.
Thankfully, a single rendering of the sports car has recently published, completely showing the supposed production Toyota Supra. Although based on the FT-1, the rendering still recalls the original concept showcased three years ago and in the same breath, gathers new styling cues from the spy shots.
Dominating the Toyota Supra 2018 front fascia is a streamlined trio of grilles in place of the FT-1 concept's face. Still the bulging nose and LED strip but it seems that the front is less forceful compared to the last concept, partially due to more production-friendly headlamps. The rendered Supra looks handsome anyway, doesn't it?
As mentioned above, the new Toyota Supra will not come with the V6 engine only. Latest car news suggests that a 4-cylinder engine with 248 hp – 335 hp will presumably be taken into consideration. Both automatic and manual transmissions are optional.
Rumor also has it that the production Toyota Supra 2018 will be built in Graz, Australia next year.
Know more about Toyota Supra 2023

The Toyota GR Supra is a 2-seater sports car that is available in the Philippines at a price of Php 4,990,000. It can go up to Php 5,090,000 if the Ice Gray body color option is chosen, with five other paints priced at Php 5,050,000. Only one variant is available locally which uses a BMW-sourced 3.0-liter inline-6 twin-scroll turbocharged gasoline engine that generates 335 Nm of torque and 500 Nm of torque. This engine is connected to an 8-speed automatic transmission as standard. Dimensions-wise, this iconic sports car spans 4,379 mm in length, 1,854 mm in width, and 1,294 mm in height, with a wheelbase of 2,470 mm and a ground clearance rated at 115 mm. In the local market, the Toyota Supra competes against the likes of Ford Mustang, Nissan 370Z, and Porsche 718.
Recent posts