Do you know the rotary engine is still alive?
It highly seems that we will no longer see any rotary engine since its last appearance in the RX-8 Spirit R special edition in 2011. But surprisingly, Mazda announced the reborn of this kind of engine by introducing the RX-Vision concept at the 2015 Tokyo Motor Show. At this year's car event, the Japanese carmaker would continue to write down its story which "has not over yet" by letting the RX-Vision's successor (possibly dubbed the Mazda RX-9) take the stand.
 Mazda RX-Vision Concept - 2015 Tokyo Motor Show
Considered as an evolution of the RX-Vision, the forthcoming rotary-powered concept from Mazda will introduce the company's "intention from the engineering and design community," according to Mazda's Vice President for R&D in Europe Matsuhiro Tanaka. He also added that the brand had been making all-out efforts to make the concept a possibility.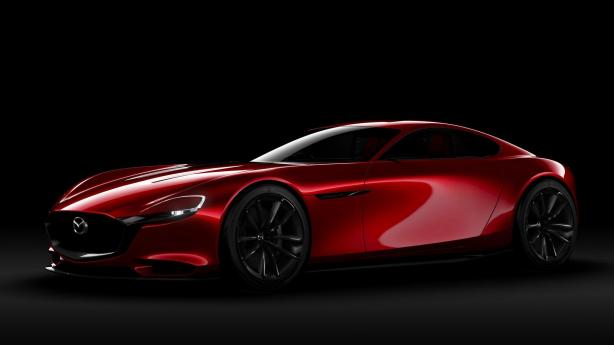 The new rotary-powered concept will probably use the SkyActiv-R rotary engine from the RX-Vision concept
>>> Read more: Mazda might hold global reveal of the RX-9 at Tokyo Motor Show
Mazda also confirms that it will work solo on this project in lieu of joining hands with another car manufacturer. Actually, development and production costs are not the company's problems, so it will not do the same as it did with the MX-5/124 Spider.
At the present, the only spec we know about the new Mazda is the SkyActiv-R rotary engine from the RX-Vision concept. More will be gradually revealed until the 2017 Tokyo Motor Show opens on October 25.
Learn more about rotary engine:
Rotary Engine
It is also said that the rotary-powered production car would be launched in 2020 on the occasion of celebrating Mazda's centenary. However, rumors has it that the production process of the rotary engine is encountering some technical issues related to engine emissions standard, flame propagation as well as laser ignition or plasma ignition.
>>> Click here for latest updates on the global automotive industry on Philkotse
Know more about Mazda

Mazda Motor Corporation is a Japanese-grown brand that began in the city of Hiroshima. In January of 1920, the company was established as Toyo Kogyo Corporation under the ownership of Jujiro Matsuda. They were considered to be Japan's best cork producers that eventually made a name for themselves in manufacturing machining tools. Soon after, Matsuda ventured into producing the first motorized rickshaw in the market. The vehicle was called the Mazda-Go which was a reference to Matsuda himself.