At 2019 MIAS, Chevrolet Philippines displays what American muscle means with Chevrolet Camaro 2019 Turbo 3LT RS and Chevrolet Corvette 2019 Stingray RS.
Chevrolet Philippines, which is with MG Philippines and under the management of The Covenant Car Company, Inc. or TCCCI for short, participated in the 2019 Manila International Auto Show and showcased two of their very high-performance vehicles for the Philippines market; the new Chevrolet Camaro 2019 3LT RS and Chevrolet Corvette 2019 Stingray.
Two very iconic American vehicles that it turns out, struck a chord with the crowds in the attendance for the event; Filipinos also like muscle cars. It also helped that the Chevrolet Camaro is now a mainstay in the collective pop-culture hivemind as it was the incarnations of Bumblebee in Michael Bay's Transformers.
1. Chevrolet Camaro 2019 3LT RS
Now make no mistake, the history of the Chevrolet Camaro goes back even further than Bumblebee. Now for those of you unaware out there, the Camaro name has been around since 1967 and has since then graced over six generations of cars.
As for the sixth generation, which includes the one featured in the  Manila International Auto Show 2019, it began its life after being introduced at the Blle Isle park in Detroit during the Camaro's 50th anniversary. For the international market, the Camaro came with three optional engines, a 335 hp v6, a 455 hp v8, a supercharged 650 hp which is also a v8 and of course, the one available in the Philippines; a 2.0-liter turbocharged inline-four which makes 275 hp.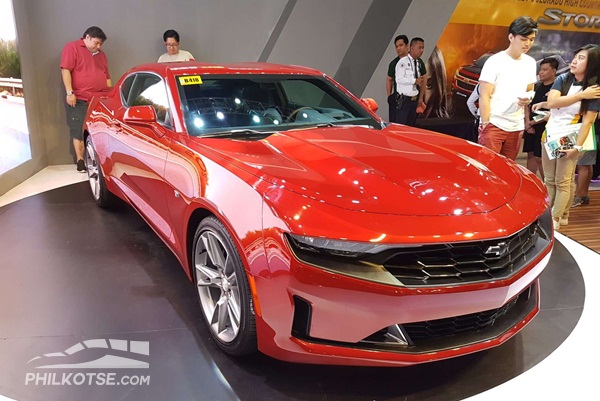 The Chevrolet Camaro 2019, the quintessential American muscle car
For muscle car purists out there (and there are some here in the Philippines), putting a 2.0 liter in a Camaro might sound like sacrilege but for the Philippine market in general, the smaller displacement Camaro just makes sense as it is more affordable and more appropriate in driving on our relatively tight roads.
Not to mention that more horsepower can't exactly help you in traffic can it? Despite that, it has been demonstrated in numerous youtube videos that the 2.0 2019 Chevrolet Camaro can indeed still go fast, can drift and do burnouts.
Now aside from having a 2.0 turbocharged, 275 horsepower engine, the Camaro comes with an 8-speed automatic gearbox with paddle-shifters. This again is a point of contention for many car enthusiasts out there especially among the traditionalist muscle car guys.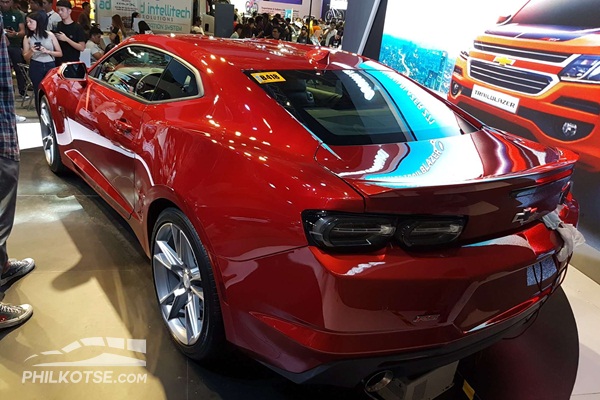 Despite being a performance vehicle, the Camaro also has space for cargo
Regardless, an automatic gearbox will definitely help in traffic but on the flip side, the Camaro isn't meant to be a daily driver (for many who will buy it at least) and some will likely relegate it to a track or weekend driving on twisty roads outside of Metro Manila; places where manuals are fun. In this regard, we hope a manual version will also come soon.
As for the interior of the 2.0 liter Camaro, there are certainly no arguments with regards to it. Inside, the car features plush, bucket style seats, a competent touchscreen infotainment system with a Bose sound system, and a whole host of driver assist safety systems.
>>> Also check out: MIAS 2019: The Chevrolet Camaro 2019 Turbo 3LT RS has a new engine
 The Camaro variant displayed at the 2019 MIAS doesn't stop there however as it was also equipped with the RS package. That means it has LED taillamps, RS-specific grilles, and a decklid-mounted lip spoiler. Overall, the price of the Chevrolet Camaro 2.0 along with the aforementioned RS package comes up to Php 3,298,888.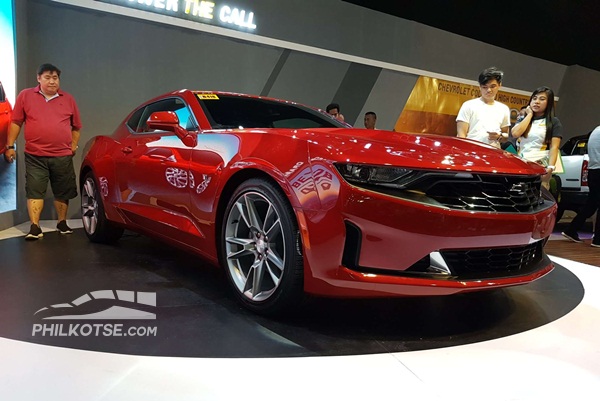 Chevrolet Camaro 2019 with the aforementioned RS package comes up to Php 3,298,888
2. Chevrolet Corvette 2019 Stingray
Now for the cream of the crop of the Chevrolet lineup at the 2019 MIAS is another American car but this one ultimately lives up to supercar standards without breaking the bank; the Chevrolet Corvette Stingray.
Now, this particular Corvette is from the current, 7th generation otherwise known as C7 and is loaded with the culmination of research and technologies developed and applied throughout the Corvette's long history. The vehicle's design is much more aggressive and angular than models that came before it and it is definitely safer.
Now as for the Corvette for the Philippine market, it comes readily equipped with the 3LT package which has a HUD (heads up display), a BOSE speaker system and leather covered dashboard.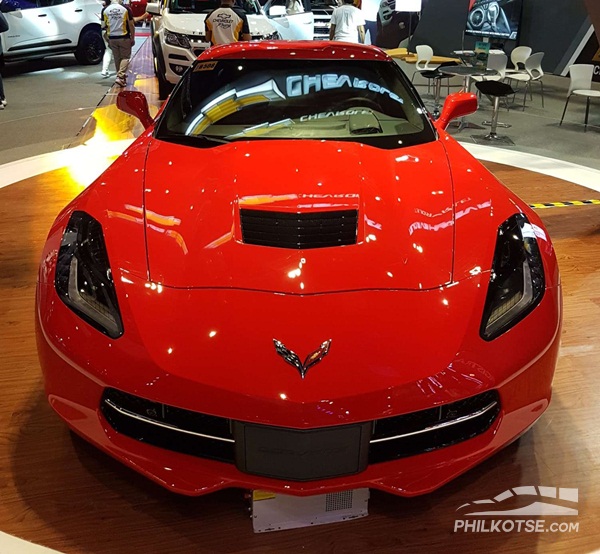 The world-famous American supercar
What powers this magnificent beast is the equally beastly 6.2 liter V8 engine that is based on the famous LS1. As such, it is of no surprise that the engine can produce a blistering 460 hp and an incredible 630 nm of torque which is considerably more than what other SUVs and pickup trucks commonly used here in the Philippines can make.
The new LT1 engine is a small block that still has the push-rods which the previous engine of this model line has. It uses direct fuel injection and continuously variable valve timing and due to the Corvette's active fuel management the vehicle, despite its enormous power, is relatively fuel efficient.
Inside the Stingray, one can find that its interior is indeed well suited to spirited driving as it comes equipped with bucket seats. The dash also has the heads up display that we've mentioned before that will definitely help the driver whether he's casually traveling, stuck in traffic, or on the race track vying for that coveted track time.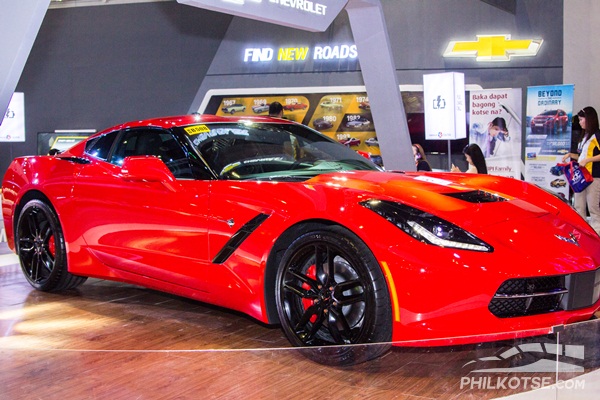 The sporty Chevy Corvette 2019 showcased at MIAS 
Despite being overall a very sporty car, the Corvette also has a number of luxuries afforded for its driver and passenger; it has an excellent Bose sound system and a number of multimedia and connectivity tools that are useful to just about everyone.
For a car with this kind of power and torque, it is also pleased to know that the Corvette Stingray is very highly rated by numerous car safety organizations worldwide.
It comes equipped with side and frontal airbags for both passenger and driver, a PASS-Key II ignition disabling system, ABS, seatbelt pre-tensioners, an occupancy sensor, the Performance Traction Management system, curb and rear cameras, and a panic alarm which is yet to become common in cars here in the Philippines.
It is announced that the new Chevrolet Corvette 2019 Stingray will be sold at the Philippines market at the price start from Php 8,546,888. Regularly catch up with our Chevrolet price list Philippines to update the latest changes in Chevrolet prices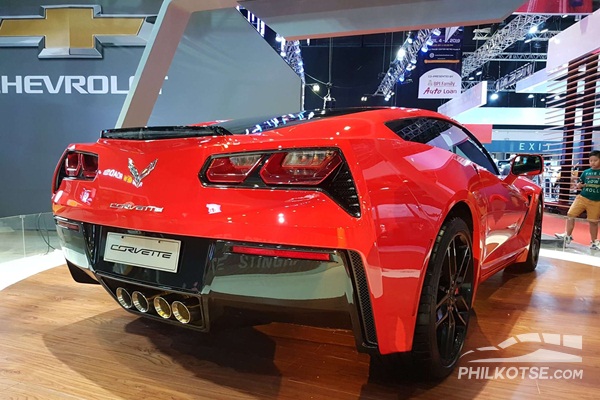 Very fast, yet very safe; the Chevy Corvette Stingray offers a myriad of safety features that sum up to a secure driving experience
To conclude, Chevrolet indeed had a successful time at the 2019 MIAS and as such has also provided a very informative and enjoyable moment for everyone who had visited their pavilion. And also due to the numerous crowds that flocked to view the Camaro 2.0, it is indeed safe to say those muscle cars are here to stay in the Philippine market for many years to come.

Know more about Chevrolet Camaro 2023

The Chevrolet Camaro 2023 is a 2-door coupe that has been around in the American automaker's lineup since 1966. It is available in the Philippines in one variant starting at Php 4,066,888. Under the hood, this sports car is powered by a 2.0-liter inline-4 DOHC twin-scroll turbocharged engine capable of generating 275 horsepower and 398 Nm of torque. An 8-speed automatic transmission exclusively sends the power to the rear wheels.
Dimensions-wise, the Camaro is 4,783 mm long, 1,897 mm wide, and 1,349 mm high, with a wheelbase rated at 2,811 mm. In the local market, this American sports car goes up against the likes of the Ford Mustang, Toyota Supra, and Dodge Challenger.

Cesar G.B. Miguel
Author