You have four color options to choose from.
When Suzuki Philippines, Inc. (SPI) introduced the Suzuki S-Presso in the country last 2020, it further solidified its branding as a compact car distributor that features small, fuel-efficient, and affordable models. The hatchback is the most affordable passenger car you can get from the Japanese automaker at Php 523,000.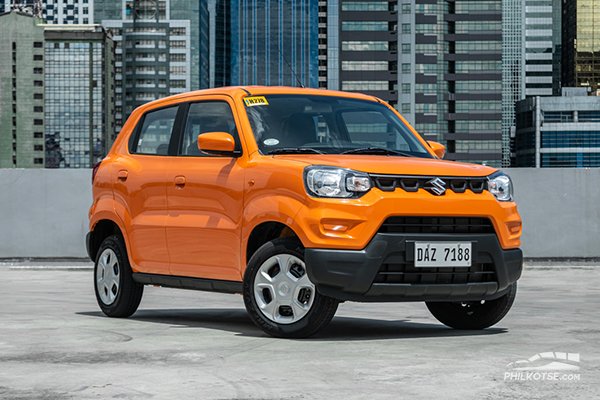 Suzuki S-Presso
Considering that it is a relatively new vehicle in the local market, many are still unfamiliar with what it has to offer including all colors of the Suzuki S-Presso. Suzuki Philippines is offering its hatchback in four colors, namely the Sizzle Orange, Fire Red, Metallic Granite Gray, and Metallic Silky Silver.
If you are looking to buy a Suzuki S-Presso and are currently deciding on which body color option to choose, then you have come to the right place. We will discuss the four paint finishes offered for the new hatchback. Take note that the Suzuki S-Presso colors might vary from the actual model. As such, use the following as references only.
Original wrap
If you try to visualize what the Suzuki S-Presso looks like, there is one body color that will surely pop out of your head, and that is the Sizzle Orange. It is the most commonly used Suzuki S-Presso color not only by Suzuki Philippines in promoting the vehicle in the country, but also in other markets where the hatchback is made available.
The Sizzle Orange sure is a good choice for the Suzuki S-Presso for various reasons. Number one, orange is not a common paint color among today's cars, sitting behind colors like blue, red, green, and brown. And reason number two, it helps accent the blacked-out front and rear bumpers due to its bright color as compared to other paint finishes.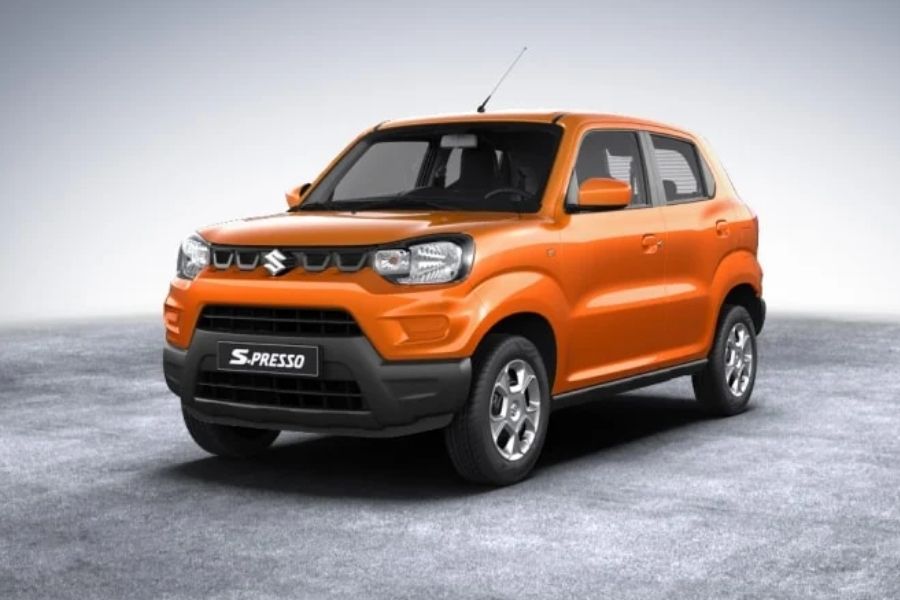 Suzuki S-Presso Sizzle Orange
With those being said, the Suzuki S-Presso color in Sizzle Orange will make your vehicle stand out. You will surely look a bit quirky against most cars you will see on the road, but among S-Presso car owners, not so much. Sizzle Orange is the go-to for most owners so the feeling of exclusivity might be gone once you attend Suzuki S-Presso Philippine Club meets.
Nevertheless, the Sizzle Orange is not a bad choice to begin with. Fortunately, the Japanese automaker is offering all of the Suzuki S-Presso colors free of charge including the Fire Red, Metallic, Granite Gray, and Metallic Silky Silver which we will get into in a second.
Snazzy hatchback
Next up on the available options for the Suzuki S-Presso is red color, or also named Fire Red. Looking at all of the available paint options offered on the PH-spec S-Presso, one can say that the Fire Red has to be the go-to for those interested buyers who want their unit to look snazzy or sharp.
With its boxy and small design, it is quite difficult to achieve a sporty appeal out of the hatchback, if that is what you are aiming for. As such, the Suzuki S-Presso color in Fire Red is the closest you will get. Suzuki Philippines is offering the Suzuki Swift if you like a hatchback that comes with a sporty appeal.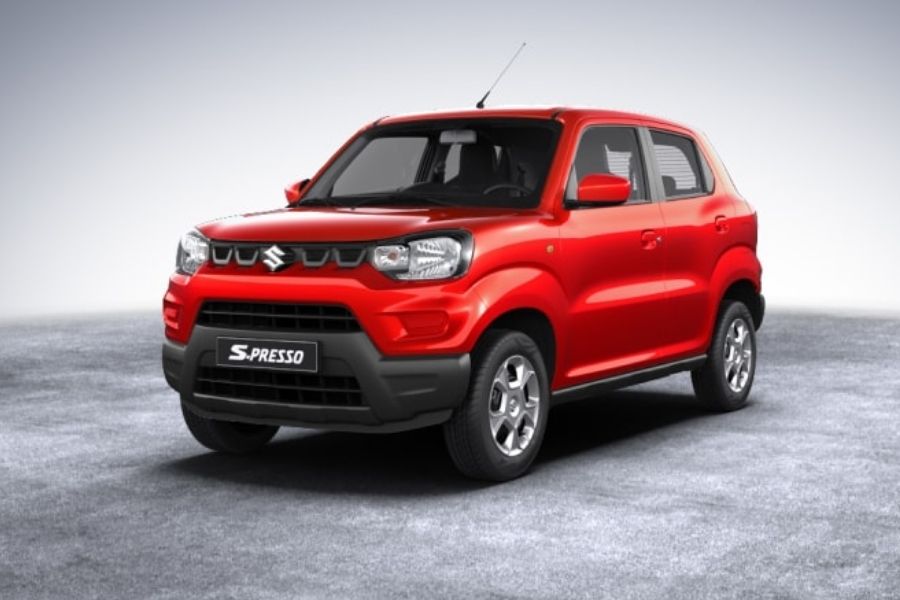 Suzuki S-Presso Fire Red
Aside from the Sizzle Orange, the Fire Red body paint color is also another common option Suzuki S-Presso owners picked out of the dealership. And since red is a common color among most cars as well, then don't expect to look different on the road. Regardless, the Fire Red should not disappoint in any way.
Take note that maintaining a Suzuki S-Presso red color can be difficult as compared to other body color options. Red paint can accent the dust, dirt, or mud that might be accumulated while driving on the road. That said, going for a snazzy look comes with the price of frequently washing your car whether at home or at a shop.
Simple S-Presso
There are two options that you can choose from the roster if you want to go for a simple exterior paint. The two color options we're talking about are the Metallic Granite Gray and Metallic Silky Silver. What we can say is that simple is not always bad. In fact, the Suzuki S-Presso silver color (or Metallic Silky Silver) can provide practical features as well.
The Suzuki S-Presso color in Metallic Silky Silver can seamlessly hide things that could make your hatchback look dirty such as water spots and scratches. With that being said, you can refrain from frequently washing your car just to maintain its fresh-out-of-the-dealership look, hence little money in the long run.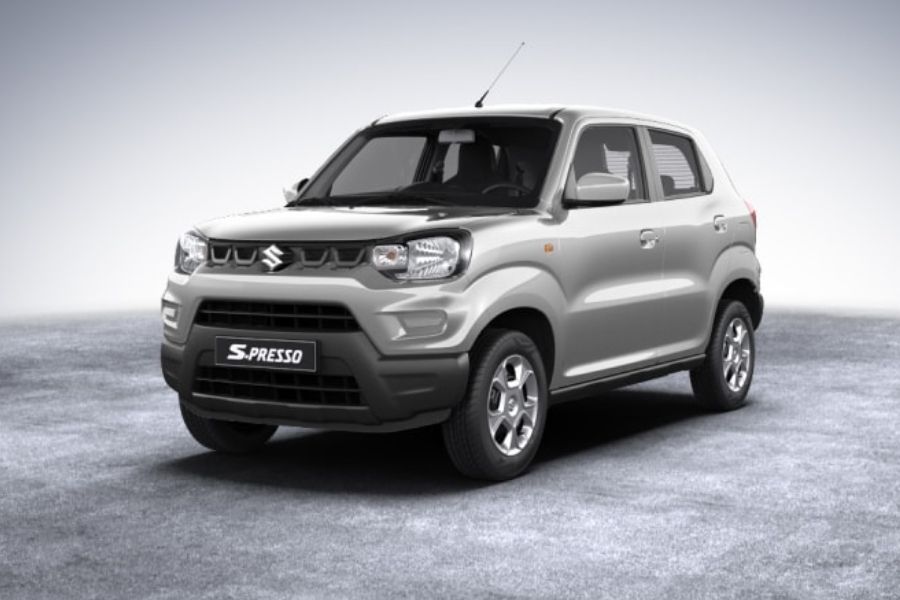 Suzuki S-Presso Metallic Silky Silver
With the Metallic Silky Silver, it creates an appealing contrast with the standard exterior details of the Suzuki S-Presso as such its blacked-out front and rear bumpers, and its 14-inch steel wheels. Plus, it is easy to add new modifications as silver panels are easier to find as compared to other colors.
However, just like the Fire Red body color option, the Metallic Silky Silver is another common color among Suzuki S-Presso owners. If you think that looking different doesn't really matter, then we recommend that you go for the Metallic Silky Silver. But if it does, then maybe you can consider picking the Suzuki S-Presso gray color brought by the Metallic Granite Gray option.
The Metallic Granite Gray body color option is somewhat similar to the Metallic Silky Silver, but comes with a darker hue. This paint finish is the most uncommon choice among Suzuki S-Presso owners. As such, the Metallic Granite Gray should be your go-to if you are trying to look different from the bunch.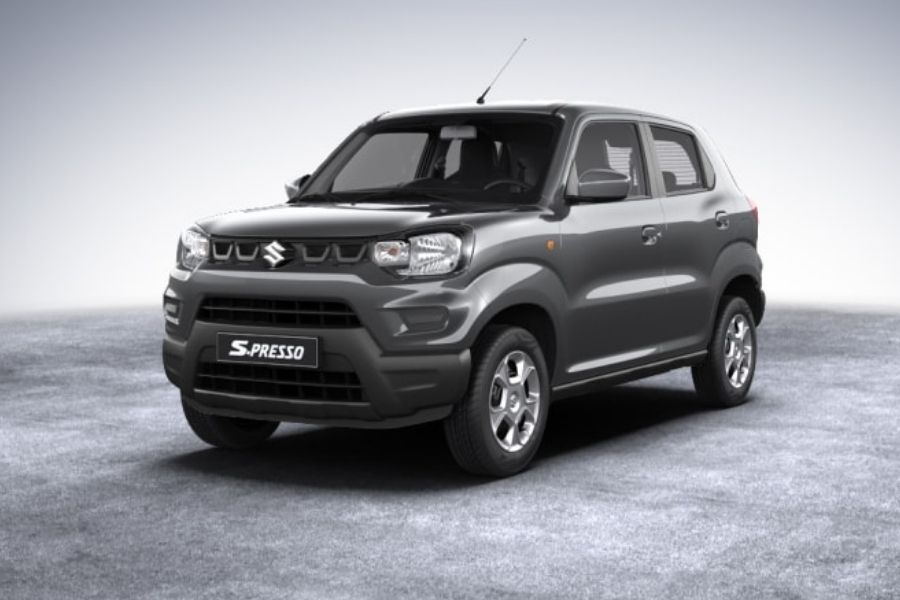 Suzuki S-Presso Metallic Granite Gray
But unlike the Metallic Silky Silver, the Suzuki S-Presso color in Metallic Granite Gray option requires more time to clean. Darker car paints are considered as some of the hardest colors to maintain as these highlight the dirt or any debris you can accumulate on the road. It is the price to pay for achieving a premium look.
In addition, the Metallic Granite Gray slightly blends with the standard exterior details of the Suzuki S-Presso. This creates somewhat a monotone paint scheme. Now, a monotone finish can be something that some car buyers aim for, but if you are not part of the group, then your choices should be the other three color options on the roster.
Visit Philkotse.com for more automotive news.
Know more about Suzuki S-Presso 2021

The S-Presso is a city car styled as a crossover or mini SUV, manufactured by pioneering compact carmaker Suzuki through its Indian subsidiary Maruti Suzuki. Slotting below the Alto and the Wagon R in the Indian market, the S-Presso is also sold in developing regions such as Egypt, Latin America, South Africa, and Southeast Asia, including the Philippines. You can get more information about specifications, reviews and promos of Suzuki S-Presso here.

Rex Sanchez
Author