It certainly is more than your basic cup of coffee.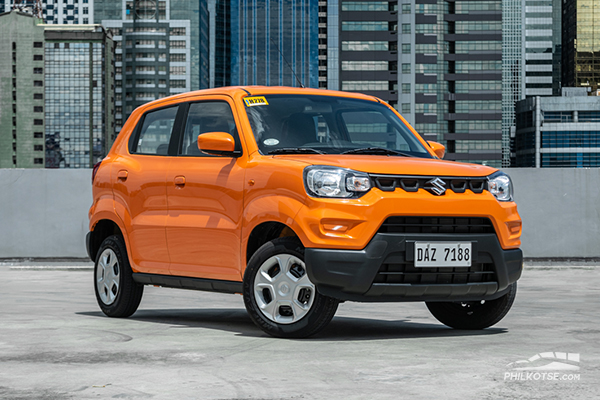 In this review...
Introduction

Exterior

Interior

Technology

Safety

Engine & Performance

Conclusion

Price & Variants

Specs
1. 2020 Suzuki S-Presso Philippines Review: Essentially Good
Another week, another review. This time, we have the 2020 Suzuki S-Presso for extensive testing.
The S-Presso is the latest pint-sized vehicle from Suzuki to come ashore in the Philippines. Banking on its reputation as a maker of small vehicles, the Japanese marque introduced a new entry-level model in its lineup, replacing the Alto 800.
2020 Suzuki S-Presso Review: More than your basic cup of coffee | Philkotse Philippines
But does the S-Presso have what it takes to win the hearts of those wanting to buy their first car? More importantly, is value compromised in the newest Suzuki? Read these questions answered in our full review of the 2020 Suzuki S-Presso.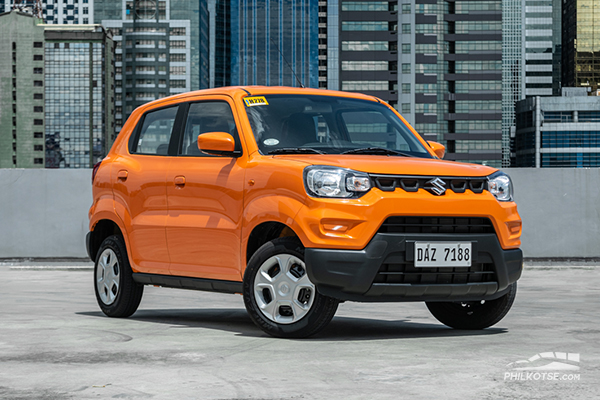 It's definitely a far cry from the Alto 800 which it replaced
Overall exterior & Interior design, build quality, form vs function

Number of safety & tech features, consistency during usage

Power delivery, acceleration, transmission, suspension, handling

Overall Ride Comfort, Space, Storage Areas

Sticker price vs overall package
2. 2020 Suzuki S-Presso Philippines: Exterior Review
There aren't any words invented yet to best describe the S-Presso's design, except for cute and boxy. It has an apparent appeal from the get-go, and that's because it doesn't look like the usual tiny hatchbacks you'll see running around the city – and quite smaller, too.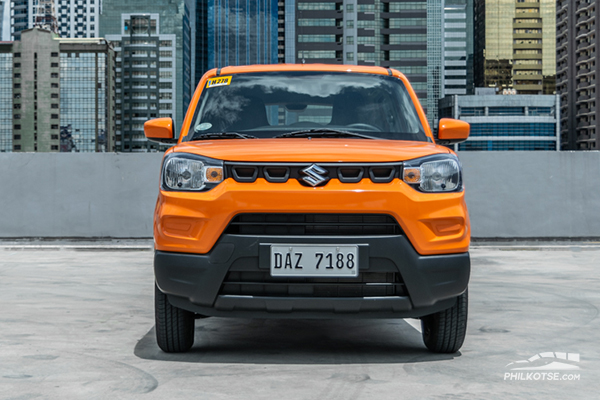 It's got that macho, SUV-esque look down, but also note the skinny tires
It sits a bit high off the ground, 180mm to be exact, plus the character lines and claddings are peculiarly simple. Whatever Suzuki is aiming for with the S-Presso, they've done it well – at least for us and for those heads that turned whenever we drove by.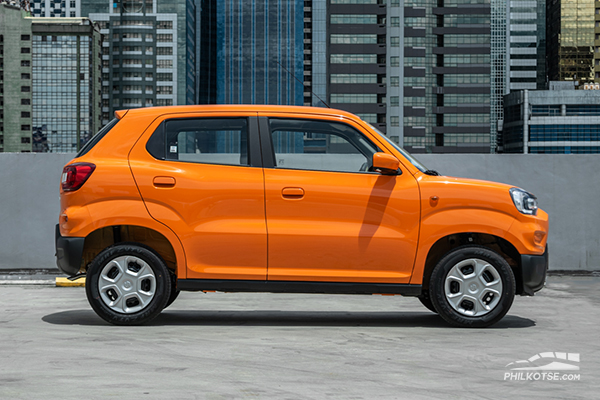 The Suzuki S-Presso from the side
But of course, don't expect too much on the Suzuki S Presso in terms of standard equipment. You'll get basic halogens as lighting plus the 14-inch wheels are steelies adorned with full hub caps.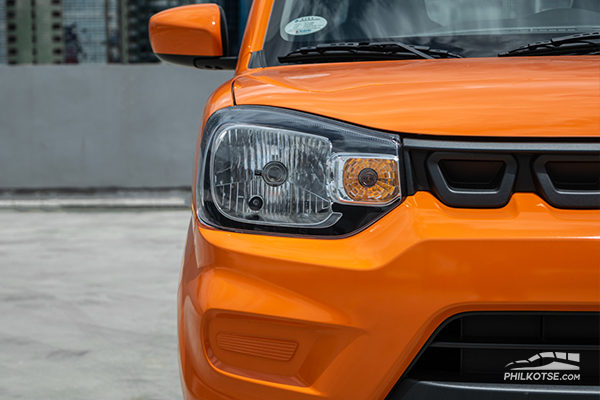 The multi-reflector halogen lamps of the Suzuki S-Presso up close
YOU MAY WANT TO READ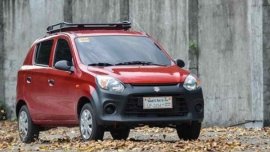 Model Price Philippines
Discontinued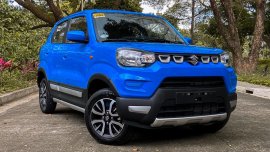 Model Price Philippines
₱ 523,000 - ₱ 588,000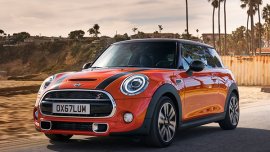 Model Price Philippines
₱ 2,550,000 - ₱ 3,850,000
3. 2020 Suzuki S-Presso Philippines: Interior Review
As mentioned, the S-Presso is smaller than your typical mini hatchback, but it doesn't feel so inside. Surprisingly, creature space is adequate for four persons as long as not one of them is a basketball player. Adding a third passenger at the back would be too much of a compromise, though.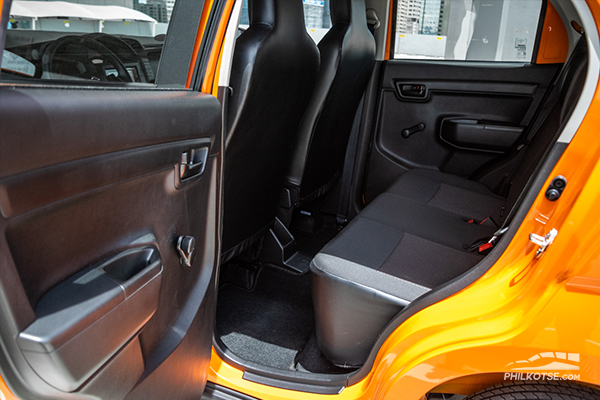 The rear is comfortable for two passengers but three would be pushing it
Suzuki has always been on point in the execution of plastics inside its cars, and the S-Presso isn't an exception. One caveat though would be the limited adjustments in position, whether you're the driver or the passenger. Seat bolstering is non-existent, so maybe include that in your list of needed upgrades, along with leather, perhaps?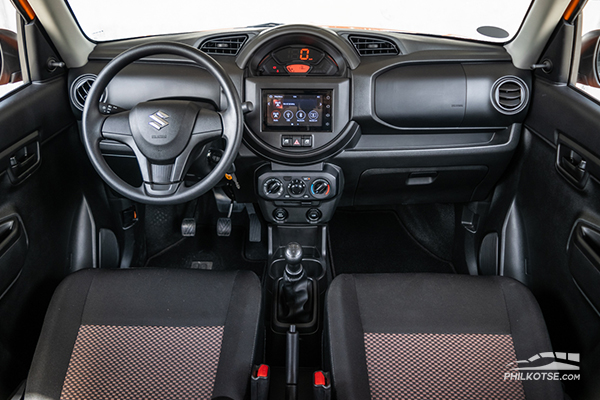 Note the position of the instrument cluster
Another one for the S-Presso would be the ergonomics of its controls and the abundance of cubbyholes. Cargo space is okay but could have been better if Suzuki added a lever for the tailgate like a normal hatchback, but that's more of a nitpick at this point, I guess.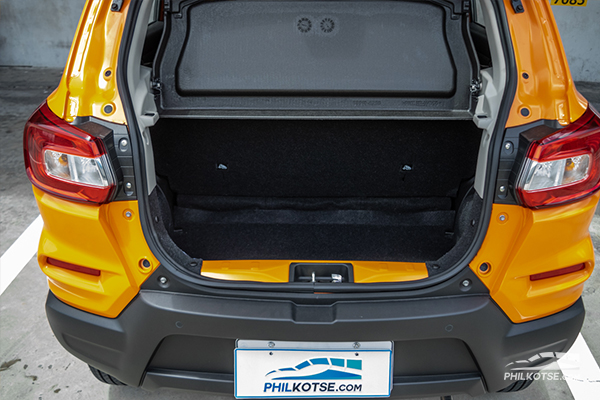 The trunk can hold up to 239 liters of cargo
>>> Related:
4. 2020 Suzuki S-Presso Philippines: Technology Review
The S-Presso isn't too basic when it comes to tech features, surprisingly. It has a 7-inch Android infotainment system with Bluetooth, plus it already has centralized locking as well. It even has a one-touch lane changer.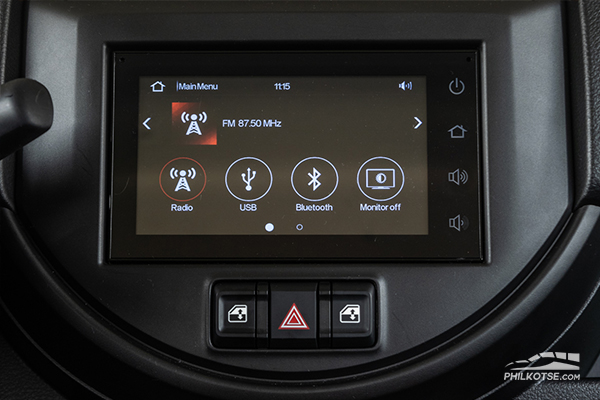 \
The Suzuki S-Presso is the cheapest car model in the Philippines that's equipped with a touchscreen
However, only the front passengers are blessed with power windows; the rear ones are relegated to manual rollers (yes, manual rollers at this day and age), plus the side mirrors are manually adjustable. I'm not complaining too much, though, these two things kind of have an old school charm on me.
>>> Related: Why 2020 Suzuki S-Presso is more of a lifted Celerio at a lower price
5. 2020 Suzuki S-Presso Philippines: Safety Review
Safety is expectedly basic, which includes ABS, ISOFIX tethers, immobilizer, and three-point seatbelts for four occupants. The rear middle passenger will have to make do with a lap belt, which is fine but definitely not the safest thing out there.
And oh, get this, rear parking sensors for a car just a hair above P500,000. Not bad, Suzuki.
6. 2020 Suzuki S-Presso Philippines: Engine & Performance
The 2020 Suzuki S-Presso is powered by a 67-hp, 90-Nm 1.0-liter K10B engine that's also found on the Suzuki Celerio. However, the lifted hatchback is lighter by 100 kg than the latter, making the S-Presso noticeably spritelier. The 5-speed manual gearbox points things for the better, but don't expect race car acceleration, of course. It's still a small naturally-aspirated engine after all.
Speaking of manual, the S-Presso has a tad too soft clutch pedal – good for beginners but not so much for those who grew up with cars from '90s like me. It lacks a tachometer as well, so there's that. It's a breeze to drive, though, even on heavy traffic. Partnered with a light steering feel, the S-Presso feels zippy in the city but could use a bit more stability on fast drives.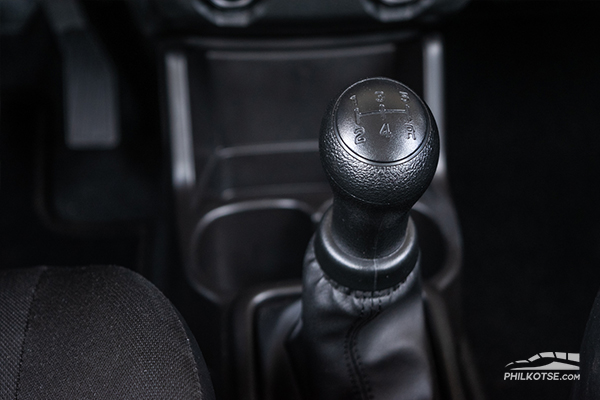 The S-Presso only has one transmission option, and it's a manual
One thing that should be improved with the S-Presso would be its NVH insulation. You will find yourself getting distracted at times, thinking there's a window you forgot to close. Ride comfort, as expected, is just average – not too bumpy, not too soft, but unpleasantly reactive with road impurities sometimes.
More importantly, however, the S-Presso registered stellar numbers during our tests. On the highway at around 90 km/h, it clocked in 24 km/L, while combined highway, heavy, and light traffic tallied 16.2 km/L. That's very impressive, if you ask us.
>>> Related: Visit our Cars for sale section to get the best deal.
7. 2020 Suzuki S-Presso Philippines Review: Conclusion
After spending some time with the S-Presso, it's hard not to miss the car. Yes, it's imperfect but there's something about the whole vehicle that delights whoever goes behind its wheel. It's like someone you like for the personality and not just for the looks. Is that love? I think it is, and you should definitely check this car out in Suzuki dealerships (if your location right now permits).
It's a lot of car for its price.
Add the fact that the 2020 Suzuki S-Presso only comes with a P518,000 price tag – it makes for a strong compelling case for a great entry-level car, with all things considered.
8. 2020 Suzuki S-Presso Philippines: Price & Variants
Suzuki S-Presso Price Philippines

| | |
| --- | --- |
| Suzuki S-Presso Variants | Price |
| S-Presso GL 5MT | Php 523,000 |
9. 2020 Suzuki S-Presso Philippines: Specs
Overall

Make

Suzuki

Name

S-Presso

Body Type

5-door hatchback

Dimensions

Length

3,565 mm

Width

1,520 mm

Height

1,565 mm

Number of Doors

5

Number of Seats

5

Engine

Engine Size

1.0 L

Displacement

998 cc

Number of Cylinders

3

Number of Valves

12

Transmission Category

5-speed manual

Performance

Power Train

Front-Wheel Drive

Max Output

67 hp @ 5,500 rpm

Max Torque

90 Nm @ 3,500 rpm

Fuel Type

Gasoline

Fuel Capacity

27 liters

Features

Wheel Material

Steel

Wheel Size

14 inches

Air-Conditioning System

Manual Dial Cooler

Entertainment System

7-inch Multimedia Audio

Connectivity

USB port, Aux-in, and Bluetooth

Power Steering

Yes

Power Windows

Yes

Steering Wheel Audio Control

Yes

Safety Features

Driver's Airbag

Yes

Front Passenger's Airbag

Yes

Anti-Lock Brake System

Yes

Immobilizer

Yes

Security Alarm

Yes

ISOFIX

Yes

Parking Sensors (Rear)

Yes
>>> For more reviews like this, don't forget to visit Philkotse.com.


Jacob Oliva
Author