In this article...
1. Suzuki S-Presso vs Alto: Old vs new, both really cute

2. Suzuki S-Presso vs Alto: Exterior Features

3. Suzuki S-Presso vs Alto: Interior Features

4. Suzuki S-Presso vs Alto: Safety

5. Suzuki S-Presso vs Alto: Engine & Performance

6. Suzuki S-Presso vs Alto: Price

7. Suzuki S-Presso vs Alto: Conclusion
1. Suzuki S-Presso vs Alto: Old vs new, both really cute
With the release of the all-new Suzuki S-Presso, the venerable Alto has indeed exited the stage as Suzuki Philippines' most affordable A-segment city car.
But why not another Suzuki Alto, say, the 8th-generation K-Series? That's because, like many other car markets around the globe, Filipinos have acquired a taste for SUVs and SUV-like crossovers. In the Suzuki model lineup itself, there's the Suzuki Vitara, which now falls under the subcompact crossover category for its 4th-generation model, and the Suzuki Jimny, which is the company's mini SUV.
2020 Suzuki S-Presso vs Alto Comparison: Out with the old, in with the new
Now, what better way to cement their small car domination by providing a crossover-styled vehicle with very SUV-like elements, Right?
The 2020 S-Presso, however, is still very much a city car. It's small, it doesn't have a body on frame build, nor does it have 4x4. So this begs the question: is the S-Presso actually better than the Alto? Let's find out with Philkotse.com
2. Suzuki S-Presso vs Alto: Exterior Features
Suzuki S-Presso vs Alto: Dimension

| | | |
| --- | --- | --- |
| Dimensions | Suzuki S-Presso | Suzuki Alto |
| Length (mm) | 3,565 | 3,430 |
| Width (mm) | 1,520 | 1,490 |
| Height (mm) | 1,549 | 1,475 |
| Wheelbase (mm) | 2,380 | 2,360 |
| Ground Clearance | 180 | 160 |
Let's get one thing out of the way first: there's a reason as to why many Filipinos prefer SUVs and crossovers nowadays. They're large, roomy, and when it comes to midsize SUVs, they can fit up to seven people. Their tall ride heights offer great visibility, as well.
Moreover, to put it bluntly, Philippine roads aren't great. Observant ones among you will probably note that while our highways aren't that bad, some city roads in places like Cebu, Cagayan de Oro, and especially Metro Manila are pothole-ridden and in need of dire repair. Then, of course, there's the ever flooding situation in Metro Manila and other cities in the Philippines.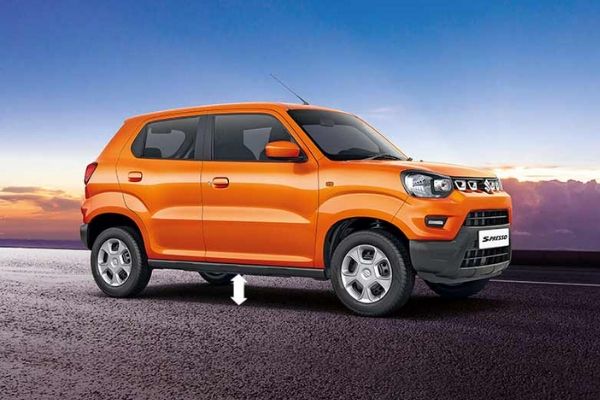 The S-Presso's ride height enables it to deal with obstacles better
The Suzuki Alto of course, by virtue of its small size, doesn't exactly inspire confidence. This is despite the fact that it actually has a decent 160mm ground clearance, which is superior to many sedans and hatchbacks in the Philippines.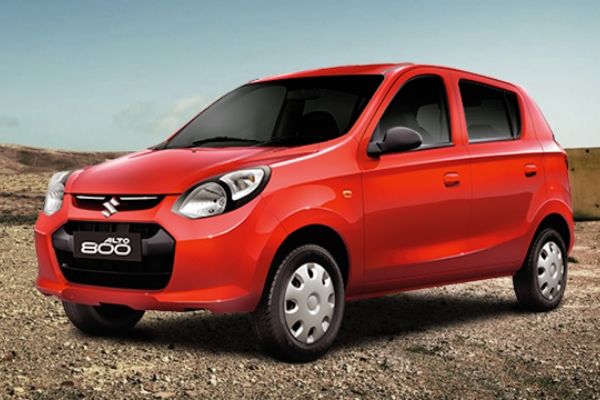 The Alto 800 has less road presence than the S-Presso that's for sure
In comparison, the Suzuki S-Presso employs an SUV-look for more road presence, plus, it has a 180mm ground clearance so it can tackle those nasty bits on the road a little better.
To back up that SUV look, the S-Presso is also a bit larger than the Alto so we can assume it's got better interior space.
When it comes to exterior design, well, let's just say that the Alto 800 is a basic car while the S-Presso is a quirky-looking but cute vehicle that will be able to turn heads.
Do note though that the S-Presso is not an SUV, though. Sure it's definitely roomier than the Alto 800 but we reckon that only four adult individuals will fit in this new Suzuki model comfortably. So yeah, it's no replacement for the midsize SUV giants.
>>> Related news: Suzuki S-Presso 2020: Will this be your next sub-compact SUV?
3. Suzuki S-Presso vs Alto: Interior Features
Suzuki S-Presso vs Alto: Interior Features

| | | |
| --- | --- | --- |
| Feature | Suzuki S-Presso | Suzuki Alto |
| Rear Parking Sensors | With | - |
| Air Conditioning System | Manual | Manual |
| Entertainment System | 7-inch Touchscreen | 1-din |
| Connectivity | FM/AM, Aux-in, Bluetooth, and USB | FM/AM, Aux-in, USB |
| Navigation Ready | With | With |
| Sunroof | - | - |
| Power Steering | Yes | Yes |
| Power Windows | Yes | - |
| Trunk Space | 239 liters | 177 liters |
As we've already established, the Celerio-based Suzuki S Presso is definitely larger than the Alto. This makes its interior much roomier – evident from the disparity between the two's luggage spaces.
Apart from that, though, we can also assume that the S-Presso has lower NVH levels than the Alto.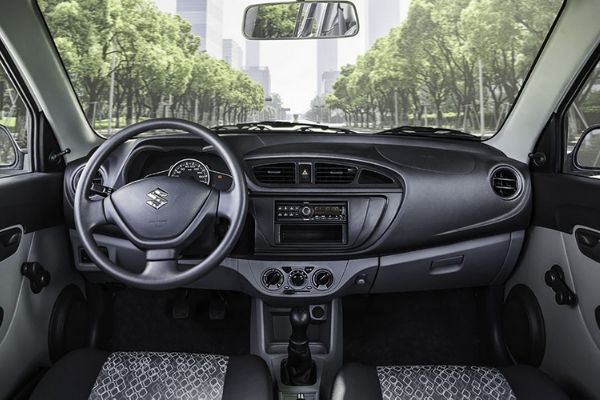 Here's the Alto's aging, the '90s like interior...
When it comes to the shapes and colors inside, the S-Presso definitely takes the cake. It has more interesting design cues like round air-conditioning vents, a more modern looking steering-wheel, fancier looking seats, and of course, the S-Presso also comes with touchscreen infotainment, which is something the Suzuki Alto 800 lacked.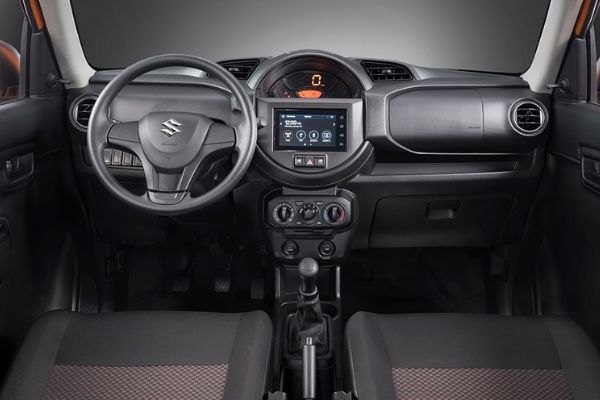 ...and the S-Presso's which is definitely more hip and modern
4. Suzuki S-Presso vs Alto: Safety
For safety, the Alto 800 didn't exactly feel it could take a head-on collision with a larger vehicle. Cue the "you are crumple zone" jokes here.
On the other hand, the S-Presso uses the HEARTECT platform that features a continuous frame made out of high-strength steel. This provides this new model better impact absorption whilst providing better stability and vehicle control, but more on that later.
When it comes to actual safety equipment, the S-Presso and the Alto does have the same amount of airbags: two at the front, but the former comes standard with ABS with EBD and rear parking sensors – both very basic safety equipment common on contemporary car models today.
>>> More car comparison for your further reference:
5. Suzuki S-Presso vs Alto: Engine & Performance
The Alto 800, as the name implies, is powered by an 800cc engine. In its home market in India and in other foreign markets like Japan, the said model is primarily a Kei-car, meaning it comes with a smaller 600cc engine.
Now the 800 cc is definitely fuel-efficient. It can return an impressive 22 km/L and that's nothing to scoff at. Its downside, however, is the 47 horsepower and 68 Nm of torque output.
It takes a while to get the Alto 800 to 60 km/h and it struggles when tackling hills…even when you're driving alone. And in that particular situation, the Alto 800 will run rough. Very rough.
In comparison, the Suzuki S-Presso 2020 shares the same 1.0L engine as the currently available Suzuki Celerio; the K10B. Sure, it's still a three-banger like the F8D aboard the Alto 800, but the K10B's larger displacement enables the 2020 S-Presso to make a maximum of 67 horsepower and 90 Nm of torque. Still not that fast, but it should struggle less when climbing inclines.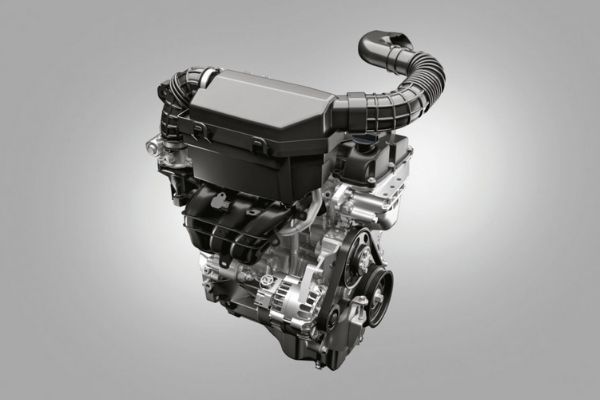 The K10B engine powering the all-new S-Presso
Both the Suzuki S-Presso 2020 and the Alto 800 are front-wheel-drive, and both only have 5-speed manuals available to them. Also, their respective wheelbases have the same length, meaning, that the S-Presso's ride might also be a bit choppy albeit with some differences due to its higher ride height.
While we've established that the Alto 800's ride quality wasn't that great, its chassis is notably robust. It could take on pothole after pothole with aplomb and the only limit was how strong your spine was.
In turn, the S-Presso is still an unknown in this regard. But with what we're seeing on the Celerio nowadays, you shouldn't worry about that point too much.
6. Suzuki S-Presso vs Alto: Price
Suzuki S-Presso vs Alto Philippines price

| | |
| --- | --- |
| Model | Prices |
| Suzuki S-Presso GL MT | Php 518,000 |
| Suzuki Alto 800 | Php 445,000 |
>>> View full Suzuki Alto Philippines price list and Suzuki S-Presso price with SRP and installment
With the Alto 800 no longer available here in the country, the 2020 Suzuki S-Presso is now one of the most, if not the most affordable car model. Like the Alto 800, the S-Presso only has one variant: the 5-speed manual, 1.0-liter powered GL.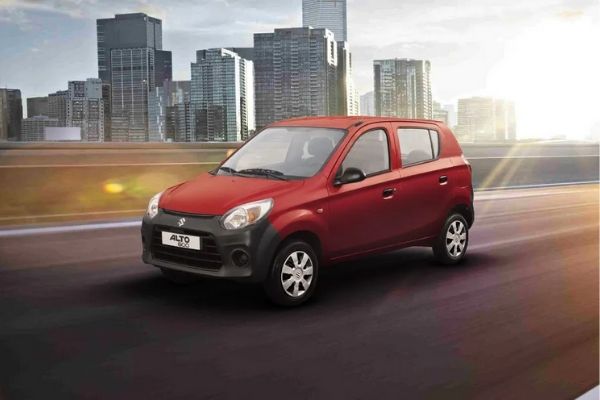 The Alto sold well but Suzuki didn't release the latest generation version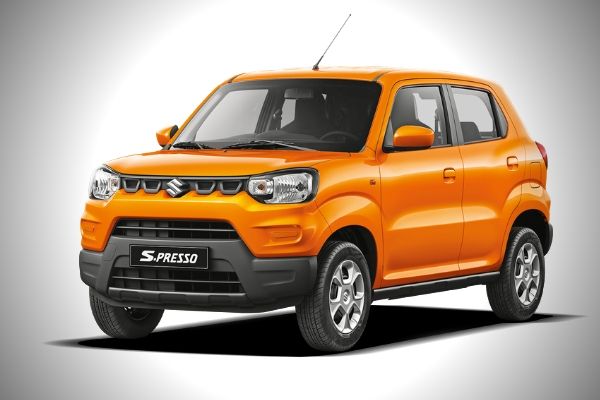 With the S-Presso though, we're of the mind that it'll sell like hot-cakes
7. Suzuki S-Presso vs Alto: Conclusion
If you're a young single professional or even a young married person with a small family living in the city, the Suzuki S-Presso is probably one of the most desirable vehicles for you due to its very affordable price and its projected good fuel economy. And from the things we've discussed above, it's definitely better than the Alto 800 in every way imaginable.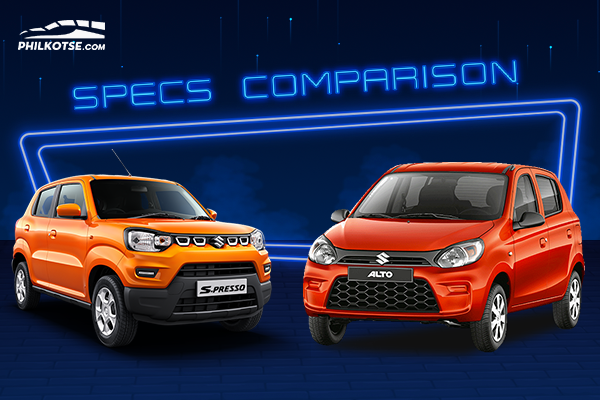 Which is the better city car: S-Presso or Alto?


Cesar G.B. Miguel
Author
Recent posts