Calculating the right second-hand car price is a matter of utmost importance when selling a used vehicle.
Once you estimate accurately your car's resale value, you can successfully maximize your profit and simultaneously attract potential buyers. The following tips will be a big help for you to come up with an idea of the second-hand car price in the local market.
1. Research market demands for second-hand car price
Before starting the process of determining your second-hand car's price, it is necessary to have a fair idea of the domestic automotive market scenario. First of all, let's ask yourself two questions as follows:
1.1. Is the type of your vehicle in high demand now?
Generally, SUVs, MPVs and family sedans are always in constant demand in the Philippines. Besides, the need for pickups is also on the rise. Trucks and vans used for work are likewise a hot deal, thus never underestimate their value.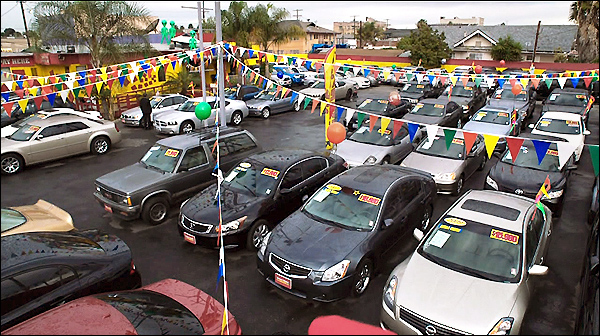 SUVs, MPVs and family sedans are always in constant demand in the Philippines
If the car you want to sell is among these vehicles, it is sure that you can sell it quickly and at a very competitive price.
Best (and Worst) Value Cars | Consumer Reports
1.2. What is the present economic situation?
Car prices, particularly second-hand car prices, are often influenced by the economic situation. It is undoubtedly uneasy to sell a car when people are trying to save than spend.
Furthermore, the price of fuel also has effects on your selling. Under rising fuel prices, vending a car with great fuel economy will become easier than ever. Even, you could swimmingly sell it at higher price than others.
2. Estimate second-hand car price through different channels
2.1. Online channels
Whether you are advertising a 2016 Toyota Camry or a 1997 Mitsubishi Lancer, spend some time online carrying out some research. This is actually a great way to have a general idea of the second-hand car price in the market.
Your task, specifically, is to see what other buyers (strictly speaking, your competitors) are quoting for vehicles which are similar to yours in: brand, model, manufacture year, city/area, condition of the car and other specifications such as fuel type, transmission as well as odometer reading and more.
Simply, all you need to do is accessing to reliable car selling websites and review classified ads to fulfill that task.
Let's take an obvious example:
You have a Toyota Vios 2017 and browse around on Philkotse.com to compare your vehicle to other similar make and models in your area. Don't forget to utilize the filter on the left menu to refine your search.
Here are the results: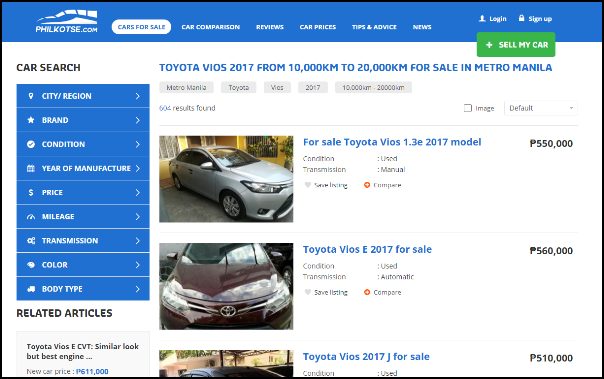 The search filter on the left menu can help you narrow your results and have a general idea of a second-had car price range
If you arrange the result from lowest to highest, you can see that the price range for a Toyota Vios 2017 for sale in Metro Manila can vary from just under P100,000 to around P1,500,000, depending on actual conditions.
Tip:
Do you know that you don't have to limit your search to the aforementioned criteria? It is actually advisable to also have a look at vehicles which are slightly older than yours because Pinoy drivers will not mind going for the older one to save some money.
But anyway, remember that the prices you found online are asking prices, not selling prices or even, they are just wishful thinking by the sellers. Thence, tap your intuition to take all into account.
2.2. Offline channels
Ask around local car dealerships
If you live near a dealerships, walk by and see if they are trading a vehicle of similar make and model to yours.
Disguise yourself as a valued customer and ask them how they justify the real value of their cars. Of course, do not disclose that you are planning to sell a similar model. Instead, tell them you're hooked on one of their cars and simply curious about the prices.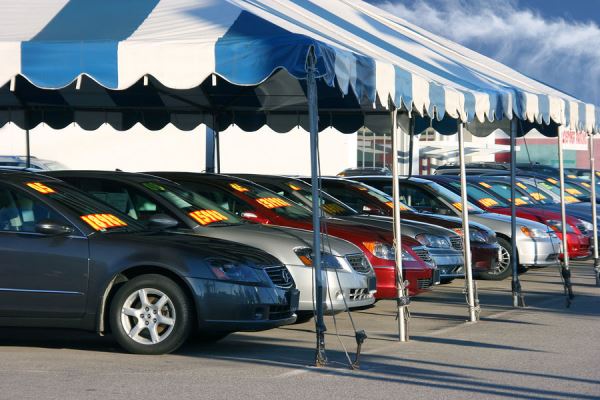 If you live near a dealerships, walk by and see if they are trading a vehicle of similar make and model to yours
Ask your friends and relatives
Don't underestimate the word of mouth. Let your friends and family know that you have a used car for sale and ask them for useful and trustful advice about the precise resale value of your car. More importantly, by doing this, you are exposing your vehicle to more potential buyers.
Check out print ads for second-hand car price
Collecting information in auto newspapers and magazines can also be a good way to have an idea of the local car price and know exactly how much your car costs.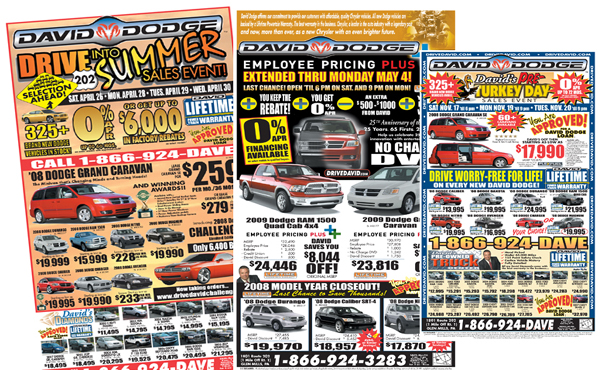 It is also a good idea to check out information in auto newspapers and magazines
3. Make sure the final price already includes wiggle room for negotiation
Bravo! The second-hand car price research is near completion. However, there is still the last but not least crucial step.
"In business, you don't get what you deserve, you get what you negotiate."
Keep in mind that most buyers will try to negotiate, so make sure to leave some room for negotiations. In other words, you had better ask for a bit more money than you expect. In case you get your asking price, that's perfect. If not, it isn't a terrible waste. In this situation, your ability to convince customers will determine your success.
Second-hand car price: Conclusion
Estimating second-hand car prices can be tough, but following the aforesaid steps can definitely help. Once you have come up with a price, the final step will be posting your ad to free car classifieds sites. With over 3 million pageviews per day, Philkotse.com will surely boost your ads to a large number of car purchasers.
If you've tried all things but if you're still not getting much of a response, it is strongly suggested to lower the price until you get a call or messages from buyers.
Hope that your job will be successful!
>>> Related posts:

Recent posts