Isuzu brings a more upmarket midsize SUV to the fray.
The new Isuzu mu-X has arrived, and how. This midsize SUV is no longer getting the short end of the stick as far as its partnership with Chevrolet is concerned, having dropped the Trailblazer as its platform twin. Since the model's Thailand debut in 2020, the Philippines has become the third market to receive its second generation.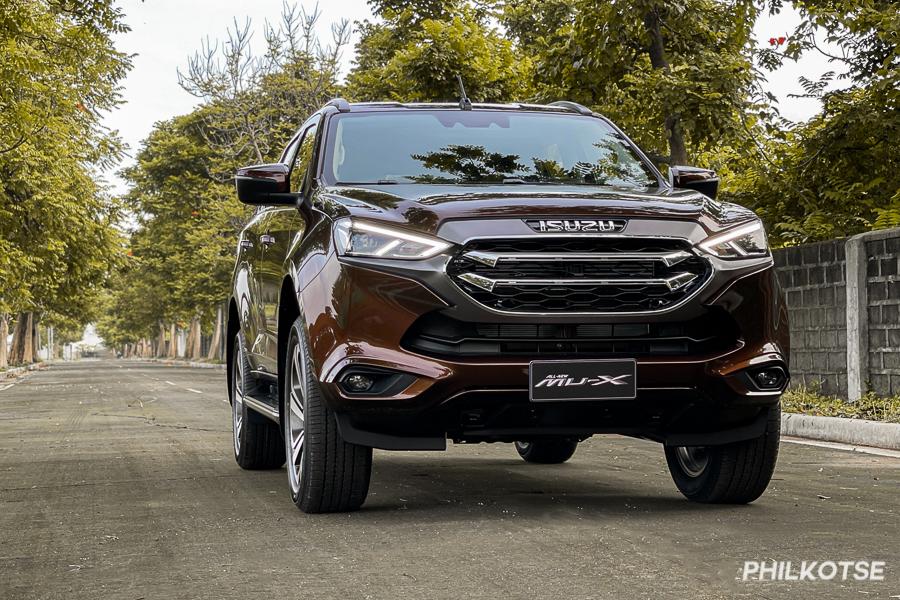 The Isuzu mu-X now shines with a more upmarket image
Riding on the same platform as the third-generation D-Max pickup, the new mu-X is now positioned to a more upscale segment of buyers. This is evident in the host of features both new and upgraded that the SUV brings. With Isuzu Philippines setting higher goals for its familiar nameplate, find out how much it would take you to own one. 
Isuzu mu-X LS 
The entry-level LS trim sports the same Arrow Signature LED headlamps and daytime running lights as the rest of the range, with manual adjustment for leveling. These surround a World Cross Flow grille in front rendered in black and gun metallic. Handles on the chiseled doors come in black, while the Winglet Signature rear LED lamps are complemented by third brake lamp on the rear spoiler.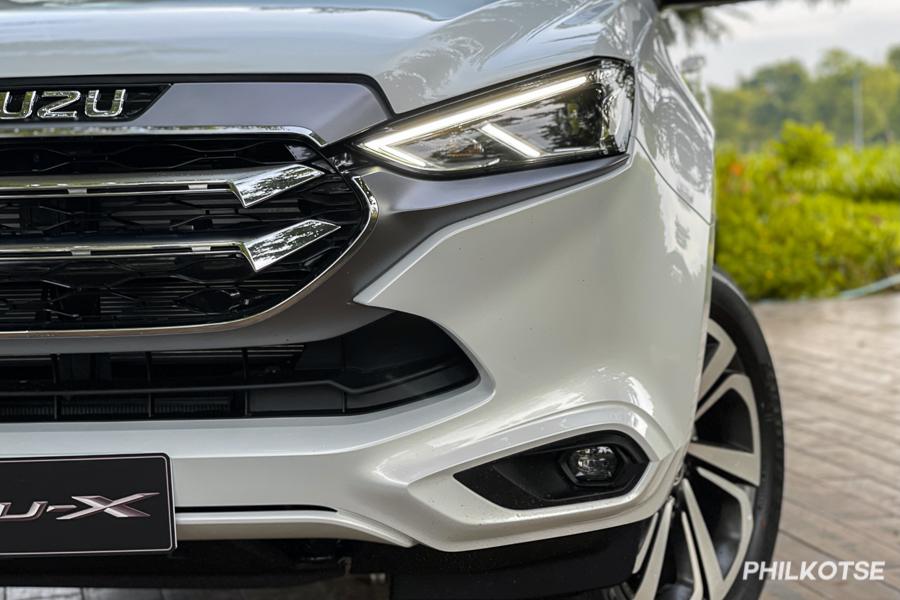 Headlamps on the fascia look sharper than before
Cloth seats in the cabin are for seven, with drivers and front passengers getting four-way manual adjustment. The manual climate control comes equipped with a pollen filter, while a 10.1-inch full touchscreen head unit offers Apple CarPlay and Android Auto. Propulsion comes in the form of a 1.9-liter RZ4E turbodiesel engine packing 148 horsepower and 350 Nm of torque, with the output routed to the rear wheels through a 6-speed automatic transmission. 
The base LS comes in at Php 1,590,000. With a 20 percent downpayment or Php 318,000, a 36-month contract entails regular payments of Php 44,469. A higher cash outlay of 40 percent or Php 636,000 requires just Php 35,789 for 48 monthly payments, while extending it to 60 months yields a recurring bill of Php 30,663.    
Isuzu mu-X LS-A 
The midrange mu-X trim comes with tungsten and chrome bits on the fascia, although only the automatic variant brings front and rear foglamps. Door handles share the same color as the rest of the body, while roof rails are standard. A 4.2-inch multi-information display on the instrument panel lies just beyond the multi-function urethane steering wheel, while a push-start button and electronic parking brake add convenience. Dual airbags are standard, along with active safety features such as anti-lock brakes, stability control, traction control, and hill-start assist.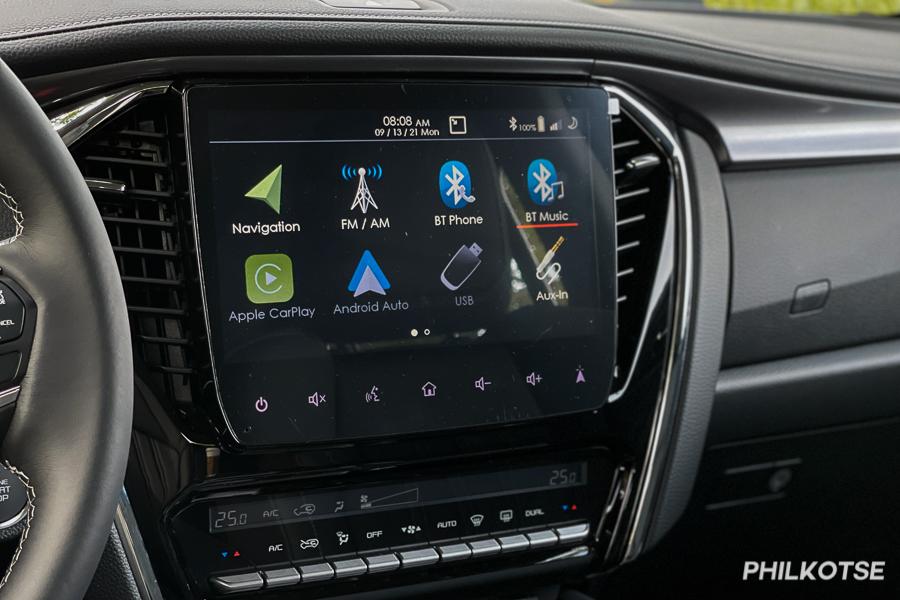 A 10.1-inch touchscreen with Apple CarPlay and Android Auto is standard across the range
In six-speed manual guise, the LS-A carries a price tag of Php 1,770,000. That's payable in 48 monthly installments of Php 39,840 on a downpayment of 20 percent or Php 354,000. Increasing the cash to 30 percent or Php 531,000 brings down the bill to Php 34,860. Meanwhile, the 6-speed automatic variant costs Php 1,900,000, translating to 36 months at Php 46,497 each with a downpayment of 30 percent or Php 570,000. Extending it to 48 months means paying a recurring bill of Php 37,421. 
Isuzu mu-X LS-E 
The top-spec mu-X offers the most toys, starting with automatic leveling for the headlamps, power-folding side mirrors, and a power tail gate that can be engaged remotely. Standard audio controls are complemented by switches for the multi-information display and cruise control on the leather steering wheel. Drivers get eight-way power adjustment on the seats, while dual-zone automatic climate control cools all occupants on board.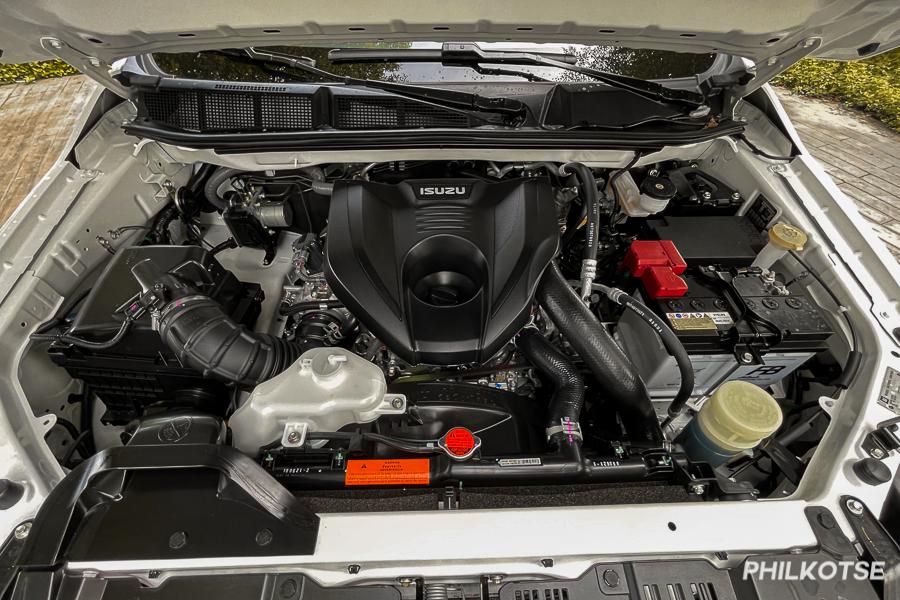 The bigger engine option has been upgraded for more power and increased efficiency
A 3.0-liter 4JJ3-TCX turbodiesel mill powers the LS-E, the same one inside the LS-A automatic's engine bay. This is good for 187 horsepower and 450 Nm of torque. The flagship LS-E 4x4 makes use of a Terrain Command Select Dial with Rough Terrain Mode Switch to engage all four wheels for traction. An Advanced Driver Assist System (ADAS) makes its way to this trim level, with features such as Forward Collision Warning, Autonomous Emergency Brake, Adaptive Cruise Control, and Multi-collision Braking.    
For the 4x2 version, the LS-E costs Php 2,100,000, which breaks down into 48 months of paying Php 47,268 on a downpayment of 20 percent or Php 420,000. Increasing this to 50 percent or Php 1,050,000 and extending the payment terms to 60 months means a recurring bill of Php 25,311. The flagship 4x4 model comes in at Php 2,450,000, payable in 36 monthly installments of Php 68,521 at a 20 percent downpayment or Php 490,000, or Php 41,360 at 48 months on a downpayment of 40 percent or Php 980,000.   
2022 Isuzu mu-X: Going upmarket? (Old vs New) | Philkotse Quick Look
As always, these are all estimates, exclusive of other costs such as maintenance, fuel, insurance, and registration at the end of the first three years of ownership. Your nearest Isuzu dealer will be able to give you a more accurate computation based on your current budget. 
Find more tips that add up to a great car ownership experience at Philkotse.com.
Know more about Isuzu mu-X 2021

The mu-X by diesel expert Isuzu is a seven-seater midsize SUV with a front-engine, rear-wheel-drive or four-wheel-drive layout. It is based on the Isuzu D-Max, and like its pickup truck brother, it uses a body-on-frame chassis.
For the Philippine market, the Isuzu-made SUV has two available engine options. The smaller one is a 1.9-liter RZ4E Bluepower turbodiesel capable of making up to 148 horsepower and 350 Nm of torque. It can come with a six-speed manual transmission, or a six-speed automatic transmission. The larger engine option for the mu-X is a 3.0-liter inline-4 turbodiesel. At most, this mill can produce up to 187 horsepower and 450 Nm of torque. Only a six-speed automatic transmission is available with this engine. The mu-X variants with this engine is either rear-wheel-drive or four-wheel-drive. For those unaware, this Isuzu model's name is an acronym which stands for Mysterious Utility eXtreme."

Joseph Paolo Estabillo
Author
Recent posts