Which cars in the Philippines are we willing to spend our money on? Read on.
Hello. I'm Jacob and some of you might have read some of my stories and reviews on this website already. I'm the Content Manager of Philkotse.com and this article marks the beginning of a very important and personal series that I'd like to call Cars we want to buy. 
Yes, the title's not final, so we're open to suggestions.
Anyway, as the unimaginative working title suggests, we would like to share our honest opinion about cars we'd like to buy. Be it an old classic or something new, each member of the Philkotse Content team has his target vehicle to purchase.
Because just like you, dear reader, we are car buyers as well. Despite having the privilege and honor to test as many vehicles per year (sometimes too many), we still have preferences and hopefully, this series of articles will give you an idea of our own car buying journey. Consider this an open letter so you'd know which car in the Philippines the Philkotse team is willing to spend our money on.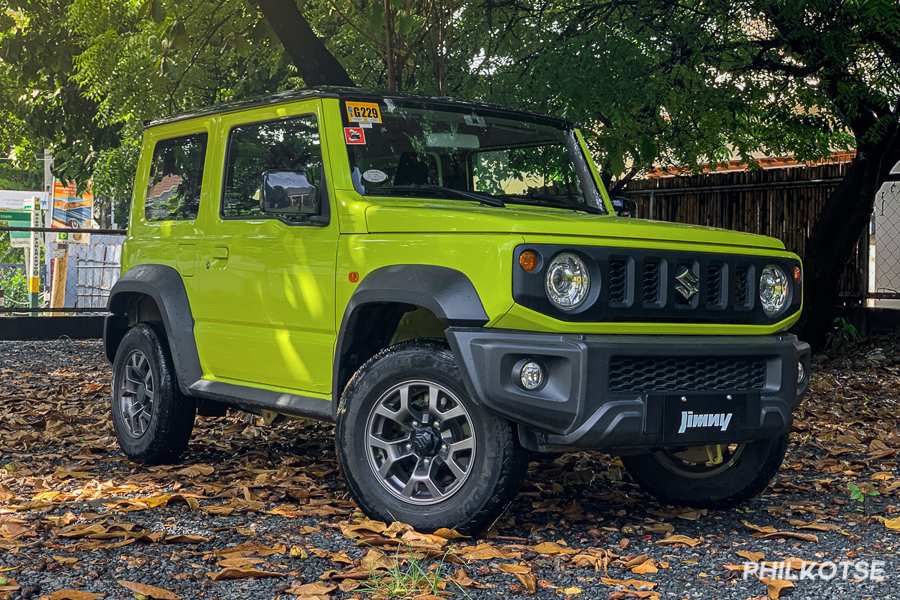 The Suzuki Jimny
As the head of this team, I'd like to begin the series with my personal choice: the Suzuki Jimny.
A perfectly imperfect vehicle
The Suzuki Jimny is one of those vehicles that I'd classify to be wandering within a twilight zone. It's a true SUV and yet it's smaller than a Toyota Wigo. It supposed to conquer a multitude of terrains and yet it's squarely touching the centenary-horsepower mark. Its price tag dances around seven-seat MPVs and yet it can barely seat four people comfortably.
And yet, the Jimny sells. So much so that Japan is having a hard time keeping up with its global demand. So much so that India has started the local production of the Jimny under Maruti Suzuki.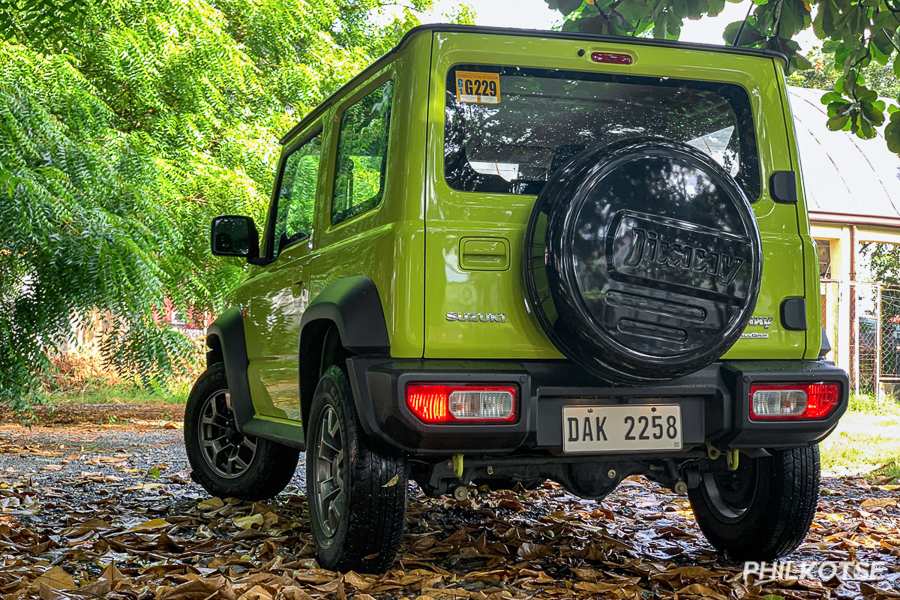 A lot of people like the boxy body style of the Jimny
But beyond these things that make no sense, the Jimny is still an attractive vehicle to my eyes. Not because I'm a hardcore off-roader nor that I'm going through an identity crisis right now. I just really fell in love with this car. This isn't the first time I've tested one, but I'm back to check whether that affection waned after a year.
The Suzuki Jimny has celebrated its 50th birthday. Let that sink in. If it were a male human being, most of you would think that it's currently going through a so-called mid-life crisis, reminiscing through its youth and reliving the memories of yesteryears – and you'd be right.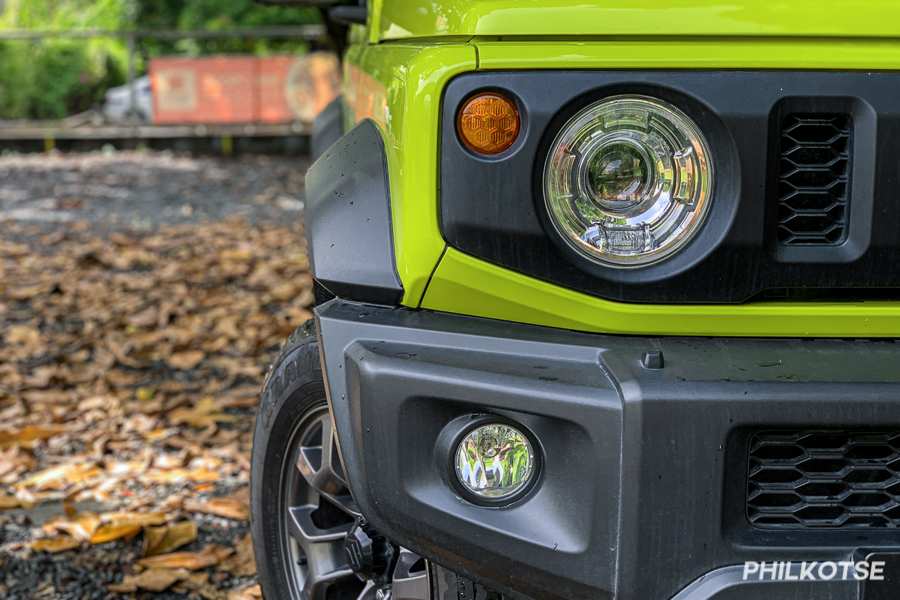 The Jimny's round-shaped LED headlamps
On its fourth generation, the Jimny's current design calls back to its design identity across the past three generations. The round headlights came from the first-gen Jimny, while the hood slats mimic the second-gen's. Those five vertical slats on the grille were adopted from the model it replaced. The whole package is perfect, a modern retro even, banking on the nostalgia it evokes in people. Sold.
Inside, this mini off-roader's squarish theme continues and complemented by hard plastics. These are executed nicely but it would be a blatant lie to say that they reek a luxurious vibe. The orange-on-black theme looks dated but I'd admit that it stays within this off-roader's character.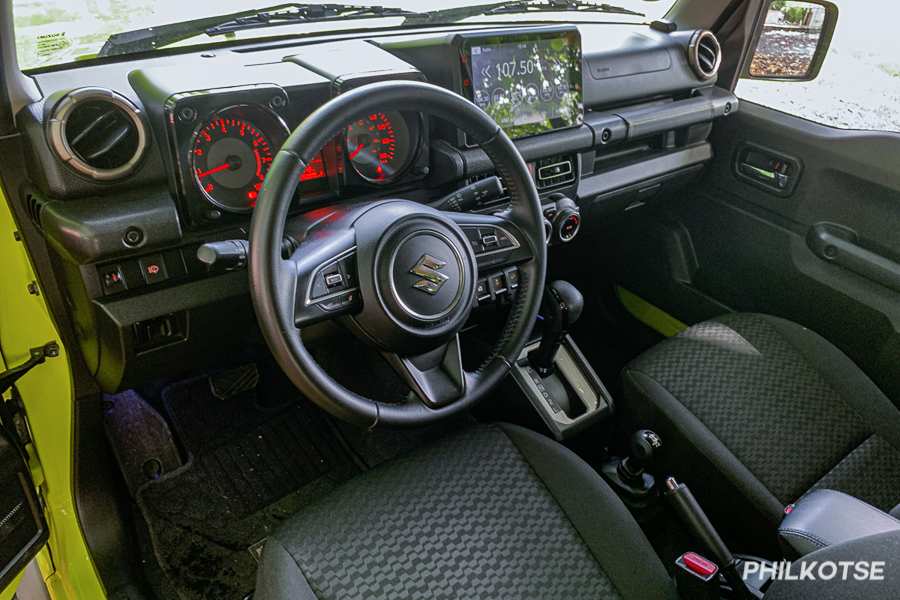 The Jimny's interior is far from spartan
Despite these, the cabin isn't spartan – no, far from it. Locks are centralized, windows are powered, headlights are LEDs, and there's even cruise control. But the biggest contrast is the massive 9-inch infotainment with a crisp display. It doesn't have Apple CarPlay or Android Auto but at least it has a clinometer. Off-roaders would know.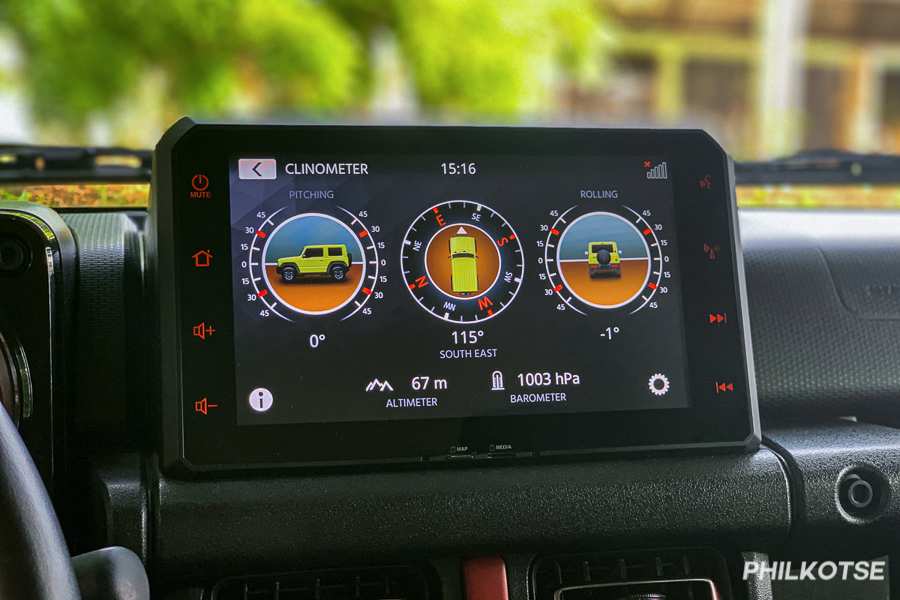 The Jimny's touchscreen displaying data useful for off-roaders
The cabin space has increased from before; I now rarely hit the windows with my left elbow when making a wide turn, which was the main complaint on its predecessor. But then again, the size upgrade was sideways; the rear legroom is still disappointing, to the point that an average-sized human being would feel relegated if assigned here.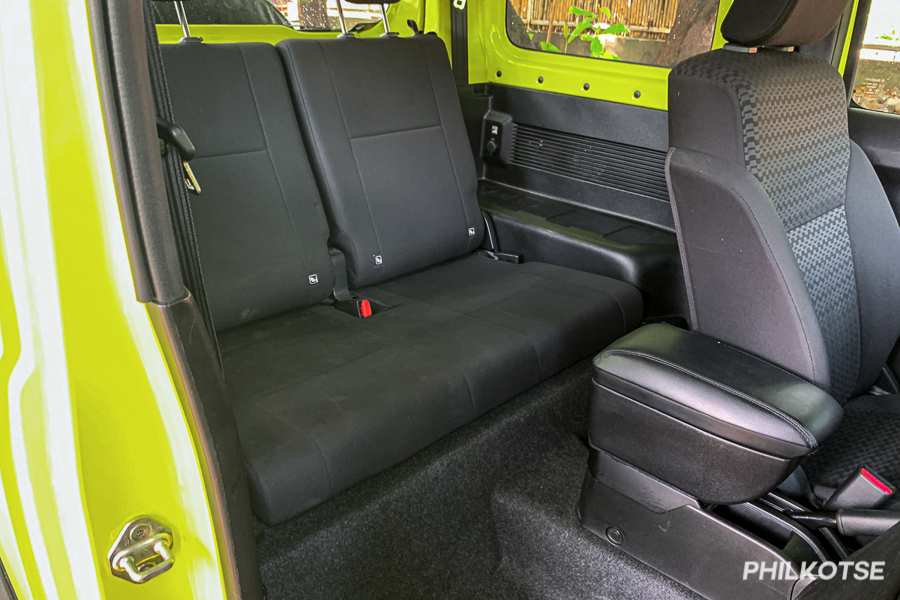 The sizable transmission bulge robs the rear section of a flat floor space
On the road, the Jimny is perky and sprightly at times, you wouldn't feel lacking in terms of pull. The steering felt heavy yet highway drives kind of felt like you're babysitting a kid who's high on sugar. It isn't a comfortable highway cruiser, no, definitely not. The rigid suspension setup isn't made to coddle our spoiled, privileged bodies. 
With its predecessor born in 1998, you'd think that twenty long years would be enough for Suzuki to turn the Jimny into a perfect vehicle that suits every age and interest, but it's not. That's not the point of the Jimny. It's impractical, it's pricey, and it's certainly not for those looking for a tamed long-distance hauler. The price of Suzuki Jimny Philippines starts at P1,095,000 for the GL 1.5 MT, the entry-level model. Meanwhile, the GLX 1.5 AT, the top-of-the-line model, is more expensive, at P1,215,000.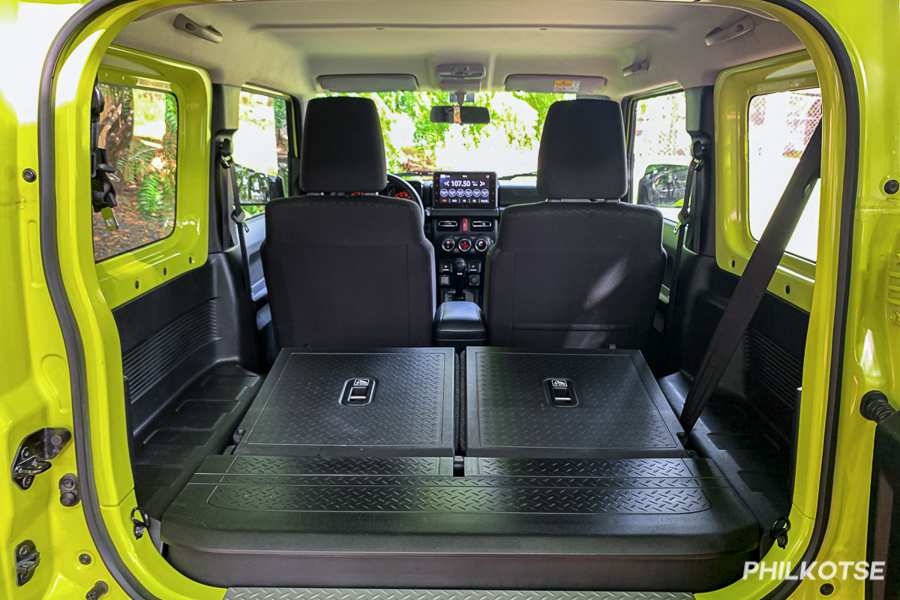 You can fold the rear seats, but you might need a roof carrier if you want to carry more
And yet, those are the things that make the Suzuki Jimny a great vehicle. Its honesty is unprecedented; something that a normal car buyer wouldn't understand. It isn't going to please you like the way you want it to. It won't suck up to meet your wants and needs. And that will make you want it even more.
Truth be told, the Jimny is far from being perfect, and yet, it's still a car I'd want to buy.

Know more about Suzuki Jimny 2023

The Suzuki Jimny 2023 is a 4x4, ladder-frame mini-SUV. In the local market, this model is available in three different variants. There's the GL 1.5 MT, the GLX 1.5 AT (Monotone), and the GLX 1.5 AT (Two-tone). Their prices range from Php 1,258,000 to Php 1,330,000.
Under the hood, the Suzuki Jimny uses a 1.5-liter inline-4 gasoline engine capable of producing up to 101 horsepower and 130 Nm of torque. The entry-level GL variant may come with a five-speed manual gearbox, while the GLX exclusively uses a four-speed automatic transmission. All then come with the Suzuki 4x4 All Grip Pro drivetrain.
Size-wise, the Suzuki Jimny has a length of 3,480mm, a width of 1,645mm, and a height of 1,725mm. It then has a wheelbase length of 2,250mm, and a ground clearance of 210mm.
Locally, the Suzuki Jimny technically doesn't have direct competitors. Then again, the closest off-road-focused recreational vehicles available locally are the Toyota FJ Cruise and the Jeep Wrangler. Size-wise though, the Jimny is more in line with the Hyundai Kona, MG ZS, Geely Coolray, Kia Seltos, Chery Tiggo 2 Pro, and Mazda CX-3, among others.

Jacob Oliva
Author
Recent posts