Currently, the LTO allows motorists to use a temporary plate number in the Philippines. Carefully read the guideline before making and installing one on your car.
1. Temporary plate number Philippines: Overview
In lieu of providing a revised, new plate number Philippines for vehicles registered here in the country, the Philippine Land Transportation Office is currently hard at work to supply all recently registered vehicles with a new license plate.
As you already know, that's easier said than done because their suppliers for the aforementioned license plates are yet to catch up. This has been going on since 2016 and since then, thousands of new cars are already given the new plates whilst the older ones with older registrations still have a large backlog.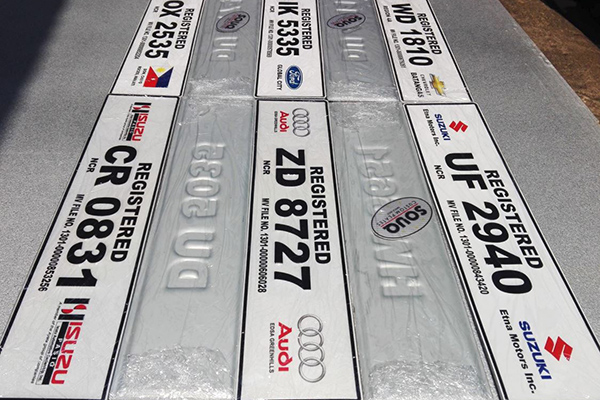 Here are some commercially available temp license plates following the correct format
As such, the LTO has allowed the use of temporary plate numbers on recently purchased vehicles. For this purpose, everyone who intends to use a temporary plate should follow some specifications as set by the LTO themselves.
Now as you have seen on roads nowadays, there are many ways and means and equally many possible ways a new car owner can make temporary plates. While the LTO does not really specify how to make LTO temporary plate number. Or where to have them made, and by whom. 
Philkotse.com provides some guidelines that you have to follow with respect to how they look, how big they are, etc.
2. Temporary plate number size Philippines
With regards to the temporary plate number Philippines size, a vehicle aside from motorcycle should have followed specific measurements as indicated by an LTO Memorandum which had been issued in January 2017.
For a motor vehicle, it should be around 20 inches long and 4.5 inches wide. For motorcycles, it is slightly different as it is much taller with less width.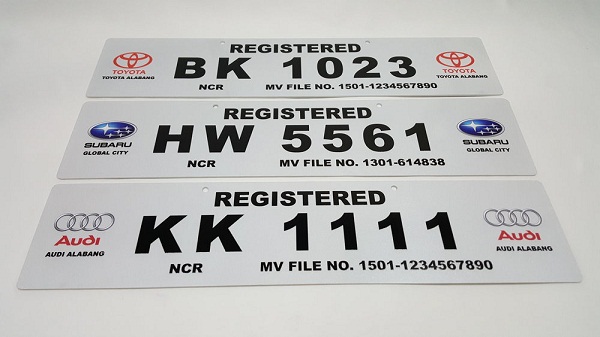 Car plate number size in the Philippines should be around 20 inches long and 4.5 inches wide
3. Temporary Plate Number Font Philippines
With regards to the font to be used. The 2017 LTO memorandum states that the font to be used should be Arial Black presumably due to its thick characters that can offer greater legibility.
For this reason, Arial Black is pretty easy to read even on a moving vehicle.  For motorcycle plates, due to having a narrower, taller plate, the LTO recommends the Arial Narrow Black font.
Making a temporary license plate in the Philippines
>>> Must read:  4 FAQs about license plate number in the Philippines
4. Temporary Plate Number Format and Design
Also indicated in the LTO memorandum is the format that the temporary plate should follow. It should contain the vehicle dealer's name on both ends of the plate, your MV file number and region on the lower part, the word "registered" on the top slightly below and in-between the screw holes and your vehicle's conduction number, the largest and in the middle in-between the dealer's names.
For your convenience, here is an illustration of the LTO specifications of the Temporary Plate Number in the Philippines.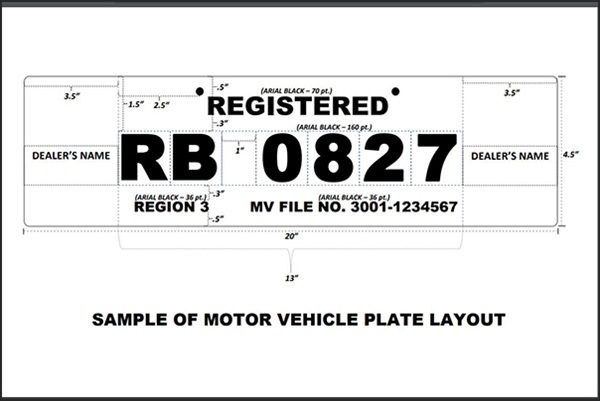 LTO temporary plate number template for cars and other motor vehicles
>>> More rules from LTO for your reference:
5. Temporary Plate Number Philippines: Motorcycles and Tricycle
As said before, the LTO temporary plate format for motorcycles and tricycles are a little different. While it still has the dealer name and the region of registry located on the lower part of the plate.
Likewise, motorcycle temporary plates should have the word "registered" on top and the conduction number in the middle. Here's a sample of the motorcycle/tricycle temporary plate layout;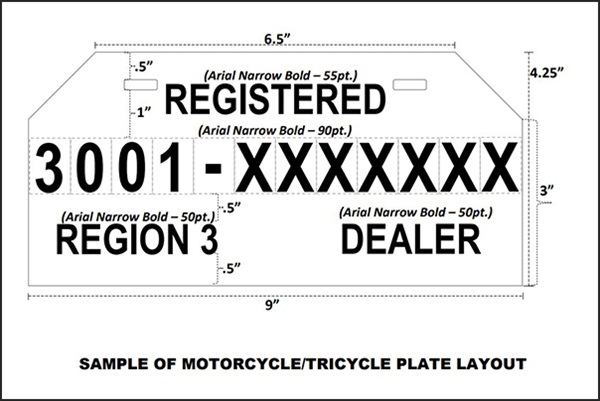 Here's the format for a temporary motorcycle license plate
6. Temporary Plate Number: Renewing Registration
In another memorandum released by the LTO, all division chiefs and all employees of the agency concerned with vehicle registration were reminded to the previous memorandum regarding the use of conduction sticker numbers as temporary license plate numbers.
The memo also says that the temporary plate shall also serve to fulfill the requirements asked by private emission testing centers and also, no verification of certification from a motorcycle or motor vehicle owner shall be required as long as the Certificate of Registration, the Official Receipt and the compliant temporary conduction number plate is presented.
>>> Also check: How to verify plate number in LTO online in the Philippines
7. Temporary plate number Philippines: Additional Tips
For newer car owners out there, there are some things that you should also be aware of regarding license plates.
First that if your vehicle was purchased and registered initially in 2016 and onwards, chances are your plates are already there for pick-up from the LTO office where your dealer or you registered the said vehicle.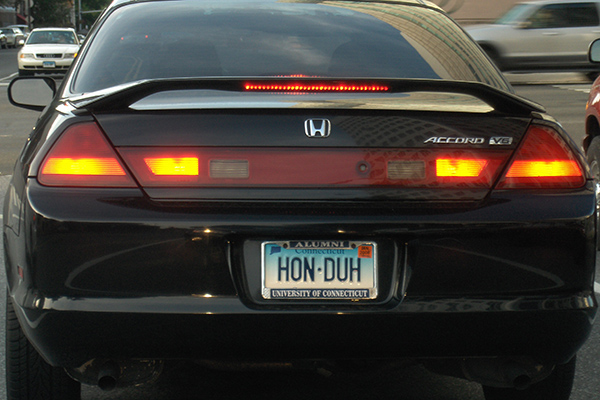 Vanity plates can be fun but as of now, you cannot get one from the LTO
Take note though that if your vehicle was bought and registered before 2016, you might have to wait a while longer as there are reports that these license plates for these vehicles are still being looked over by the courts. This is according to LTO.
Second, is that vanity plates are not yet available. While a great many Filipino motorists don't actually care about these, a select number of our countrymen actually like the added uniqueness that these vanity plates give.
The LTO though has not deemed this as a priority as such they have temporarily suspended the application for special, vanity plates since December of 2017.
The third is that you just can't drive your vehicle without a license plate or LTO vehicle registration. This is due to the LTO's "No registration, No travel" policy wherein if you are caught driving around in a car without a license plate, you'll have to face a hefty fine.
It also gets worse if they find out that your vehicle's registration is expired because in some cases, they'd have to impound your vehicle.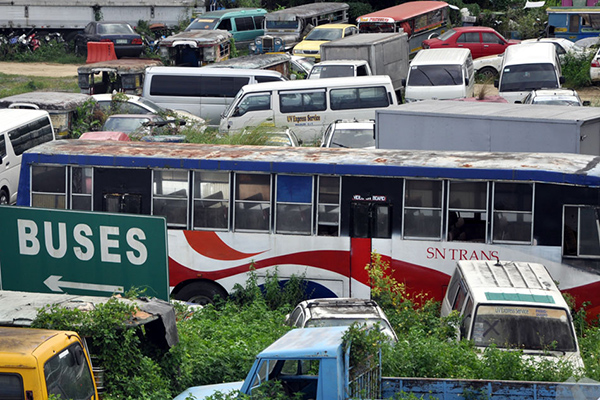 And trust us, you DO NOT want your vehicle to get impounded
And lastly, if you lose your license plate number or damage it, rendering it illegible. You might want to get it replaced immediately. No-one wants to get pulled over by the cops right?
Here's what you have to do:
File an affidavit of loss or mutilation. You can get this from the LTO branch where you registered your car or from an attorney. Also, you can write if yourself before having the necessary person to sign it and there are a lot of formats you can follow available online.
Present your PNP Highway Patrol Group Clearance, your Certificate of Registration and your official receipt and other requirements to the LTO.
Get your vehicle inspected by LTO. You will then be issued a motor vehicle inspection report which you will present to the necessary LTO personnel.
Pay the cost of a replacement plate at the cashier.
You then are given the authority to use an improvised or temporary plate by the LTO.

Cesar G.B. Miguel
Author