Planning to learn how to drive? Here are 7 of the most trusted & cheap driving schools in the Philippines for your consideration.
Cheap driving schools in the Philippines: Overview
In 2017, the Philippine Senate conducted a public hearing on road safety. One of the most unforgettable lines given by now Senate leader, Tito Sotto, mirrors the current issues confronted by Philippine drivers. According to him, when all drivers undergo proper driving examination, half of their population would fail. He said, their failure can be attributed to their "stupidity" and "recklessness".
Whilst this claim may not be supported by factual figure, reality remains that most drivers lack the necessary skills in order to drive safely. And one of the most effective ways to address this problem is enrolling in affordable driving schools in the Philippines.
Driving schools hire professional drivers who are expert not only in the rigidity of laws on motor vehicles, but also the technical aspect of driving. It is worth to note that not only those who do not have knowledge in driving can enroll in driving schools. Those who wish to refresh their driving skills and those who want to acquire road expertise may also avail these services in driving schools of their choice.
There are also some truck driving schools in the Philippines if you wish to learn how to handle these vehicles and land on a truck driving job. The following are the top 7 list of best driving schools Philippines suggested by Philkotse.com, which are all LTO accredited.
1. Honda Driving School
Honda Driving School is a well-rated driving school Philippines which received countless of good reviews by its students. It is open from 8AM to 5PM every Monday to Saturday, but there are selected branches in Parañaque operating every Sunday.
There are two sessions – Day Sessions (consisting of 1 - 4 sessions) and Night Sessions (which covers 5 - 6 sessions). Its curriculum, patterned from Singapore's Honda Driving Academy, offers three courses – beginner, refresher courses, and seminar.
Those who do not have experience in riding and driving fall under the beginner category. On the other hand, those who have previous riding and driving experience but who wish to refresh fall under the second category. While Seminar category encapsulates courses in teen, pedestrian, and safety.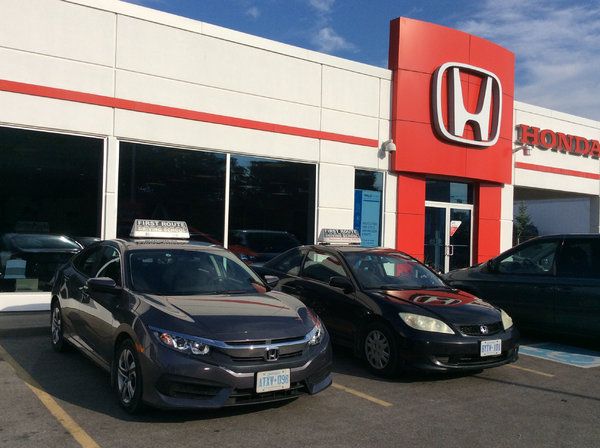 For interested enrollees, the budget for a 20-hour course in Honda is 12,600 for both manual and automatic vehicles.
2. Smart Driving School
Smart Driving School was founded in España, Manila in 2000 by the spouses Francisco and Marites Gavino. It is probably considered as the best driving school in Manila. To date, various smart driving school branches proliferated not only in Metro Manila but also in provinces.
The beginner course is perfect for those who have zero knowledge in driving. They will train for 15 and 20 hours to advance to a higher level. Their refresher course caters to students who, although have little knowledge in driving, want to be exposed to different traffic situations.
The students under this category undergo five (5), seven (7), and ten (10) hours of training. Thirty (30) hours is designated for students under the masteral category. These are students who wish to acquire advanced driving expertise and skills.
What makes Smart Driving exceptional from other driving schools is the presence of other courses they offer, such as manual, automatic, executive, masteral, and masteral executive courses.
The driving lesson prices at Smart Driving ars as follows:
Php 12,700 for 15-hour training under manual category;
Php 15,000 for 15-hour under automatic category.
It is open from 8AM to 5PM every Monday to Sunday.
For more insightful information, you can check out our Smart Driving School review on Philkotse.com.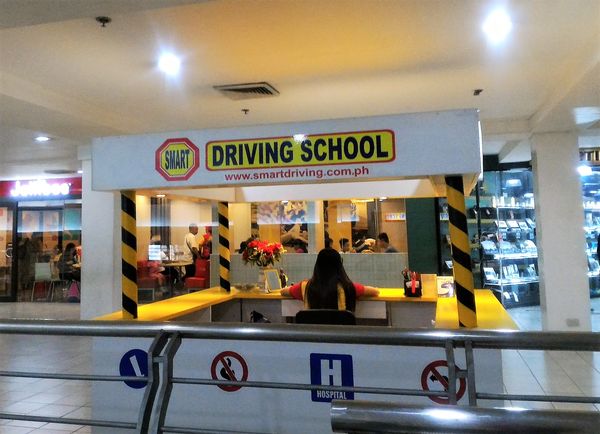 Smart Driving offers a wider latitude of courses, ranging from beginner to masteral courses.
3. A1 Driving School - A cheap driving school in the Philippines
Established in the year 1977, it has now various branches all over the Metro Manila area with its main office in Mandaluyong City. A1 is your cheapest driving school in Makati and other commercial cities.
Prices of their training vary depending on the type of vehicle used:
For manual sedan, A1 driving school rates in the Philippines range from Php 2,500 and Php 4,400 for manual AUV, pickup, or MPV for a 5-hour course.
For automatic sedan, a five-hour costs Php 3,500, Php 5,400 for automatic AUV, pickup or MPV, Php Php 6,000 for automatic compact SUV and Php 6,200 for midsize SUV.
Their training is open from Monday to Friday, depending on the branch. They also offer training, executive, and rush courses, which costs Php 9,800 for 15-hour training manual vehicle and Php 17,700 for 15-hour training automatic vehicles.
A1 has various branches around the country and is even known as a quality, cheap driving school in Cebu and other provinces.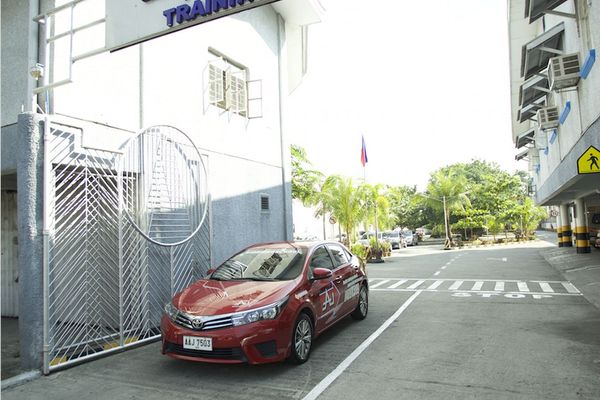 Being in the industry for 4 decades, this driving school is probably one of the oldest driving schools in the country.
>>> Find the A-1 Driving school Review to get comprehensive information about this school before enrolling.
4. Socialites Driving Institute
This driving school is the title-holder for being the oldest driving school in the Philippines. It is founded in 1969 and offers not only driving lessons in the Philippines but also driver's license assistance.
Socialites driving school rates are affordable for its quality. They offer 15-day premium courses for manual vehicle which costs Php 7,500 and Php 15,500 for automatic vehicle. Their branches are open from Monday to Sunday, 9AM to 5:30 PM.
What adds to its popularity is their YouTube videos regularly posted, giving lectures for students and driver's license takers.
Driving Principles 1 Socialites Driving School Philippines
5. Polaris Driving School
Founded on January 28, 1982, Polaris' main office is located in BF Homes, Parañaque. It offers 5, 7, 10, and 15 hours of training with a minimum of 2-hour session every day.
For manual vehicles, the following minimum costs of training are available:

5-hour = Php 2,500
7-hour = Php 3,460
10-hour = Php 4,800
15-hour = Php 7,200.

On the other hand, the following rates apply for automatic vehicles:

5-hour = Php 4,150;
7-hour = Php 5,670;
10-hour = Php 8,100;
15-hour = Php 12,150.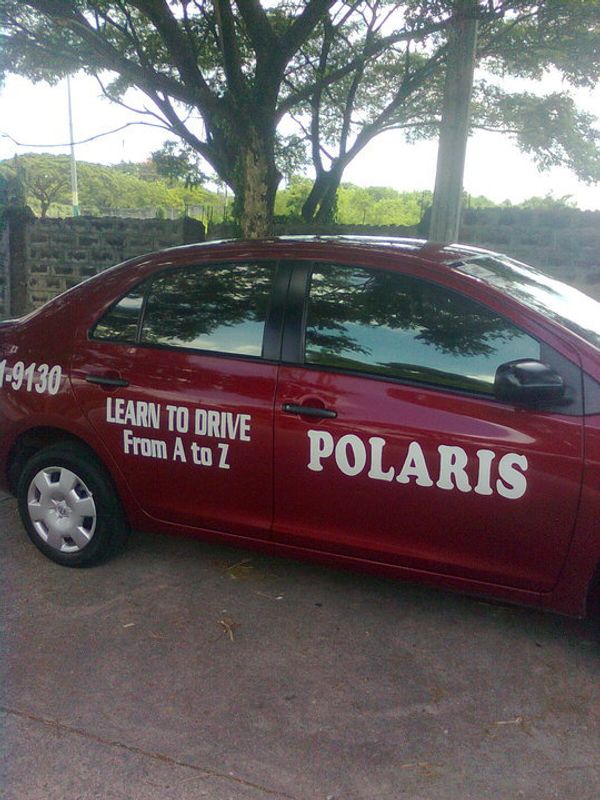 Open during the usual office hours (from 8am to 5pm), Polaris also conducts free lecture every Saturday in their main office, from 9AM to 12 noon
>>> You might like to read:
6. Xcel Driving School
This branch has driving school in Quezon City, Manila, Rizal, San Juan, Pasig, and Mandaluyong. It offers basic five-hour courses with the driving lesson prices are as follows:
For manual Sedan and manual Innova - Php 2,000 and Php 3,500, respectively;
For automatic sedan and automatic SUV, Php 4,000 and Php 6,000, respectively;
For 15-hour training, the enrollee must prepare Php 7,200 for manual and Php 12,000 for automatic.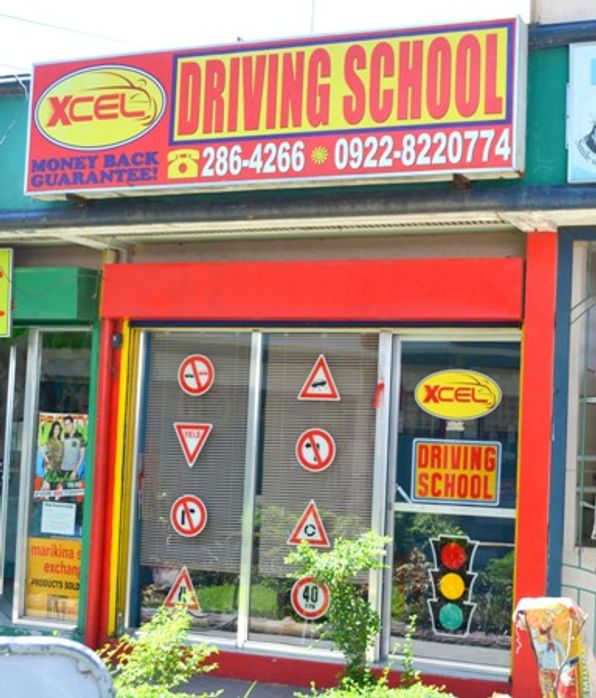 Xcel is confident with the quality of service they offer, which is why they have the money back guarantee.
>>> Worth to note: 
7. Universal Driving School
This fairly-rated driving school has branches in Taguig, Pasig, Makati, and Manila and opens from Monday to Sunday (7AM to 7PM). It only offers beginner and refresher courses with prices depending on the vehicle used. For a 15-hour training for manual vehicles, the enrollees should prepare up to Php 7,200 and Php 13,200 for automatic vehicles.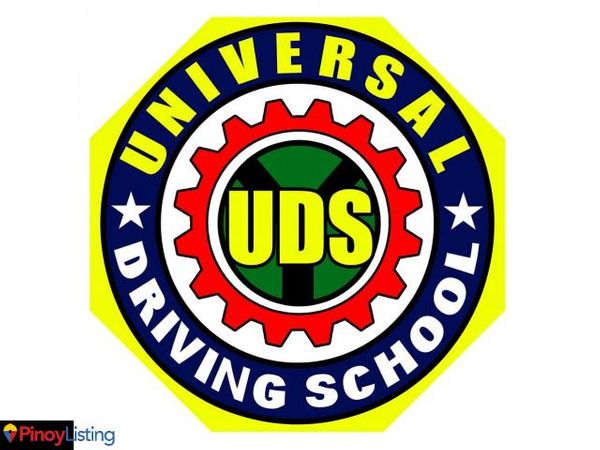 Compared to other driving schools listed above, UDS has a relatively lower rate, but is still reliable in terms of quality teaching
Philkotse hopes this review helps you find the cheapest driving school near me at good quality. Get more safe driving tips at Philkotse.com


Hanna Sanchez
Author