To guide you further, we have here a list of the most popular driving schools in Davao City, providing respective courses, fees and more.
1. A1 Driving - Ground Floor, 52 JM Building
Address: Ground Floor, 52 JM Building - KM 5, Buhangin Road, Davao City
Tel: (082) 225 4284
Overview
A1 Driving School is one of the oldest driving schools in Davao. With more than 80 branches nationwide, it also has a widespread reach.
With years and years of business and training experience under their belt, A1 has several specialized programs designed to train total beginners as well as experienced drivers to become safer and more responsible on the road.
They also have some programs that are quite unique like their industrial bus and truck driving, Advanced handling skills, off-road training, etc.
Moreover,  A1 has a close relationship with several corporate partners as well as being a member of both the Safety Organization of the Philippines and the National Safety Council.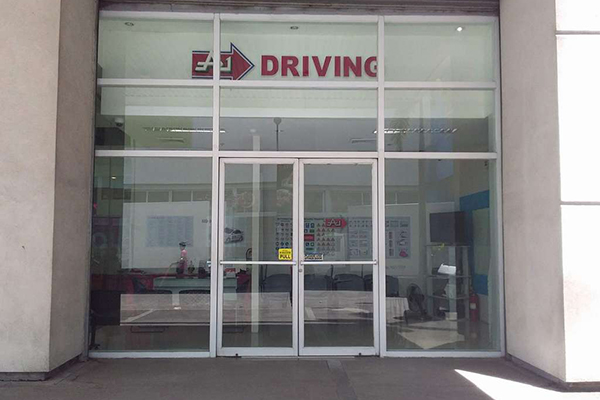 The A-1 Driving school branch in Davao City
Courses and Fees
| | |
| --- | --- |
| Course Name | Starting Price |
| Premium Course | P3,200 |
| Executive Course | P6,400 |
| Rush Course | P4,200 |
| Training Center Course | P2,500 |
| Car Maintenance 101 | P800 |
Take note that the prices of these courses listed above can increase especially if you opt for a longer training period. Also, the choice of training vehicle will affect the pricing. For further details on A1's pricing, please take a look at our A-1 Driving School review.
Pros and Cons
A-1 Driving as a business entity nowadays is quite huge, and like other large businesses with many branches, the kind of service you will experience from branch to branch will differ to some degree.
Regardless of the aforementioned, A-1 Driving has a lot of experience in teaching student drivers. Also, their wide variety of training vehicles and their very systematic and standardized training methods is well worth your attention.
2. TeamAces Driving Academy - Aldor Dormitel, Veloso Street, Obrero, Davao City
Address: Aldor Dormitel, Veloso Street, Obrero, Davao City
Tel No: 09071079970
Overview
TeamAces Driving Academy is a large and well-known driving school founded by Mark Rhein Lester Pulido. While it started out in Batangas City, it is a very popular driving school in Davao.
While TeamAces has grown exponentially since its founding, their main draw is that their training methods are really up to date and they are continually updating and innovating in order to give the best to their students.
One such innovation that they are known for is their fully digital platform wherein reservations and scheduling are seamlessly done online. Also, they are one of the first driving schools to offer online lectures.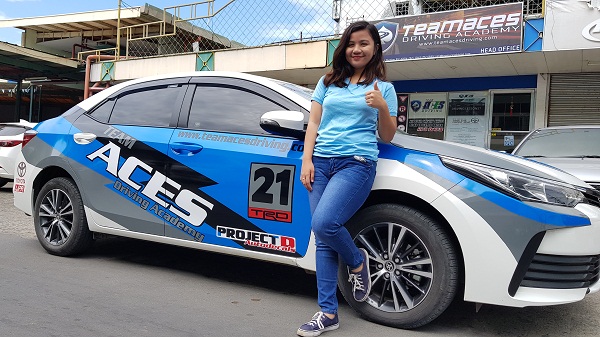 The TeamAces Driving Academy Branch located in Davao City
Courses and Fees
Course Type

Manual 

Automatic

Regular Course (1 hour per session)

P3,000

P4,900

Special Course

P4,000

P5,900

TeamAces Course (Choose your instructor)

P4,500

P6,400

Executive Course (pick-up and drop off)

P6,500

P8,900

Rush Course (1-2 days straight driving)

P4,500

P6,200

Mix and Match (Manual + Automatic)

P10,400
Aside from these driving courses, TeamAces can also assist their students in acquiring an LTO driver's license.
Pros and cons
TeamAces driving school is noteworthy due to their innovative teaching techniques and of course. And based on their ratings on social media, past student drivers consistently give them very high ratings for their very patient yet very cordial instructors.
Popularity does come at a price sometimes. Being very popular, TeamAces sees hundreds of customers, especially in Davao City. So scheduling ahead is highly suggested.
>>> Read more: List of Top 7 Cheap Driving Schools in the Philippines
3. Maneuver Driving Academy - 104 McArthur Highway, Bangkal, Davao City
104 McArthur Highway, Bangkal, Davao City - 09355543132
No.40 Del Pilar Building, Buhangin, Davao City (Main Office) - 09060183458
Overview
While Maneuver Driving School is a smaller business in comparison to the first two mentioned in this article, a lot of student drivers due to their professional instructors and overall high quality of service.
In Davao, Maneuver Driving has two branches. One in Buhangin and one in Bangkal.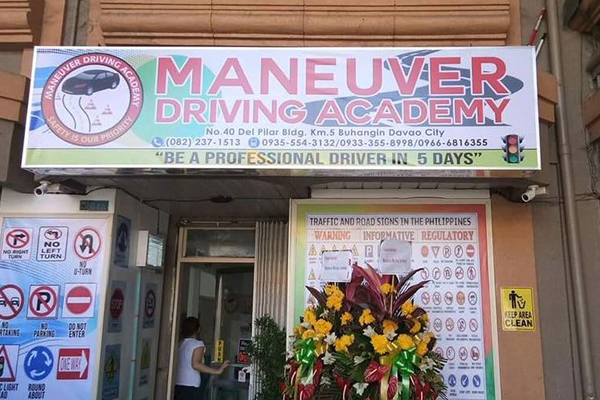 The Buhangin Branch of the Maneuver Driving Academy is a cozy little office
Courses and Fees
 5-7 hours actual driving for the refresher
10-20 hours actual driving for the beginner
| | | |
| --- | --- | --- |
| Duration of Course | Manual | Automatic |
| 5 hours | P2,600 | P3,500 |
| 7 hours | P3,500 | P5,500 |
| 10 hours | P4,800 | P7,500 |
| 15 hours | P7,100 | P11,000 |
| 20 hours | P9,500 | P15,000 |
Pros and Cons
While Maneuver Driving has good instructors and is quite popular, they do have a weakness.
As you can see on the list above, their course selection is quite slim. This extends to their limited choice of training vehicles which are mostly sedans.
>>> You might like to read: 5 things that they won't teach you at driving schools
4. Good Sign Tutorial Driving Academy - Davao City
Ground Flood, 52 JM Building, KM 5 Buhangin Road, Davao City

 - 

286-8221 or 09399069670

Ground Floor Line Q Building, Corner Kawayan Drive, Matina, Davao City

 - 

296-0335

63 R. Castillo Street, Agdao, Davao City

 - 

224-5761
Overview
While being smaller in comparison to the first two, the Good Sign Tutorial Driving Academy in Davao is well noted for being able to help student drivers become confident in making safe decisions on the road.
As such, they are quite adept at taking on younger student drivers because they recognize the difference in learning abilities between youth and adults.
Also, their curriculum is quite focused on safety and defensive driving which is always a plus.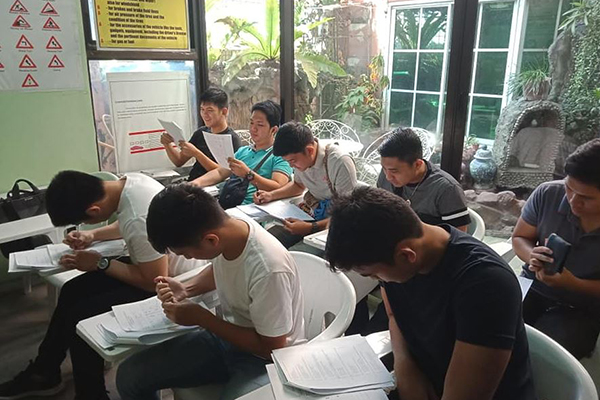 Students undergoing a written exam in Good Sign Tutorial Driving Academy
Courses and Fees
Course 

Fee

Manual

5 days (2h/day): P5,000
7 days (2h/day): P5,900
10 days (2h/day): P9,600
15 days (2h/day): P14,500 

Automatic

2 days (5h): Php 5,000
3 days (7h): Php 7,000
4 days (10h): Php 10,000
6 days (15h): Php 14,500
8 days (20h): Php 19,500
Pros and Cons
While we are sure that their instructors are really competent and excellent at their respective jobs, it seems that their vehicle lineup is somewhat a little slim. If their Facebook page is anything to go by, their training vehicles are mostly comprised of sedans.
It is important to note that their official page does not list prices for their courses at all as such information on said courses is limited. While we are quite sure that they have automatic courses their information for their courses are not readily available online.  
List of

 LTO Licensing offices

in Davao
| | | | |
| --- | --- | --- | --- |
| No. | LTO Office | Address | Contact No. |
| 1 | SM City Davao | Sm City Davao Building, Quimpo Blvd, Ecoland, Davao City, 8000 Davao del Sur | (082) 297 5265 |
| 2 | LTO Lanang | Lanang, Davao City, Davao del Sur | N/A |
| 3 | LTO Regional Office | Quezon Blvd, Poblacion District, Davao City, 8000 Davao del Sur | (082) 226 4141 |
>>> For further reference: Complete list of LTO branches in Metro Manila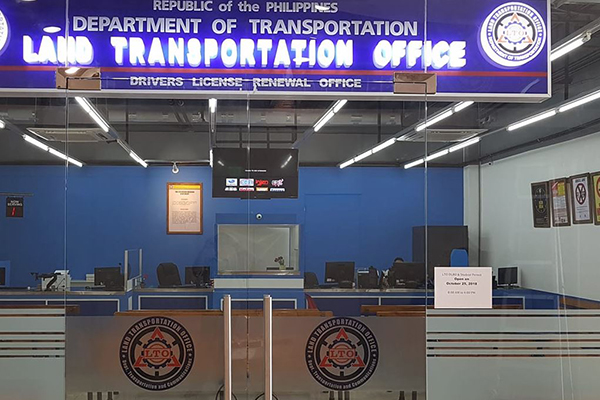 A comfortable and modern looking LTO Renewal center in Davao City
For more reviews, tips and news, keep posted here at Philkotse.com.