Upcoming Chevrolet Spark fetching affordable price
The Chevrolet Spark is one of the best reasonably-priced upcoming cars in 2017 in the Philippines.
If 2016 was a successive year for new cars, with models such as the the all-new Toyota Fortuner and Hilux , the new Civic Type R going on sale, then 2017 is set to be even better with some low-cost vehicles to jump start 2017.
The Chevrolet Spark
is one of the best reasonably-priced upcoming cars in 2017 in the Philippines. It is a particularly sporty car.  
By virtue of its tiny size, Chevy's 2017 Spark consists of seating for four:  two grownups and maybe two small children.  
The Spark carries over with a few new colors including Toasted Marshmallow, Splash, and Kalamata and the deletion of the Solar Red package.  
The Chevrolet Spark's interior is adorned with decent materials and really a good value proposition for a technology lover. It is supplied complete with 10 airbags, Anti-Lock Brake System, Traction Control, and Electronic Brake System.  
It comes with a rear vision camera and a 7-inch touch screen with OnStar navigation and Apple CarPlay.  
Drivers will have a small space for hauling cargo, even in its hatchback design. The car is more of a traveler than a car hauler.  
A 98-hp, 1.4-liter four-cylinder is on offer. It delivers stability, smooth ride and nimble handling. The Spark is not speedy yet it's fairly peppy.  
The car also has high fuel efficiency that bests those of rivals like the Ford Fiesta and Kia Rio.
If drivers do not mind the tiny size and not potent engine afforded by a mini vehicle, the Chevrolet Spark should certainly be their first choice.   
The car competes to be one of the cheapest upcoming cars available. But the significantly upgraded from
2016 hatchback
tries to hit that affordable price while providing value.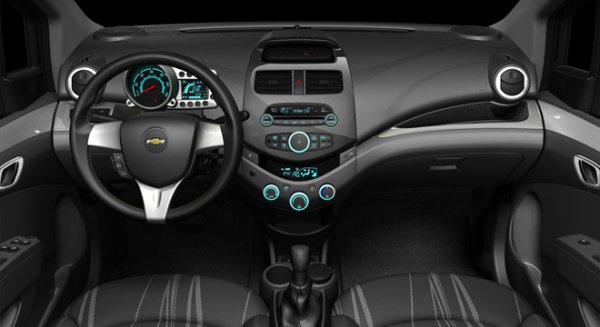 The Chevrolet Spark's interior is adorned with decent materials and really a good value proposition for a technology lover​
Drivers will have a small space for hauling cargo, even in its hatchback design