Take a look and find out your best one among the Subaru XV, Honda CR-V and Mazda CX-5.
2017 is such a year for car enthusiasts, particularly crossover-hunters, with the arrivals of the all-new Subaru XV, Honda CR-V and Mazda CX-5.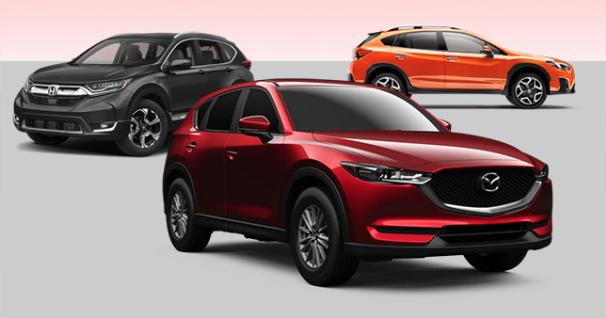 The all-new Subaru XV, Honda CR-V and Mazda CX-5 are three of the top crossovers in the Philippines
By using the word "all-new", we would like to emphasize all the improvements that the aforementioned models receive in their latest generation, which have helped them outperform their predecessors. In detail, the XV is made with the all-new international platform of Subaru. The Honda CR-V is now equipped with a turbo-diesel engine and also has a 7-seat variant. And the last one - the CX-5 has been applied G-Vectoring technology.
>>> Related: 
2017 Mazda CX-5 Vs 2018 Honda CR-V
Needless to say, the three nameplates are well worth buying and experiencing. However, have you ever wondered which one is the best in term of specs? With that in mind, Philkotse.com would like to give you a comprehensive, clear and close-up view over specs of these three "superiors". Then, hope you can lessen your stress in choosing the best "boom" for your own without doubts.
We have chosen versions based on their prices (so it will include the non-diesel and 5-seat Honda CR-V), and put them next to each other in order to give you a quick, easy and specific comparison.
Subaru XV vs. Honda CR-V vs. Mazda CX-5: Specs comparison

| | | | |
| --- | --- | --- | --- |
| Features | Subaru XV 2.0i-S | Honda CR-V 2.0 S CVT | Mazda CX-5 SWD 2.0 PRO |
| Price | P1,538,000 | P1,539,000 | P1,550,000 |
| Drive | AWD | FWD | FWD |
| Seating Capacity | 5 | 5 | 5 |
| Engine | 2.0L DOHC | 2.0L SOHC | 2.0L DOHC |
| Power | 154hp @ 6,000 RPM | 151hp @ 6,500 RPM | 153hp @ 6,000 RPM |
| Torque | 196Nm @ 4,000 RPM | 189 Nm @ 4,300 RPM | 200 Nm @ 4,000 RPM |
| Transmission | CVT | CVT | 6-speed Automatic |
| Brakes (front/rear) | Vantilated DISC | Vantilated DISC/Solid DISC | Vantilated DISC/Solid DISC |
| Front Suspension | Macpherson Strut | Macpherson Strut | Macpherson Strut |
| Rear Suspension | Double Wishbone | Multi-link | Multi-link |
| Wheels | 18-inch Aluminum-Alloys | 18-inch Alloys | 17-inch Alloys |
| Tires | 225/55 R18 | 236/60 R18 | 225/65 R17 |
| Airbags | Driver/Passenger/Sides/Curtain/Knee | Driver/Passenger/Sides/Curtain | Driver/Passenger/Sides/Curtain |
| Dimensions (mm) | 4,565 x 1,800 x 1,615 | 4,571 x 1,855 x 1,657 | 4,550 x 1,840 x 1,575 |
| Seat trim | Fabric | Leather | Leather |
| Wheelbase (mm) | 2,665 | 2,660 | 2,700 |
| Fuel tank capacity (liters) | 63 | 57 | 56 |
| Ground Clearance (mm) | 220 | 198 | 185 |
>>> Click to catch up with latest car news in the Philippines & around the world
Know more about Honda CR-V 2021

<p>The Honda CR-V is a compact crossover current sold by Honda Philippines Inc. It is now in its fifth-generation model, but the CR-V in general&nbsp;has been around since the 1990&#39;s.&nbsp;</p> <p>Currently, the CR-V has two engine options. The first one&nbsp;is a 1.6-liter diesel, which can make up to 118 horsepower and 300 Nm of torque. All variants with this engine uses a nine-speed automatic transmission. The top-spec trim has an all-wheel-drive drivetrain, while the rest of the trims are front-wheel-drive. The second engine for the CR-V is a 2.0-liter inline-4 gasoline mill capable of producing up top 152 horsepower and 189 Nm of torque. This engine is only available on the entry-level S variant where it is paired with a continous variable transmission.</p> <p>Of note, the top-spec CR-V for the Philippine market is equipped with several driver-assist features like adaptive cruise control, lane-keep assist, road departure mitigation, lane departure warning, among others.&nbsp;</p> <p>The entry-level CR-V S and the CR-V S diesel variant can fit up to five occupants. The CR-V V and the top-spec SX can seat up to seven occupants.&nbsp;</p>
Recent posts