Ladies and gents, after a long time of waiting, Suzuki Philippines has finally launched the all-new Suzuki Carry 2020! Let's check it out!
1. Suzuki Carry 2020: It's finally here!
A couple of days ago at the Filinvest Event Tent located in Alabang, Muntinlupa City, Suzuki Philippines Inc. or SPH, had finally launched the brilliant 11th generation of the Carry for the 2020 model year.
Assembled in Indonesia by one of Suzuki's subsidiary entities called Suzuki Indomobil Motor, the all-new Suzuki Carry 2020 for the Philippines is made to be better in every way in comparison to its predecessor.
It is powered by a very fuel-efficient yet more powerful engine, and it also comes with a whole slew of new features that the hardworking Filipino will definitely appreciate.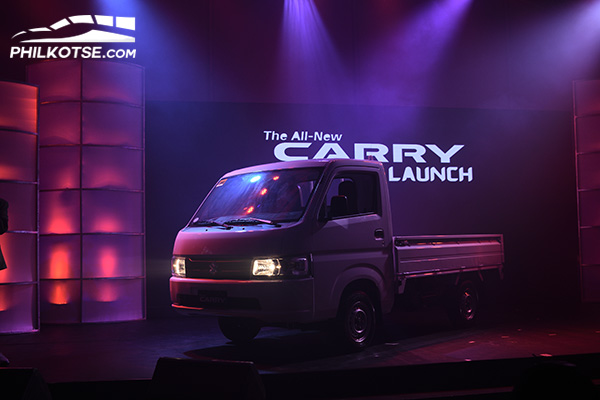 The 2020 Suzuki Carry just seconds after it's revealed
2. 2020 Suzuki Carry: Exterior Features
True to the purposes of the Suzuki Carry 2019 and all of the Carry models that came before it, the 2020 Carry was engineered to meet the needs of a wide range of business people and that fact is very plain to see even from a first glance.
At the back, there's, of course, the cargo bed. It's now much longer and wider than ever before. The three-sided drop-down gates are also much higher while the bed height sits conveniently low allowing for ease of loading.
And in talking about loading, the maximum load capacity of the 2020 Carry is now increased up to 940 kilograms.
Like its previous iterations, the all-new Suzuki Carry also comes with 22 rope hooks spread around the bed which will prove useful in preventing your cargo from sliding around. Also, the entire cargo bed, as well as its underside and the exhaust system, are rust-resistant.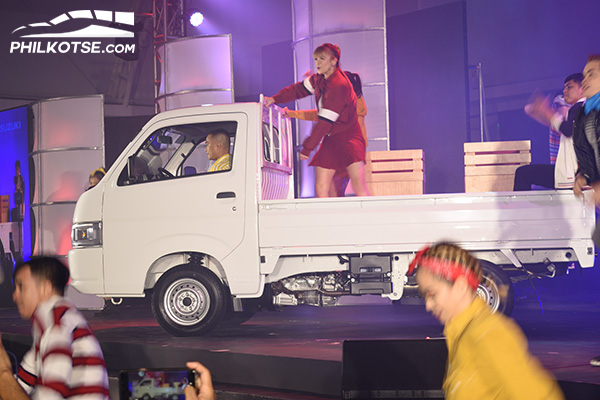 Here's the all-new 2020 Suzuki Carry being presented with several dancers aboard its cargo bed
As seen from the photo above, even when loaded with dancers, the Suzuki Carry 2020 was indeed stable and didn't wobble at all. This is thanks to its very robust rear leaf spring suspension which are installed above the rear axle housing.
This way, the rear suspension provides the vehicle really good ground clearance while reducing vertical displacement when carrying heavy cargo. For the front, the 2020 Carry has a McPherson strut suspension with an L-arm for added lateral rigidity.
Like most of its previous generation versions, the all-new 2020 Suzuki Carry also has great potential in handling less than comfortable terrain.
The engine's air intake is placed high allowing for the new Carry to wade through waters up to 30 centimeters deep and it actually has a pretty decent break over clearance which enables it to handle ramps, less than stellar paved roads and of course, actual un-paved roads.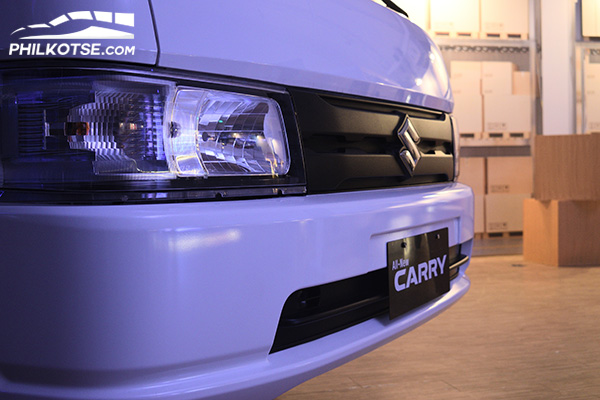 The 2020 Suzuki Carry's front fascia up-close.
When it comes to appearance, let's just say that there's a utilitarian beauty to the 2020 Suzuki Carry that we very much appreciate. It exudes toughness and we rather like the new Carry's proportions in comparison to the older model.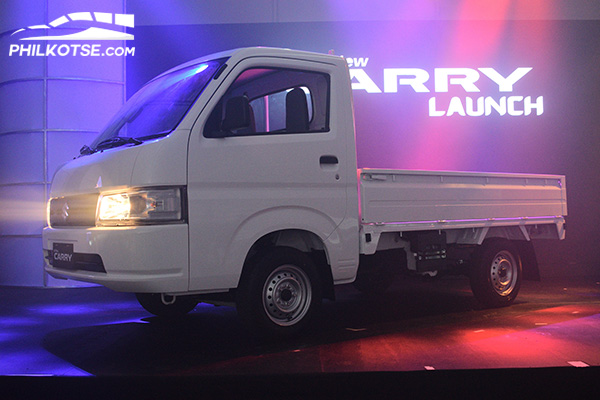 The all-new 2020 Suzuki Carry as you can see has a pair of decently bright halogen lights
3. Suzuki Carry 2020: Engine and Performance
Like its overall size and weight capacity, the heart powering the all-new 2020 Suzuki Carry has now grown to a 1.5-liter K15B engine which makes 96 horsepower at 5,600 rpm and 135 nm at 4,400 rpm.
This is a huge upgrade to the previous generation's 32 horsepower Inline-2 engine. And get this, the new engine aboard 2020 Carry even outperforms the G16A which is found on the currently available Suzuki APV 2019.
Like the old carry, power is sent to the rear wheel with a five-speed manual transmission.
4. Suzuki Carry 2020: Interior
While it is indeed simple, the 2020 Suzuki Carry interior does come with some noteworthy upgrades. It's now much roomier with 89 mm more shoulder room as well as 12 mm more headroom allowing for taller, larger passengers to ride in comfort.
Like the previous model's interior, the 2020 Carry's entire interior is colored in black. While it's made out of plastic, the material along with the color will make for good stain resistance and durability. Also, there's plenty of storage inside as well as a very great deal of visibility.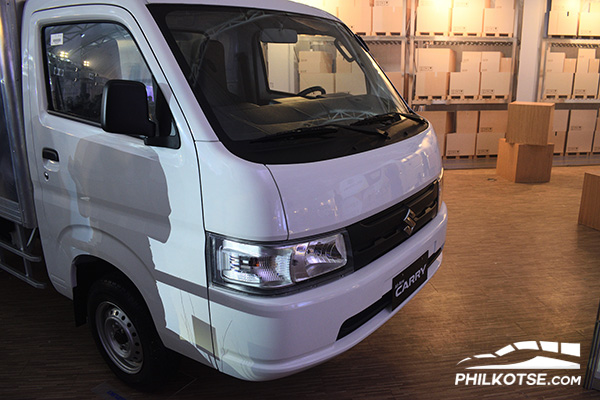 The cab on the 2020 Carry is now larger and much more comfortable.
If you want to reserve one for yourself, please do contact the nearest Suzuki Philippines dealerships for the latest promos, financing options, etc...
5. Suzuki Carry Philippines price
| | |
| --- | --- |
| Variants | Price |
| Suzuki Carry Cab and Chassis | Php 499,000 |
| Suzuki Carry Truck | Php 509,000 |
| Suzuki Carry Cargo Van | Php 576,000 |
| Suzuki Carry Utility Van | Php 614,000 |
For more in-depth pricing details for the 2020 Suzuki Carry and its variants, be sure to keep yourself updated with our Suzuki Philippines pricelist.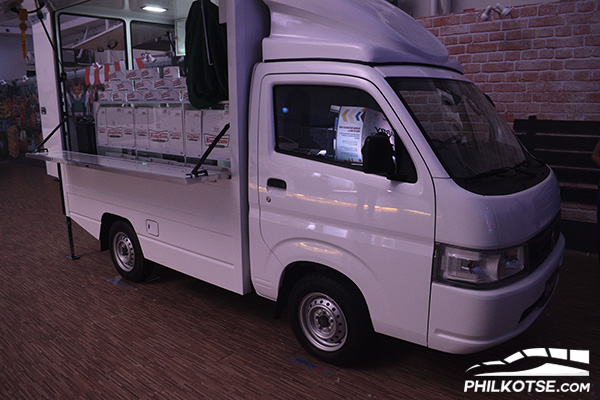 2020 Carry configured to a food truck is just a glimpse as to how versatile this platform is!
6. Suzuki Carry 2020: The most cost-efficient transport solution for small businesses
If we go about by the confirmed pricing of the 2020 Suzuki Carry's variants alone, it might very well be the most affordable commercial purpose vehicle that you can buy brand new today.
In addition to that, the K15B engine is known to belong to one of the most fuel-efficient series of engines has ever been made for Suzuki models.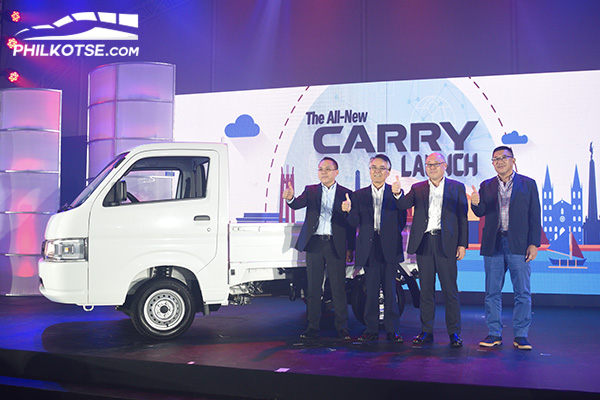 Bring out the full potential of your business with the new 2020 Suzuki Carry!
And for any business, that would potentially mean more savings. And yes, regardless of the generation model, we can attest to the fact that the Carry brand of vehicle has a high tolerance for less than careful drivers. Its bodywork is robust and the engine and many of its parts are deemed highly reliable.
As such, we are really excited as to how the all-new 2020 Suzuki Carry will do here in the Philippines. 
Keep posted here on Philkotse.com for the latest automotive news.

Know more about Suzuki Carry 2023

The Suzuki Carry 2023 is the Japanese marque's entry to the commercial vehicle (CV) segment. It is available with various configurations and the Suzuki Carry 2023 starting price of Php 614,000 for the Cab and Chassis option. Powering this CV across the range is a 1.5-liter K15B gasoline engine capable of delivering 95 hp and 135 Nm of torque. This engine is connected to a 5-speed manual transmission as standard.
Dimensions-wise, the Carry Utility Van Body (UV) and the Lineman (LV) spans 4,344 mm in length, and 1,765 mm in width. The Utilivan is 2,030 mm in height, while the Lineman is 2,515mm in height with its ladder rack. Meanwhile, the Carry Truck is 4,195 mm long, 1,765 mm wide, and 1,910 mm high. And as for the Carry Cargo Van Body (CV), this configuration has a length of 4,237 mm, a width of 1,765 mm, and a height of 2,167 mm. In the Philippines, this CV is competing against the likes of the Mitsubishi L300, Isuzu Traviz, and Kia K2500.

Cesar G.B. Miguel
Author