Honda Jazz 2018 has officially launched its sale in India, starting from roughly P570,000.
The latest model Honda Jazz 2018 is now made available in India with 2 new colors, which are Radiant Red and Lunar Silver Metallic. These products' latest prices have increased by INR 1.36 lakh (~P105,500) up to INR 7.35 lakh (~P570,000).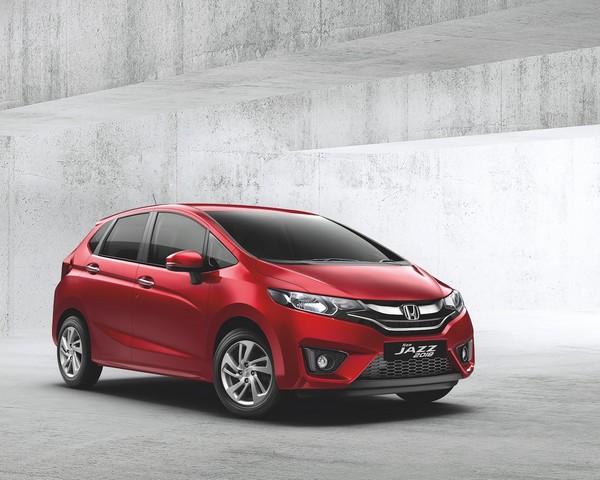 The Japanese hatchback doesn't reveal major changes in design
Generally speaking, this generation doesn't undergo major styling changes with minor upgrades in extended LED taillights and redesigned door handles made of chrome. Regarding interior equipment, the Jazz 2018 offers its customers keyless entry, power to start or stop engine, a 7-inch Digipad 2.0 touchscreen system and many other cutting-edged features.
Especially, this latest version also witnesses the remarkable addition of rear parking sensors as well as a new speed sensing auto door lock features to guarantee its passengers' safety. While some minor enhancement is found in vibration and noise control system, both engine types and gearboxes stayed in line with previous generations.
>>> Related: Get complete guide to the PH-spec Honda Jazz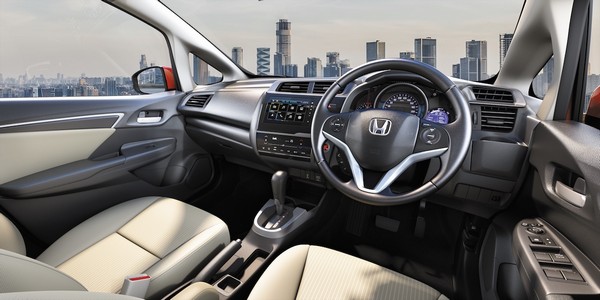 A smart cabin design inside the Jazz
A variant employs 1.2L i-VTEC petrol powertrain coupled with a 5-speed MT or CVT, reaching the max speed of 90 PS and peak torque of 110 Nm. Meanwhile, the 1.5L i-DTEC diesel model can produce 100 PS and 200 Nm at max, which pairs with a 6-speed manual gearbox. The striking feature of fuel economy remains unchanged with 18.2 km/l, 19.0 km/l, 27.3 km/l for petrol manual, petrol CVT and diesel manual respectively.
>>> Related posts:
Honda Jazz 2018 launch
Unlike its predecessors, Honda Jazz 2018 are available in S, V and range-topping VX grades while the S grade is found in the diesel engine only. Last but not least, the VX grade will welcome the CVT ransmission instead of using manual as before.
Below are the price list for these latest Honda products!
Honda Jazz 2018 price list

| Model | Price in INR | Price in PHP |
| --- | --- | --- |
|  Honda Jazz petrol V MT |  INR 735,000 | P570,000 |
|  Honda Jazz petrol VX MT |  INR 779,000 | P604,430 |
|  Honda Jazz petrol V CVT |  INR 855,000 | P664,000 |
|  Honda Jazz petrol VX CVT |  INR 899,000 | P698,000 |
|  Honda Jazz diesel S MT |  INR 805,000 | P624,600 |
|  Honda Jazz diesel V MT |  INR 885,000 | P686,700 |
|  Honda Jazz diesel VX MT |  INR 929,000 | P721,000 |
>>> Latest updates on upcoming & current Honda cars in the Philippines
Know more about Honda Jazz 2021

<p>Being one of the most popular subcompact hatchback type vehicles, Honda Jazz is the most efficient and perfect ride. It comes with four diesel and a diesel engine and currently has five variants in total. With the redesigned bumper, winged grille, alloy wheels, and LED Daytime Running Lights. Jazz is available with Manual transmission and CVT depending on the variant of choice. The modifications are Honda Jazz V MT, Honda Jazz V CVT, Honda Jazz VX Navi CVT, Honda Jazz RS Navi CVT, and the base Honda Jazz Sport CVT. Inside the car, a 7-inch touchscreen unit with Bluetooth connectivity, a cruise control option, speed-sensing door locks, and an automatic air-conditioning system to make both the passengers and driver super comfortable during a ride. Jazz is equipped with a five-seater car chair and space for your accessories and luggage. It has a length of 4035 mm, the width of 1694 mm and ground clearance of 150 mm. The wheelbase is 2530 mm. Fuel consumption can be at 28.60 kmpl, depending on the variant. Currently, on the Philippine market, third-generation Jazz is only available in three variants. The price starts at 933,00 PHP. In the latter half of 2020, the fourth generation of Jazz is expected to enter the market.</p>