Only 50 of these beasts will be made. 
The all-new 2023 BMW 3.0 CSL has been launched, and it is a two-seater model demonstrating a unique exterior design and the level of performance one would expect from the German marque.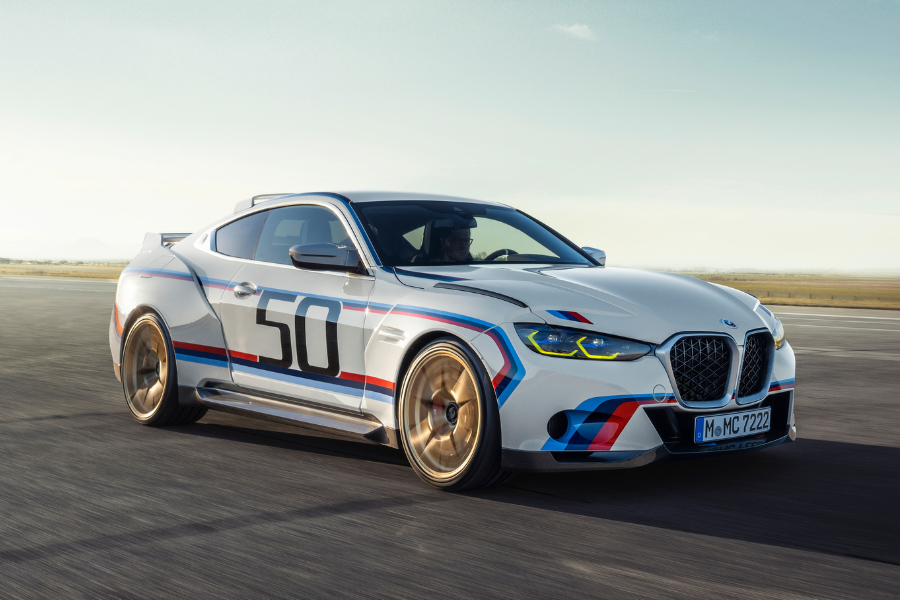 The 2023 BMW 3.0 CSL
To be produced in limited numbers, its release also marks the brand's 50th anniversary. So, 50 years means 50 numbered units will go on sale. Most of the car will then be made at the BMW Group Dingolfing Plant in Lower Bavaria, Germany, while its weight-saving carbon fiber reinforced plastic (CFRP) bits will be made in Munich and Landshut. 
Let's go over the 2023 BMW 3.0 CSL in detail. 
Exterior 
Like the racecar that it was derived from, the 3.0 CSL is a coupe. The front end still bears the amply sized BMW signature grille, and a pair of sharp-looking LED headlamp clusters with the eye-catching, yellow-colored BMW Laser Lights.  
Below that is a front spoiler, which is then flanked by two recesses in the CFRP front apron which is a nod to the older 1970s model. These are also functional and serve to cool the brakes. Going towards the top, one will then find a hood equipped with air fins.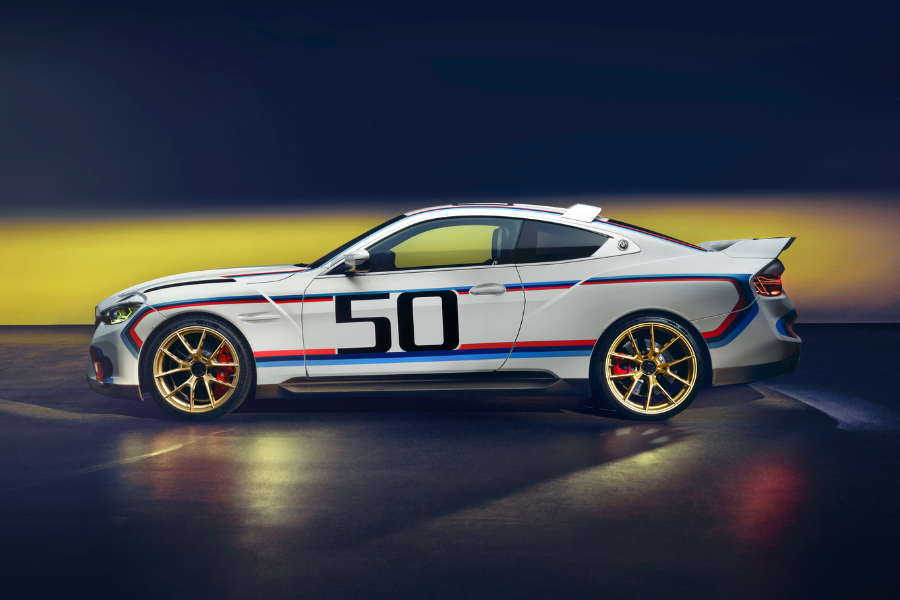 The 3.0 CSL from the side
From the side of the BMW 3.0 CSL, one will see that its hood is lengthy. This serves to complement its long wheelbase of 2,624mm. The roof of this BMW is also made out of CFRP to further save weight. A sculpted CFRP side skirt is also present, and above those are the car's sizable aluminum-made doors.  
It is also from this angle of the car that one will see its chunky wheel arches, and its set of 20-inch forged alloy wheels for the front, and 21-inch forged alloy wheels for the rear. They are all wrapped in tires from Michelin, which were made specifically for this model.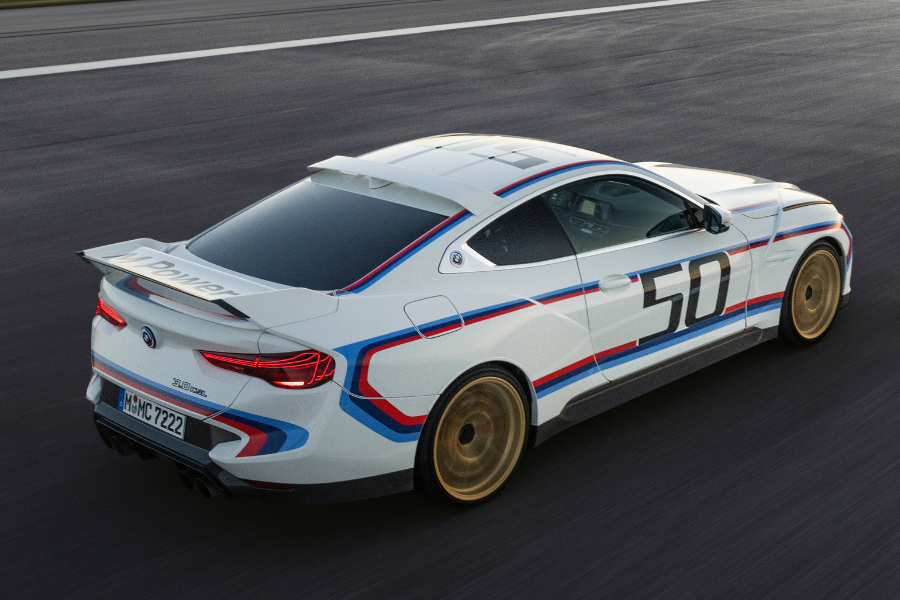 Check out its interestingly-shaped rear wing
Towards the rear of this road-legal race car is a hefty rear glass fiber reinforced wing, a pair of sharp-looking LED taillights, and as well as a black-colored CFRP boot lid and rear diffuser. Further hinting at this Bimmer's performance credentials is a set of quad tailpipes. 
Interior 
Inside the BMW 3.0 CSL is a cockpit that's positioned for performance, as well as luxury. Present is an M Alcantara steering wheel, and most of the dashboard is clad in black Alcantara or matte carbon surfaces. Plenty of the soft-touch surfaces are provided with white contrast stitching. Suffice to say, the arrangement of the dash looks similar to the one on the BMW M4.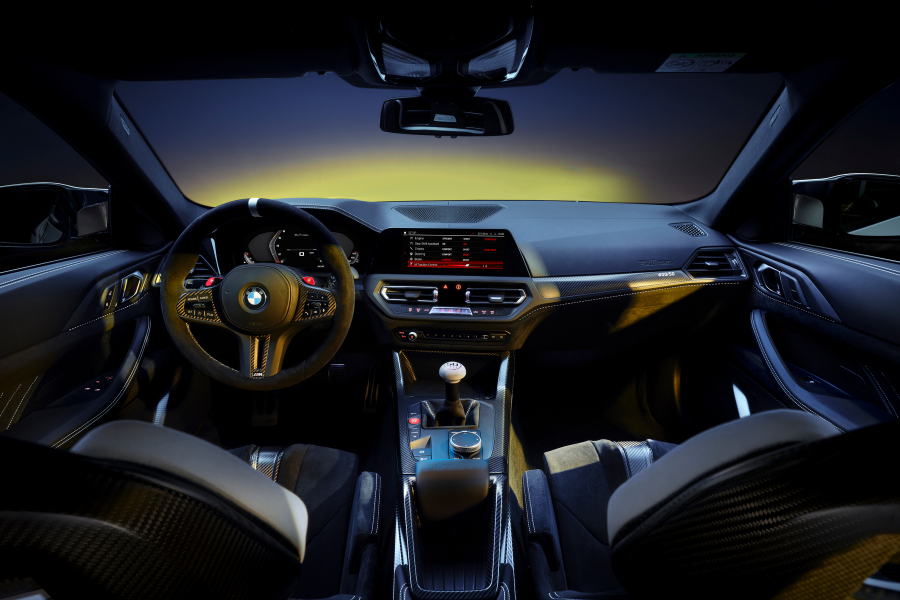 The 3.0 CSL's cockpit
The white bits continue with the car's retro-modern gear shifter, and around the headrest of the black Alcantara bucket-wrapped seats, and on the steering wheel top-center market.  The seats themselves are then made out of carbon fiber.  
While it is designed to provide a heart-pumping racing experience, the 3.0 CSL still gets some creature comforts. It comes with an air-conditioning system, a wireless smartphone charging pad, a digital gauge cluster, and a 10.25-inch headunit. 
The interior also gets integrated helmet compartments, and the rear seats were removed in favor of weight savings. So at the most, only two can enjoy this beast of a car.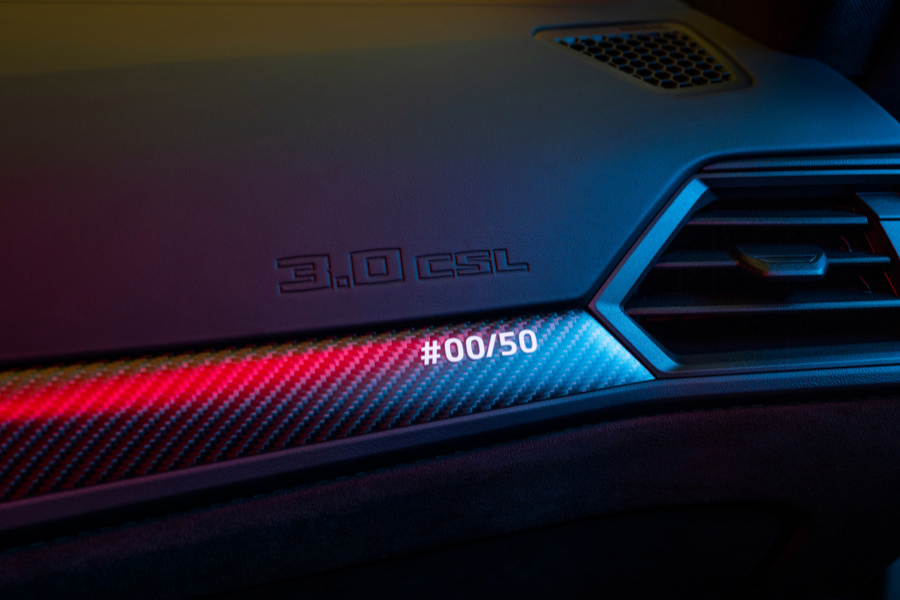 Each 3.0 CSL which feature its production number on the dash
Engine & Performance 
Under the hood of the 2023 BMW 3.0 CSL is one of the most powerful inline-6 engines the German brand has ever made. Yes, this is the same 3.0-liter twin-turbo mill found on the M4, but now it can make up to 560 horsepower and 550 Nm of torque. That's 10 horsepower more than the M4.  
All that power and torque is sent to the car's rear wheels via a six-speed manual gearbox. Power distribution is aided by an active M differential which works in tandem with its stability control system.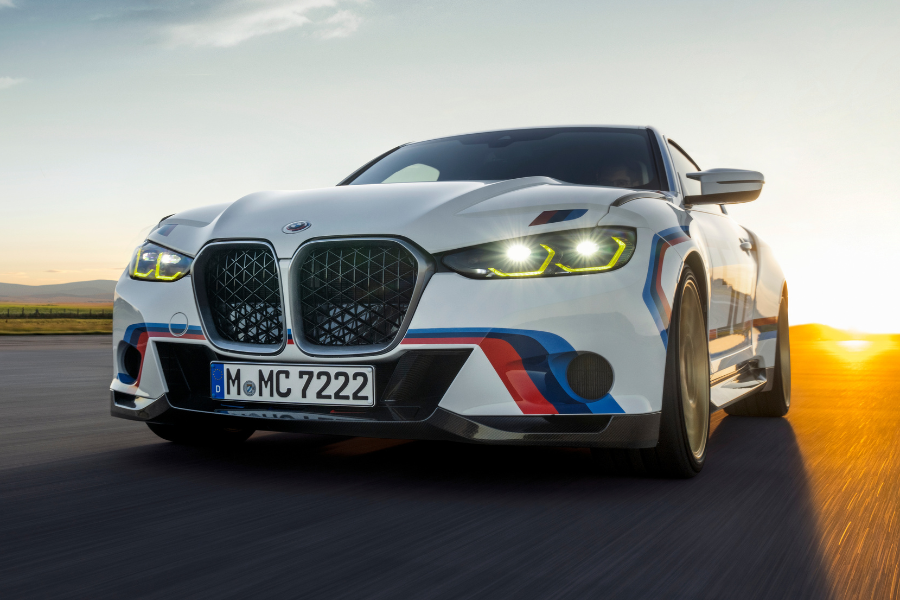 It is rarer and more powerful than the BMW M4 CSL
Handling the ride on this BMW is a multi-link rear suspension paired with adaptive dampers. The front end then utilizes a double-joint spring setup. 
Stopping power for this powerful sportscar is then provided by single-piston fixed-caliper brakes, equipped with carbon-ceramic disc brakes. A total of 10 driving modes are also provided to get the most out of this beastly Bimmer.  
Pricing
For those wanting to get the BMW 3.0 CSL into their garage, then one has to wait for more updates regarding this. To speculate though, the less rare but still limited BMW M4 CSL already costs £126,000 (around Php 8,658,000 at current exchange rates). So one can imagine that the rarer and more powerful model's price tag will be way heftier than that.  
For more car news and automotive industry updates, keep it here on Philkotse.  

Know more about BMW

As of 2023, BMW Philippines offers a total of 12 models, of which the most affordable is the 1-Series entry-level premium hatchback. Its sole variant in the market is priced at Php 2,690,000.
Other BMW car models available locally includes the 2 Series subcompact executive sedan, 3 Series compact executive sedan, the 5 Series and 6 Series midsize executive sedan, the 7 Series fullsize luxury sedan, the X1 subcompact luxury crossover, X3 and X4 compact luxury crossover, X5 midsize luxury crossover, the X7 fullsize luxury crossover, and the Z4 coupe sports car.
Apart from the BMW price list for 2023 that we update on the regular, Philkotse.com also lists the latest and hottest car promos ranging from low monthly amortizations, low downpayments, and cash discounts.

Cesar G.B. Miguel
Author