The angry little hatchback went up against a car twice its size.
There are certain things in life that don't make a lot of sense but we would still pay to see. One example would be pay-per-view fights of amateur/celebrity boxers, like a YouTuber going up against professional fighters. The anticipation of whether an unlikely scenario might occur excites viewers.
Toyota GR Yaris vs. BMW M4 Competition in a drag race
It's the same for the drag race posted by YouTube channel CAR between the Toyota GR Yaris and BMW M4 Competition. The channel acknowledges the glaring differences between the two performance vehicles, describing the race as "David vs Goliath." But just like how that story goes, the GR Yaris could pull off something completely unexpected.
The Japanese hot hatch is one fierce competitor as it is powered by the most powerful 3-cylinder mill among commercially available vehicles: a 1.6-liter G16E-GTS inline-3 DOHC gasoline engine capable of generating 257 horsepower and 360 Nm of torque. A 6-speed manual sends power to all wheels via the GR-Four 4WD system.
Next to the GR Yaris is the new BMW M4 Competition which uses a 3.0-liter inline-6 twin-turbocharged engine, making roughly 503 horsepower and 650 Nm of torque. Looking at the numbers, the German coupe features an engine that doubles the size, performance figures, and the number of cylinders as the Japanese hot hatch's power unit.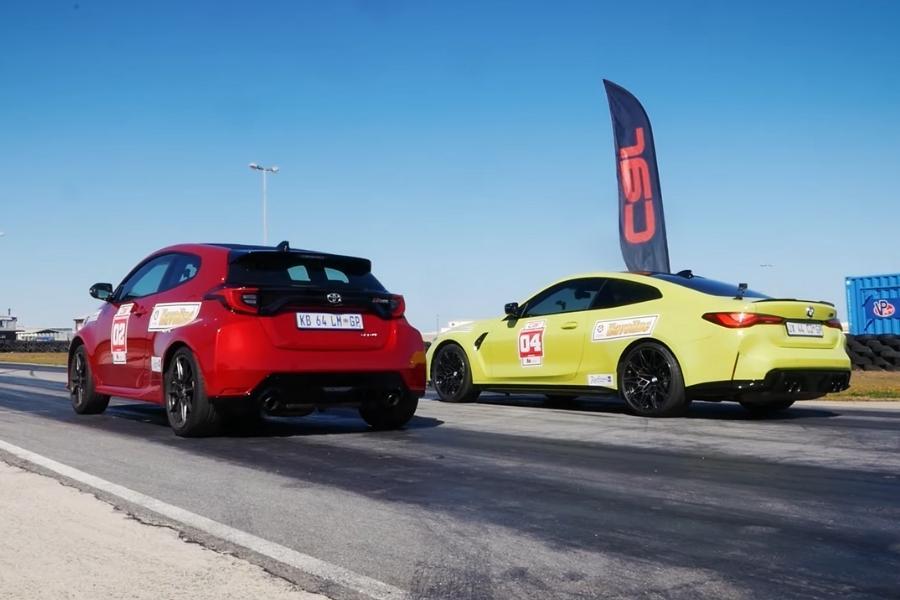 That's one bizarre drag race
In the drag race, the Toyota GR Yaris got off to a good start thanks to its AWD system and a body that's lighter by around 400 kgs, in addition to the driver's reaction time. Considering how CAR described the race, the M4 Competition doesn't seem to be equipped with BMW's xDrive AWD system, instead coming with a standard rear-wheel-drive (RWD) system.
Regardless, the German coupe managed to fly past the hot hatch in no time to win the race which comes as no surprise. The winner might've been decided from the get-go, but it is still a treat to see two performance-bred vehicles from renowned car brands pitted against each other.
Keep up with more stories in the global car scene here at Philkotse.com.
Know more about Toyota GR Yaris 2022

The Toyota GR Yaris Philippines is a subcompact hatchback belonging to the hot hatch or sports compact category. It is offered in the Philippines with one variant only which is priced at Php 2,650,000. Powering this Japanese hot hatch is a 1.6-liter G16E-GTS turbocharged inline-3 gasoline engine that is capable of generating 257 horsepower and 360 Nm of torque, making it the most powerful commercially available three-cylinder engine to date. Only a 6-speed manual is the sole transmission option with an all-wheel-drive system.
Dimensions-wise, the GR Yaris comes with a length of 3,995 mm, a width of 1,805 mm, and a height of 1,455 mm, including ground clearance and wheelbase rated at 124 mm and 2,560 mm, respectively. Locally, Gazoo Racing's hot hatch is competing against the Honda Civic Type R.

Rex Sanchez
Author