This fifth-generation Honda CR-V may be your best choice. Check it out!
According to latest car news, the diesel-powered Honda CR-V 2018 finally arrived in the Philippines from as low as P1,569,000. You would think that this refreshed CR-V would have only one trick up its sleeve. But what if the all-new Honda CR-V gets much better at what it does? The compact crossover has stepped up its game by using a couple of new tricks.
>>> Read related post: Full review Honda CR-V 2018 diesel 7-seater
Diesel-powered vehicle
First up, the CR-V 2018, of course, is equipped with a turbo diesel engine mated to a class-leading 9-speed automatic transmission. The potent yet effective engine gives drivers all-weather capability, making the fifth-generation CR-V a true go-anywhere vehicle.
The all-new Honda CR-V will give diesel SUVs a run for their money
Manually folding third-row seats
Then, the new seats. Apart from having more gears than normal compact SUVs, the all-new Honda CR-V now comes available with a roomy third row. This CR-V could be packed with seating for 7 full-size adults, added practicality and sufficient space for hauling cargo haven't been forgotten. According to sources, approximately 472L of cargo and stuffs can be stowed in the back with the third-row seats folded, while around 967L can be supplied with the third and second row folded.
The interior is also worth checking out. The cabin gets a premium dashboard, nice faux wood trim, a new electronic gear shifter, and futuristic gauges.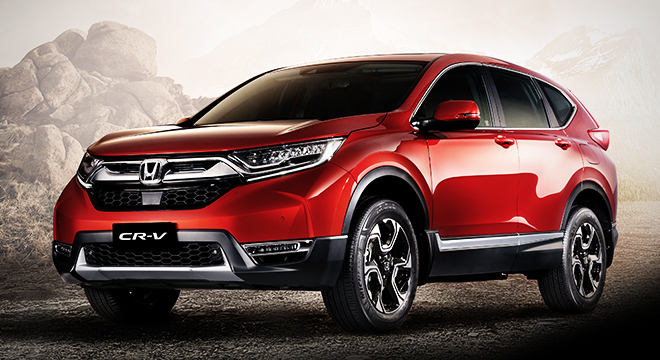 The CR-V 2018 is equipped with a turbo diesel engine mated to a class-leading 9-speed automatic transmission
All in all, the Honda CR-V 2018 combines the driving pleasure and sheer handling of a car with durability, spacious space and versatility of an SUV.
With an all-new diesel engine, the roomy third-row, plus a really handsome ride, the CR-V 2018 has smartly distinguished itself from other SUVs in its class.
Let us have a look on what the all-new Honda CR-V has to offer and see for yourself.
Latest updates on upcoming Honda cars can be found in our Complete guide to the Honda Philippines' local lineup.
Know more about Honda CR-V 2022

The CR-V 2021-2022 is a compact crossover current sold by Japanese automaker Honda Philippines Inc. Now in its fifth generation, the model has been in existence since the 1990s. Currently, the Honda CR-V Philippines has two engine options with four variants. The first one is a 1.6-liter diesel, which can make up to 118 horsepower and 300 Nm of torque. All variants with this engine uses a nine-speed automatic transmission. The top-spec trim has an all-wheel-drive drivetrain, while the rest of the trims are front-wheel-drive. As for the second engine of the CR-V, it comes in the form of a 2.0-liter inline-4 gasoline mill capable of producing up top 152 horsepower and 189 Nm of torque. Only the entry-level S variant uses this engine and pairs it to a continuously variable transmission. The entry-level CR-V S and the CR-V S diesel variant can fit up to five occupants, while the CR-V V and the top-spec SX can seat up to seven occupants. As for the Honda CR-V dimensions, the Japanese compact crossover is 4,623 mm long, 1,855 mm wide, and 1,668 mm high. In the local market, the Honda CR-V Philippines is competing against the likes of the Toyota RAV4, Subaru Forester, and Nissan X-Trail.